Disclaimer
: The product/s mentioned below have been provided for the purposes of this review. No other form of compensation was received. Opinions expressed belong to Whirlwind of Surprises and are NOT influenced in any way. Please view my full
disclosure, TOS, and privacy policy
. Please take the time to enter my other
giveaways
while you're here.
Each season is fleeting, with both its ups and downs. Summer is a fantastic time of the year, especially for those of us trapped in parts with frigid winters. The gorgeous sun, warm waters, and longer days are a blessing that we love and miss as the days get shorter. However, with heat comes stickiness and that general feeling of ickiness. Then we get into fall, and it becomes cooler...a welcoming sensation for many, and for others, a reminder of the cold winters just beyond.
So what am I saying? I love the summer but hate how I feel when the sun is too hot and I stick like glue to my car's seats. There's nothing like the searing pain of trying to peel the back of your thigh off a hot seat. It's a grumpy situation altogether. Fall makes me happy with the cooler weather but it's that time of year where I start making hot drinks and get depressed that our cold MidWest winters are lurking around the corner. So, here are 5 tips that will help you feel fresh and healthy throughout the year to combat the not so great parts of every season.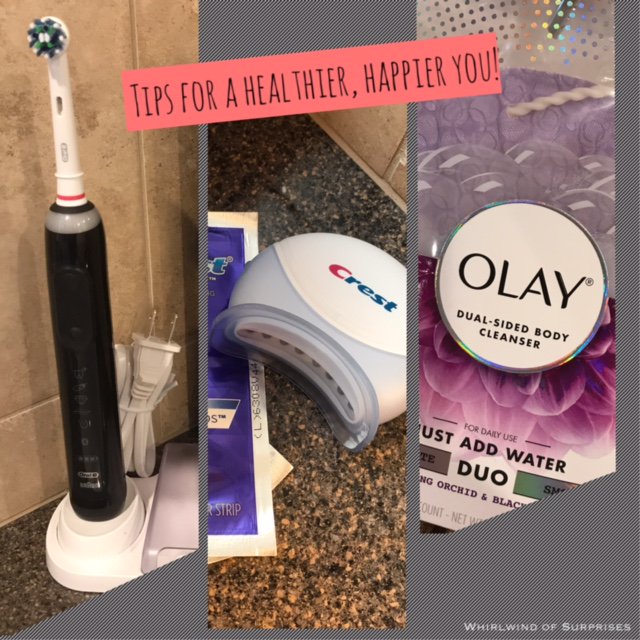 5 Tips to Keep yourself feeling Fresh and Healthy all Year Round
1) Clean Teeth -You probably weren't expecting that one but oral hygiene is important. There's something about freshly brushed teeth that makes a person feel clean. I have fluctuated between hand brushes and electronic brushes for a long time and recently received the Oral-B Genius Pro 8000 Brush to test out. I have had several electronic toothbrushes and this by far, is the most technologically advanced toothbrush I have had to date.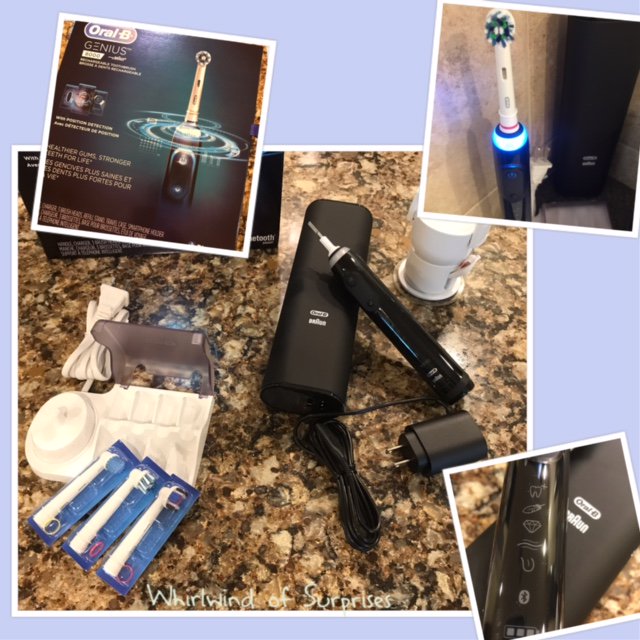 Utilizing blue tooth technology along with app enhanced video recognition on smart phones, it guides how you brush your teeth, ensuring no areas are missed. The time buzzers keeps track in 30 second segments so that you can brush the full 2 minutes that are recommended. The options and customizations are a great add-on that adds a bit of fun to the overall product. There are various settings to customize the ring color of the toothbrush and the smart ring even turns red if you're applying too much pressure.
Various settings make the Genius Pro 8000 Brush user friendly for all users. There's the generic setting, a higher frequency pro setting and a gentle setting as well as polishing and tongue brushing options. My thoughts and tips with this is that you should turn on the toothbrush and adjust it to the setting prior to attaching the toothbrush head. Otherwise, you risk toothpaste Armageddon all over your bathroom sink and mirror.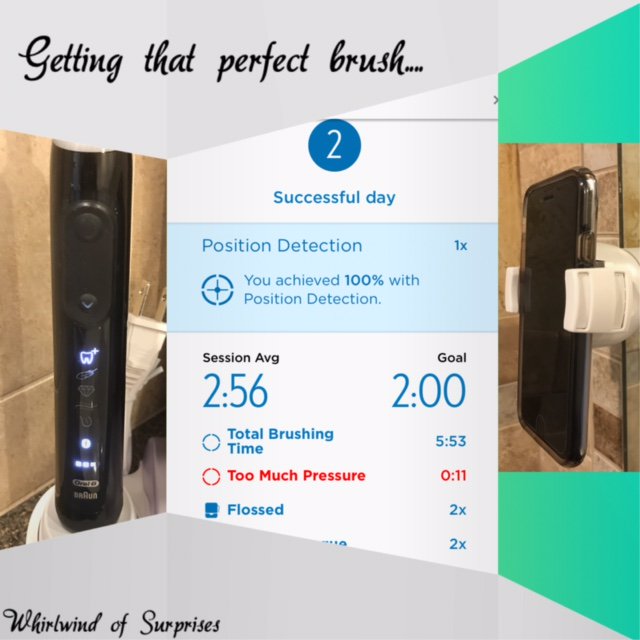 I also enjoyed that there was a sleek charging travel case which also functions as a spare charger for my smartphone. The battery life lasts approximately 1-2 weeks with 1 person usage. Overall, it is easy to use and gives a long, lasting clean and freshness. The Oral-B Genius Pro 8000 retails for $249.99.
2) Sparking Teeth -Crest Whitestrips with Light is the first at-home whitening light technology from Crest. The whitening light is one of Crest's most advanced over-the-counter blue light that is available to enhance the whitening process. The packet includes strips and the light as to maximize the whiteness that results from the process. It was fairly easy to use, however I had challenges keeping the strips in for an hour prior to the blue light. My lifestyle makes it difficult to have an hour of time to sit still. It was also difficult to do on a daily basis given my work schedule, however, I was still able to see great results and am looking forward to using this product again when things settle down again. Crest Whitestrips with Light is a great investment as it includes enough for 10 treatments and costs significantly less than having whitening done at the dental office. The results can even last up to 36 months! Available at retailers nationwide for $99.99.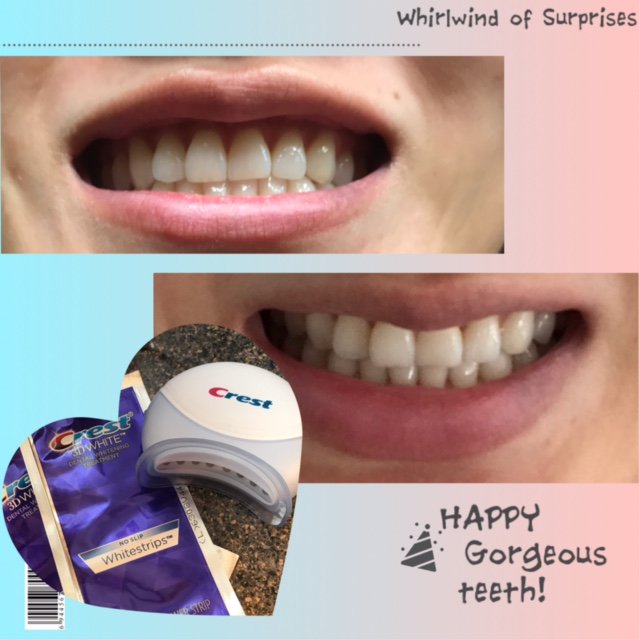 3) DUO -DUO is the new product from Olay, Old Spice, and Ivory so no matter your brand or gender, there is one that will work awesome for you. There's nothing like feeling fantastic after a nice, refreshing shower, right? It's a convenient dual-sided pouf with exfoliating powers on one side and softening and condition on the other side. My Olay Soothing Orchid and Black Currant smells and feels delicious on the skin and can last up to 30 uses. The lather fades when it's time to replace it. The simple thing about the DUO is that you only need to add water. This refreshing and pampering product is available at stores for $9.99-12.99.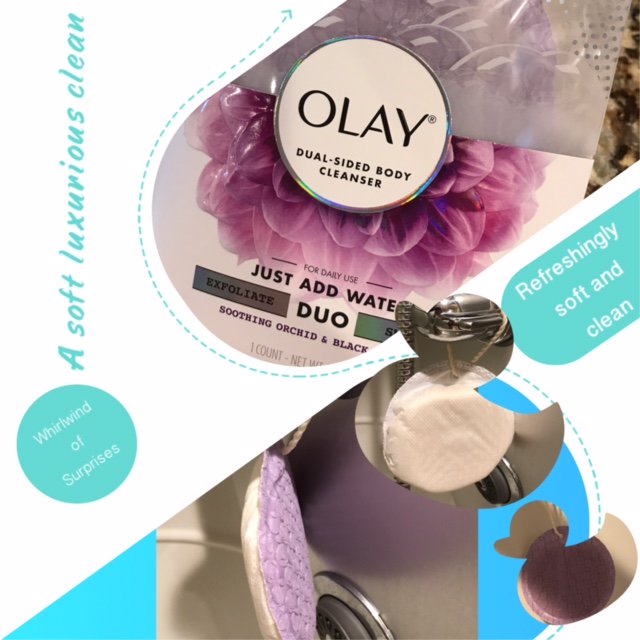 4) Healthy Snacking -We are what we eat and as much as I sometimes love my junk food, I hate the guilt that comes afterwards along with the weight gain and feelings of bleh. Eating healthier snacks and choosing to snack on simpler, fresher ingredients that are rich in antioxidants helps to keep us healthy and yet, protect us from an early aging process. Plus, you feel so much better when you're not eating junk all the time.
5) Sleep -Sleep is an important aspect to our health and well-being. Sleep is where our bodies recuperate and process. I certainly don't work well when I'm exhausted. Those are the days I end up zoning out when I could be catching up on a multitude of work. What about you? Experts say you should get at least 7-8 hours of sleep a night to feel refreshed and ready to go the next morning!
This is just the tip of the iceberg with regards to health and well-being. However, it is the culmination what we do to our bodies and what we do in terms of prevention that helps us to feel our best. In my case, overall health and well-being has to do with what we put into our bodies, how we treat ourselves (diet/exercise/rest), and dealing with the daily mental, physical, and social challenges.
How do you stay fresh and healthy all year round?
Follow WOS:
Google+
||
GFC
||
@CinnyBBS
||
WOS on facebook
||
Pinterest
||
Instagram
Until next time,