Disclaimer
: No form of compensation was received. Opinions expressed belong to Whirlwind of Surprises and are NOT influenced in any way. Please view my full
disclosure, TOS, and privacy policy
. Please take the time to enter my other
giveaways
while you're here.
Happy Monday, friends! And so, we begin another week. Between the technical difficulties I was having, new health surprises and work, it has certainly been challenging. I cannot believe how much new news there are in the Marvel universe! It's all so exciting. One of the more exciting pieces of news has been that Thor: Ragnarok is almost upon us!
Fans of Thor will know that in this highly anticipated film, Thor is imprisoned on the other side the universe without his hammer and at the mercy of the Goddess of Death, Hela. To stop Ragnarok and save Asgard and the destruction of his homeworld, he must first fight in a deadly gladiatorial contest against his former ally and Avenger, the Incredible Hulk! Did I mention, our ever charming villain/secret good guy, Loki, is involved too?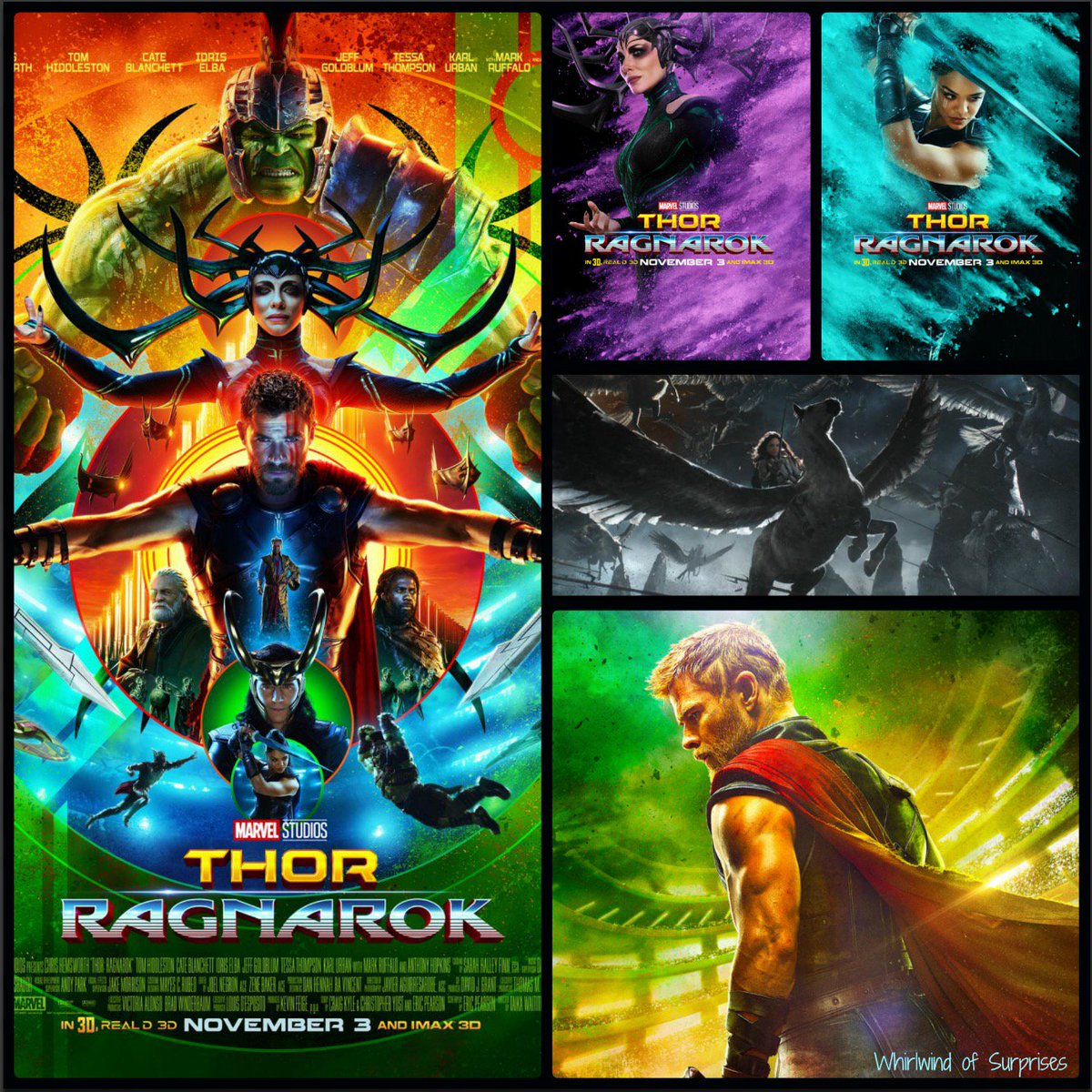 Photo Credit: Marvel Studios
Directed by Taika Waititi, Thor: Ragnarok brings together Chris Hemsworth as Thor, Tom Hiddleston as Loki, amongst other well known seasoned professionals: Cate Blanchett, Idris Elba, Jeff Goldblum, Tessa Thompson, Karl Urban, Mark Ruffalo and Anthony Hopkins.
The new trailer is pretty intense. Have you seen it? It's quite the beautiful scene as Valkyrie descends on the winged horses, beautiful renditions of Pegasus.
For my lovely ladies, I encourage you to channel your superpowers in the Thor: Ragnarok -"Superpower of STEM Challenge" that goes until September 23rd. Disney, Marvel Studios, Dolby Laboratories, Synchrony Bank, American Association for the Advancement of Science, Broadcom MASTERS and Society for Science & the Public have again combined to present the nationwide MARVEL STUDIOS' THOR: RAGNAROK SUPERPOWER OF STEM CHALLENGE in conjunction with the November 3, 2017 theatrical release of Marvel Studios' Thor: Ragnarok. It is certainly awe-inspiring and likewise inspirational to see teen adolescents encouraged for their participation in Science, Technology, Engineering, and Math. Girls aged 15-18 and are in grades 10-12 can participate for their chance to win a trip to the world premiere of Marvel Studios' Thor: Ragnarok, an immersive three-day mentorship in New York City with Disney Imagineering, the opportunity to appear on Good Morning America, and so much more!
Cate Blanchett who plays "Hela" has more information for you in the following video.
The goal of this program is to inspire young adolescent females to use the superpower of STEM to help their family, community or the world be safer, healthier, or happier through an original Do-It-Yourself project that can be replicated by others. Unfortunately, my Canadian friends, you have to sit this one out as it is only open to those living in the 50 United States and D.C..
5 finalists will be selected to go to Los Angeles and present their projects in person, to a panel of experts. Of course, along with all that excitement is the Red Carpet Experience of the world premiere. I remember the last Thor red premiere and it was absolutely fantastic! Parents, don't you worry, each finalist will receive: Two round-trip tickets to Southern California for the finalist and her parent or guardian, including scheduled meals, ground transportation to and from organized activities, hotel accommodations, from October 8 through October 11, 2017; the opportunity to be on the red carpet at the Premiere of Marvel Studios' THOR: RAGNAROK, $500 deposited into a high-yield savings account from Synchrony Bank; a tour of the Walt Disney Studiosin Burbank, California; and more. That is just so exciting! Plus, one grand-prize winner will be selected from the five finalists to attend an immersive three-day mentorship in New York City with Disney Imagineering to build her STEM story, creating a professional-level video teaching other young people how to recreate her Challenge-winning project and demonstrate it to the nation with a brief appearance on Good Morning America. This is the opportunity of a lifetime, to create change and further your dreams! Get to it, ladies!
For application forms, eligibility requirements, official contest rules and more information, visit
MARVEL STUDIOS' THOR: RAGNAROK SUPERPOWER OF STEM CHALLENGE
.
For my diehard Thor fans, advanced tickets are now on sale for Marvel Studios' THOR: RAGNAROK, in theaters everywhere on November 3rd! Tickets are available wherever tickets are sold.
Stay connected with Thor: Ragnarok
Facebook
||
Twitter
||
Instagram
Follow WOS:
Google+
||
GFC
||
@CinnyBBS
||
WOS on facebook
||
Pinterest
||
Instagram
Until next time,