Disclaimer
: The queen size Snuggle-Pedic Pillow mentioned below have been provided for the purposes of this review. No other form of compensation was received. Opinions expressed belong to Whirlwind of Surprises and are NOT influenced in any way. Please view my full
disclosure, TOS, and privacy policy
. Please take the time to enter my other
giveaways
while you're here.
We often have difficulties falling asleep, some of us more than others. Whether it's the churning thoughts lingering from the day, the anxiety of something coming up, or just good old poor sleep ergonomics. In my situation, it's often a combination of all three. What about you? As an expectant mother, I find it difficult to find a comfortable position to sleep in. My ObGyn recommends sleeping on the side but when that happens, I develop back and neck pain. I will often find myself comfortable and waking up to lying on my back again, which doesn't help because then the basketball sized growth in my belly is sommer-saulting on my bladder. Needless to say, I'm happy when I do get some good hours in.
I have gone through my fair share of pillows. I've had all sorts of them...your typical fluffy pillows, the memory foam ones, even the ones that have a cooling gel top to them. Snuggle-Pedic was new too me, however, so I was eager to put them to the test. Snuggle-Pedic is an interesting combination of Bamboo and memory foam.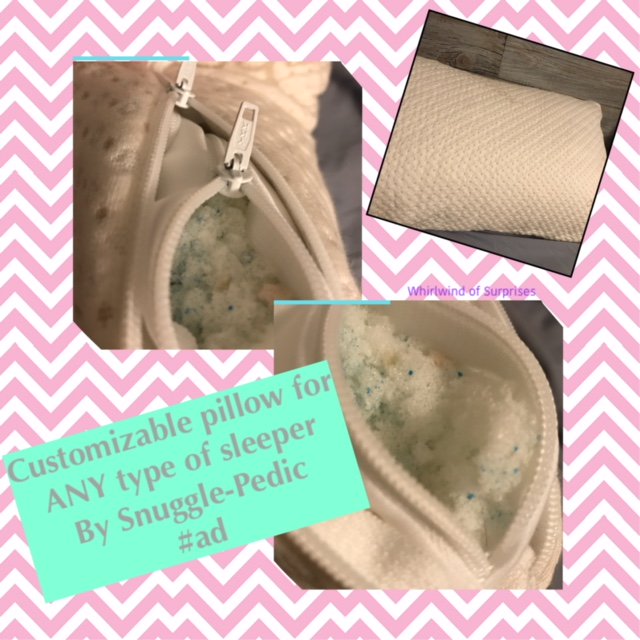 The memory foam of a
Snuggle-Pedic pillow
is different than traditional memory foam pillows in that they are in small chunks of Eco-Friendly Biogreen and CertiPUR-US Certified memory foam. This special foam is a mix of hypo-allergic memory foam and makes the pieces small and fluffy. Holding it all in is a soft and padded Micro-Vented Bamboo Cover.
I have not used a shredded memory foam pillow before so found this to be an interesting experience. This pillow is completely customizable as you can take out and put back foam to make suit your own tastes. I often have difficulties with memory foam pillows being either too hard or high, however did not experience this with the Snuggle-Pedic pillow. By removing some of the foam, you can adjust the thickness of the pillow. However, at Snuggle-Pedic, they go beyond this for their customers. If adjusting the foam level doesn't get you where you need to be for that perfect night's rest, they will even alter their foam mix for their customers at no additional charge. Now, that is good customer service! Snuggle-Pedic even has a 20 year warranty that will replace the foam if it ever flattens out. Unfortunately, this warranty doesn't cover the inner or outer cover so needless to say, it's likely going to be the cover that wears out first.
Care of the pillow is simpler than you'd think. I love being able to tear off the outer bamboo cover and tossing it in the wash and then throwing it in the dryer. The pillow itself is recommended to be washed in a cold setting and they recommend hand washing instead of top loading washers. It can be dried in the dryer after being squeezed out.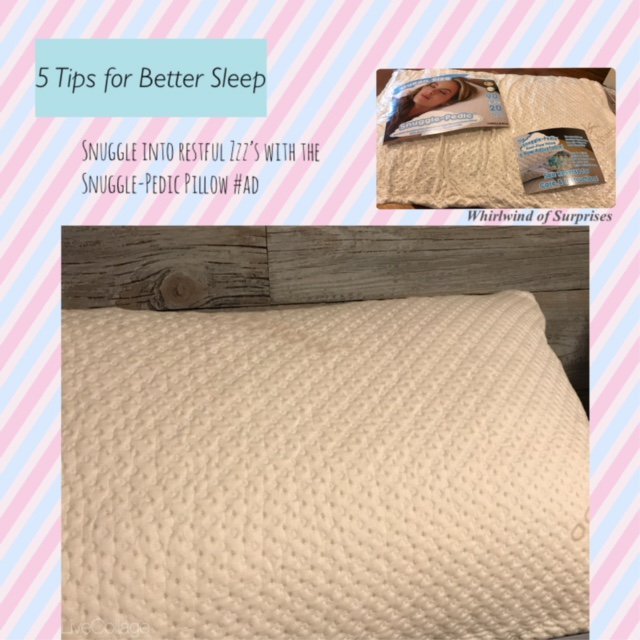 5 Tips for Better Sleep
1) Your mattress is recommended to be changed every 10 years or so. To make your mattress last longer, they recommend rotating your mattress once every 3 months or so.
2) A supportive pillow such as the Snuggle-Pedic Pillow that gives you proper neck/back support is always a bonus. I tend to use mine between my legs when I sleep on my side to support my back and I shove a bit of it under my ever growing belly to support the strain baby puts on my back.
3) Turn down the temp a little. No, you don't have to sleep in the cold but our bodies heat up as we sleep so having the temperature down a little goes a long way. They say the average recommended perfect room temperature for sleep is around 65 degrees Fahrenheit.
4) Try not to sleep with your pets. This one, I fail miserably at. We all know the dogs are a great comfort, however when they think the bed is theirs and take over, it does not make for a good night's rest. It also does not help when they paw at you to wake you up to ask to be let out for the late night potty break.
5) Don't eat 3 hours before to bedtime, snacks included. This leads to bloating, reflux, and general discomfort. It's just not worth it!
In summary, the Snuggle-Pedic pillow is a bit of an interesting spin-off from the traditional fluffy pillows and memory foam pillows. I certainly found it fairly comfortable and loved utilizing it as is with it's soft Bamboo outer cover. Definitely a check for the holiday gift guide!
Pros
:
Love the feel of the Bamboo Cover
Adjustable memory foam levels is a plus
Easy care of the outer cover
Plush soft, hypoallergenic pillow
90 Day Trial Period
Market price: $120-$190, often found on sale for $50-70 depending on size.
Fantastic customer service guaranteeing a perfect pillow.
Cons
:
Chunks of memory foam isn't the most appealing look.
Covers will likely wear out before the 20 year warranty is needed for the foam.
Inner pillow and cover more difficult to clean.
What's your perfect pillow like?
Site
Follow WOS:
Google+
||
GFC
||
@CinnyBBS
||
WOS on facebook
||
Pinterest
||
Instagram
Until next time,