Disclaimer
: The product/s mentioned below have been provided for the purposes of this review. No other form of compensation was received. Opinions expressed belong to Whirlwind of Surprises and are NOT influenced in any way. Please view my full
disclosure, TOS, and privacy policy
. Please take the time to enter my other
giveaways
while you're here.
Coinciding with our new bundle of joy and my husband's journey into fatherhood is the Blu-ray release of Daddy's Home 2. If you remember watching Daddy's Home, it was a hilarious movie that had us laughing throughout. The "Daddy Viewing Kit" was just the thing to welcome us home and allow some family bonding time. We have finally joined the ranks of parenting and boy, is it every challenging?! Check out our tips for an awesome home family movie viewing.
Daddy's Home 2 stars Mark Wahlberg, Will Ferrell, Mel Gibson, John Lithgow, Linda Cardellini and John Cena in this family oriented film that illustrates that dynamics of modern families. Dusty (Mark Wahlberg) and Brad (Will Ferrell) finally have co-parenting down until Dusty's macho dad (Mel Gibson) and Brad's gentle father (John Lithgow) visit and chaos subsequently ensues.
Like Daddy's Home, the film promises quality humor and good family times. The challenges of raising a child are always present but it is that much more difficult at times in a blended family. Daddy's Home 2 expertly illustrates and exemplifies these qualities and traits, while gently showcasing the heartwarming traits that matter at the end of the day. We were laughing throughout the movie and it certainly was one of the funnier films we've watched lately.
Paramount Home Media Distribution is releasing the DADDY'S HOME 2 4K Ultra HD Combo Pack and Blu-ray Combo Pack which features over 45 minutes of bonus content. Fans can go behind the scenes with bonus content listed below. You can also access a bonus digital copy so that it can be watched on the go!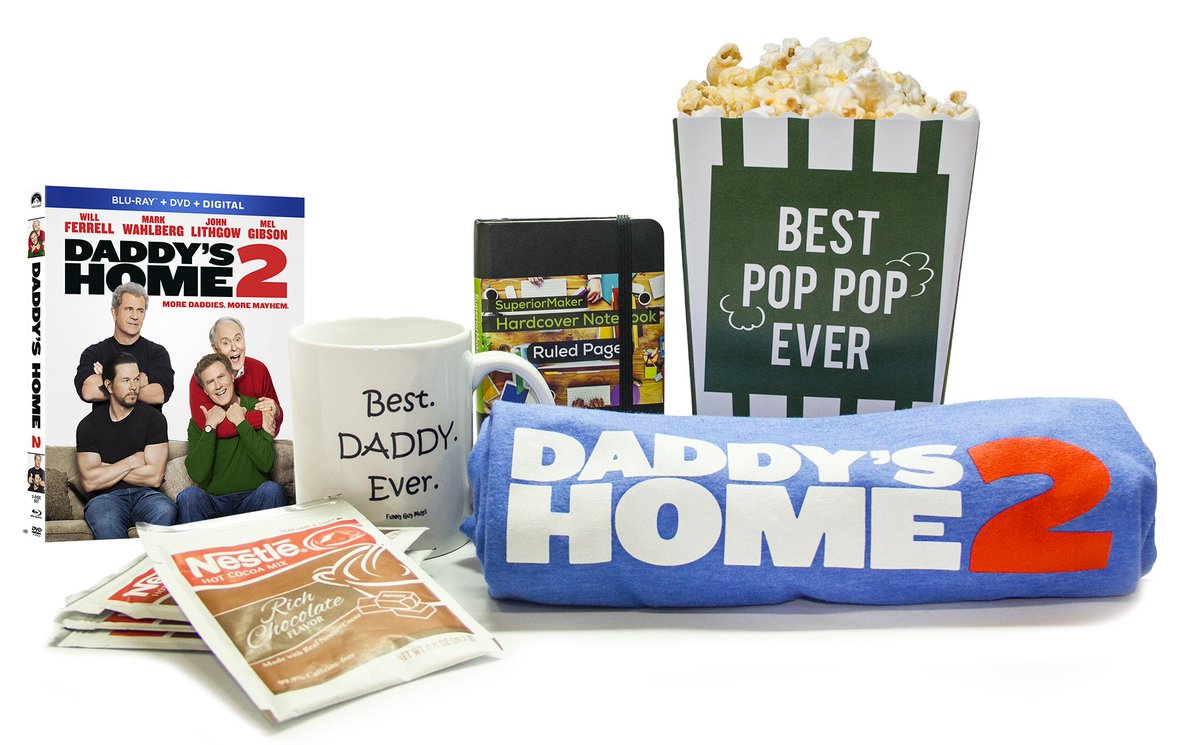 Bonus Content:
-Making a Sequel
-Look Who's Back
-Co-Dads: Will & Mark
-The New Dads in Town: Mel & John
-Captain Sully
-Deleted/Extended/Alternate Scenes
-Gag Reel
Rating: PG13 -There is some coarse language in the movie, so I would recommend some censorship with younger children.
5 Tips for an Awesome Family Movie Viewing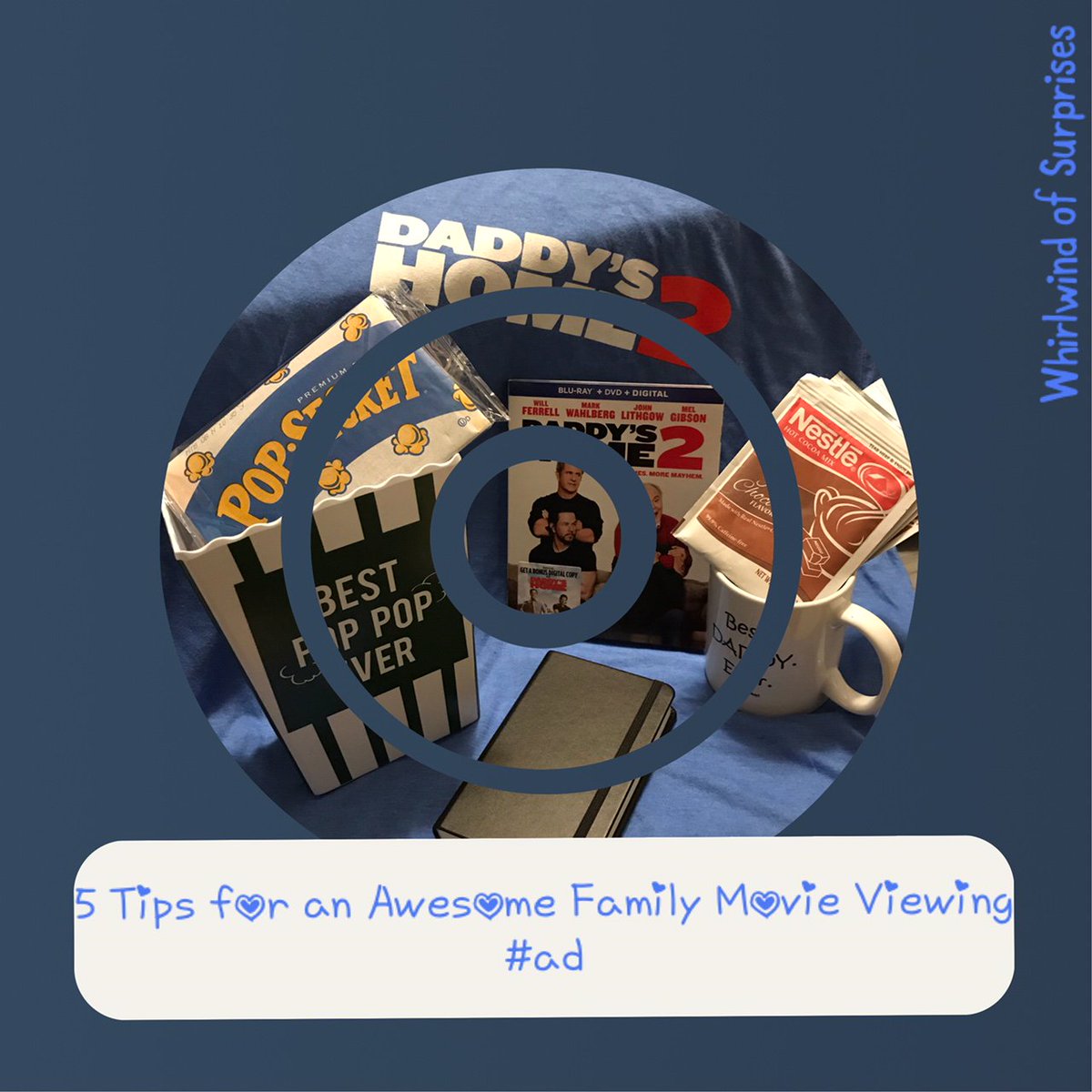 1) Pick a good family movie -Choose a family friendly movie that everyone will enjoy. This is pretty basic and straight forward, right?
2) Set up goodies that work with the movie -For example, for Daddy's Home 2, our "Daddy Viewing Kits" included a Pop Pop popcorn container and a Daddy mug, which fits into the "Daddy" theme. Not to leave other viewers out though, the viewing kit also had a note pad which is akin to the notepad that Karen, Dusty's new wife, is constantly jotting in for aspiring authors.
3) The Right Snacks -Snacks are an integral part of movie watching. I feel snacks contribute to a home theatre experience. As such, the "Daddy Viewing Kits" also came furnished with popcorn and hot cocoa. Having popcorn is a necessity to any movie, in my honest opinion. Who can refuse that delicious buttery snack? It's only a bonus that there's a "Pop Pop" popcorn container to hold it.
4) Cozy Blanket -Being comfortable is a key piece of home movie experiences. Cuddled in a blanket with family members also warms the heart and soul.
5) Atmosphere -This sounds obvious, but personally, I love a room designated for movie nights. My parents used to set up a room in the basement and we'd use it as our makeshift movie room. The experience was made that much more special and I hope to create the same for my child as he grows up.
How do you make your family movie nights special?
Daddy's Home 2 is available February 20 on 4K Ultra HD Blu-ray, head out and pick up a copy for a family viewing night! Or if you want it now, the digital copy is already available!
Stay connected:
Facebook
||
Twitter
||
Site
||
Instagram
Follow WOS:
Google+
||
GFC
||
@CinnyBBS
||
WOS on facebook
||
Pinterest
||
Instagram
Until next time,