Disclaimer
: The product/s mentioned below have been provided for the purposes of this review. No other form of compensation was received. Opinions expressed belong to Whirlwind of Surprises and are NOT influenced in any way. Please view my full
disclosure, TOS, and privacy policy
. Please take the time to enter my other
giveaways
while you're here.
I have to admit, parenting is a lot harder than I ever thought it would be. I never thought my maternity leave would revolve only around my adorable son. Yes, I knew there was the diapering, feeding, changing, loving and snuggling. However, I never thought it would take up my entire 24 hours. Despite all of this, I was determined to lose my pregnancy weight. I'm not quite there yet but it is coming off, slowly but surely. My sweet tooth certainly wasn't helping, so I was happy to get some help from Sans Sucre (French for "Sugar Free"). Curious how you can still enjoy your sweets with no sugar? Read on...
For me, I was looking for a healthier alternative, one that would still allow me to enjoy the pleasures of sweets yet not feel guilty about it. Sans Sucre recently launched a first-of-their kind line of sugar-free AND gluten-free baking mixes. Yes, I said gluten-free so those of you who are on gluten-free diets can enjoy it too!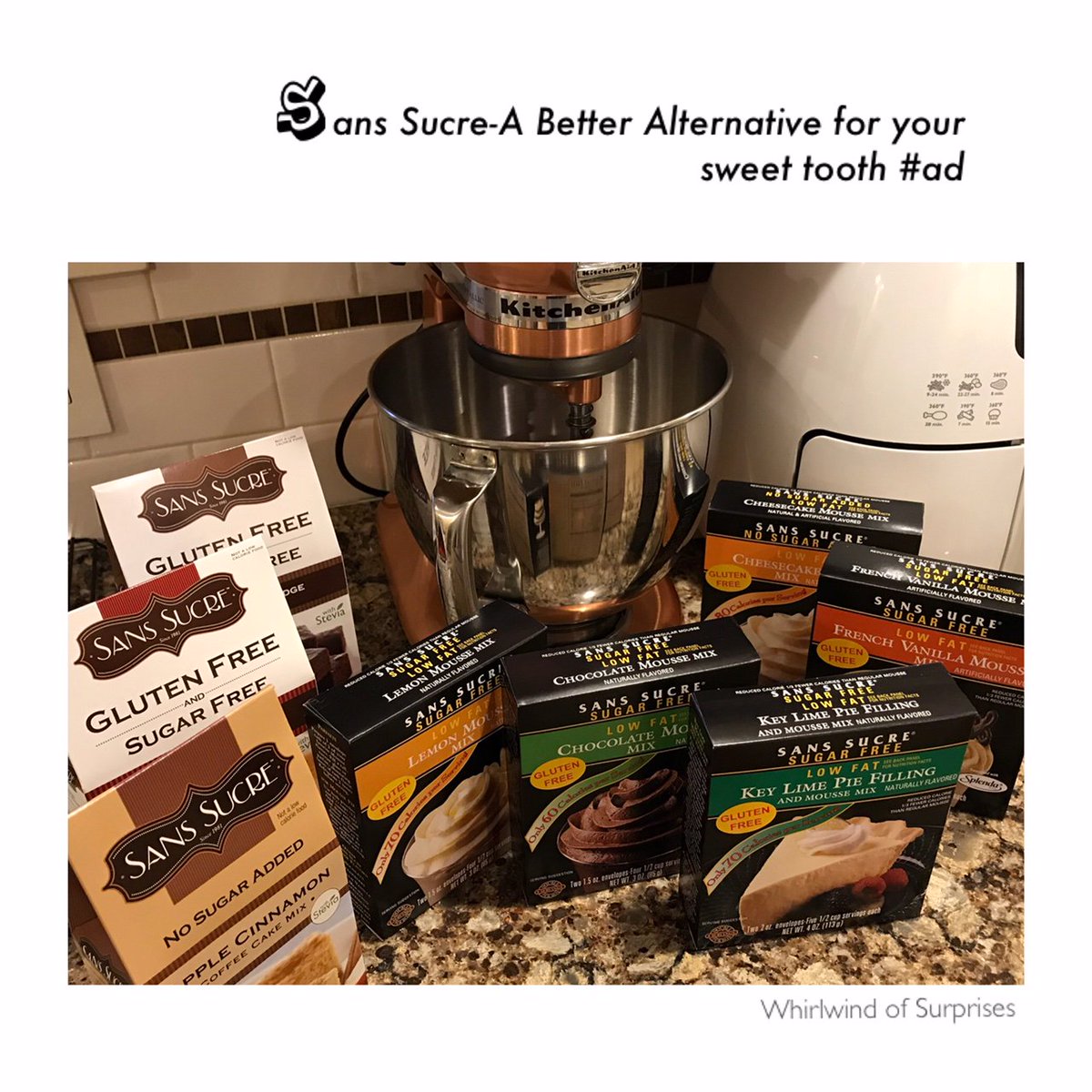 Sans Sucre baking mixes are naturally sweetened with Stevia. I was sent a variety of their mixes to test out. Check out how beautifully easy this creation of mine is. A beautiful medley of apples layered onto Sans Sucre Apple Cinnamon Coffee Cake topped with Sans Sucre Low Fat Lemon Mousse.
The beauty of these mixes is that they are incredibly simple to utilize. Most of the cake mix packets are add water, oil and bake. The mousse packets are add milk and mix. So, rest assured, even your beginner baker can handle these mixes like a champ.
The coffee cake makes approximately 7 servings and each serving is 110 calories and relatively low in fat, however still consists of approximately 2 carbs despite the natural sweetener. I enjoyed the apple cinnamon flavor, however did find it slightly sweet for my tastebuds. My father-in-law though absolutely loved the flavoring and thought the sweetness level was just perfect. The lemon mouse is about 70 calories per serving and is about half a carb, so really not too bad. The Sans Sucre lemon mousse would be a fantastic topping on a plain cake or even a base for a fruit cake or fruit parfait. I can just see it pairing so perfectly!
So here's what we did to create our Sans Sucre Apple Cinnamon Coffee Cake topped with Lemon Mousse...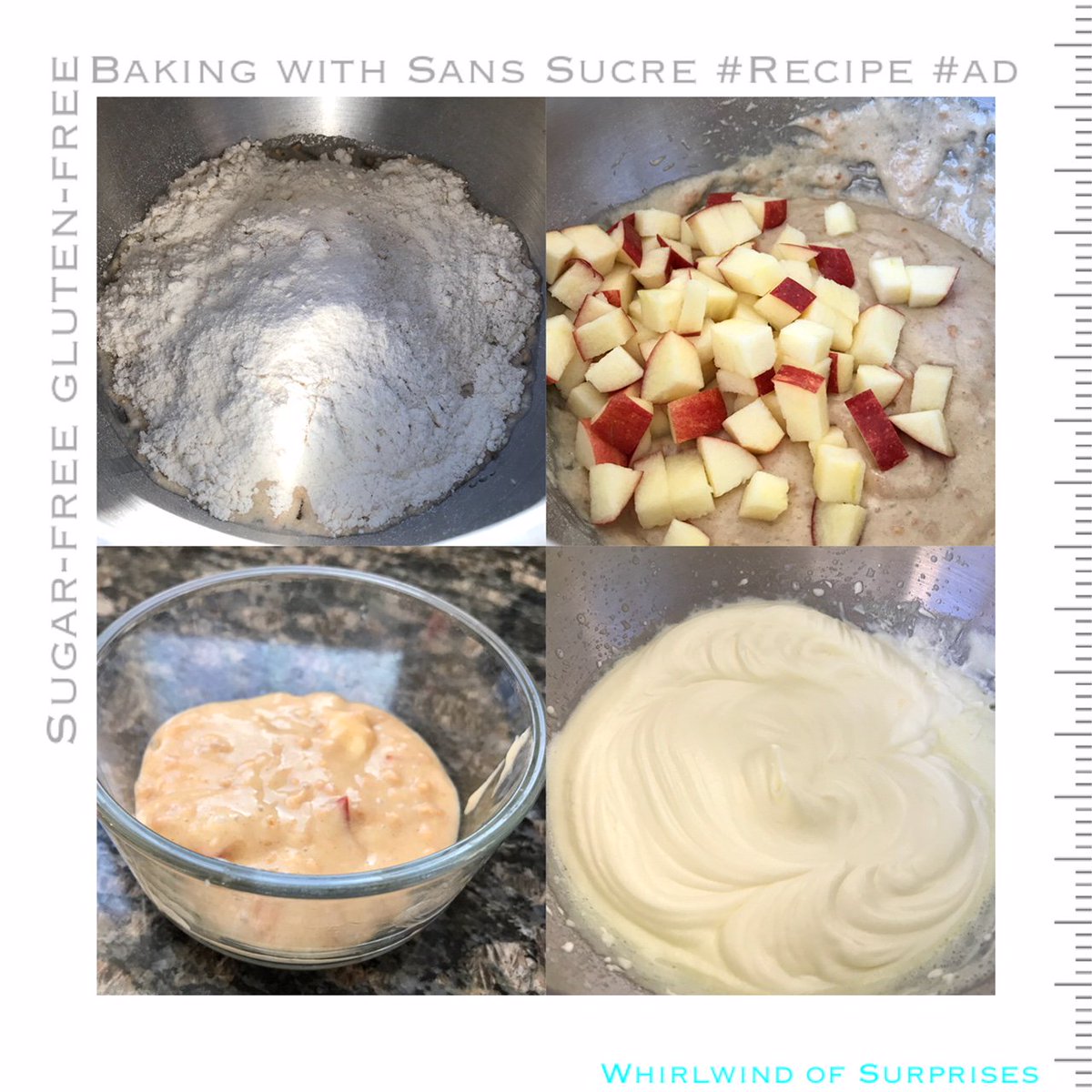 Sugar-free and Gluten-free Apple Cinnamon Coffee Cake Recipe with Sans Sucre
1) Preheat oven to 350F for a non-stick pan. I utilized some glass bowls to create individualized portions as well.
2) Blend 1/2 cup water, 2 tablespoons vegetable oil, and Sans Sucre Apple Cinnamon cake mix in a medium bowl using an electric mixer (30 seconds on low speed then 2 minutes on medium speed).
3) Cut medium-sized apple in half. Cut half of it into cubes and save half to cut into slices.
4) Fold in apple cubes into cake mix.
5) Spread mix evenly into greased pan.
6) Bake 25-30 minutes or until inserted toothpick comes out clean.
7) While cake is baking, pour 3/4 coup of cold skim milk into a mixing bowl. Add 1 envelope of Sans Sucre Lemon Mousse.
8) Using an electric mixer, blend on lowest speed until mix is blended then increase speed slowly until highest speed is reached, whipping for a total of 5 minutes.
9) Let cake cool, top with lemon mousse and apple slices then place in fridge for 2 hours prior to serving.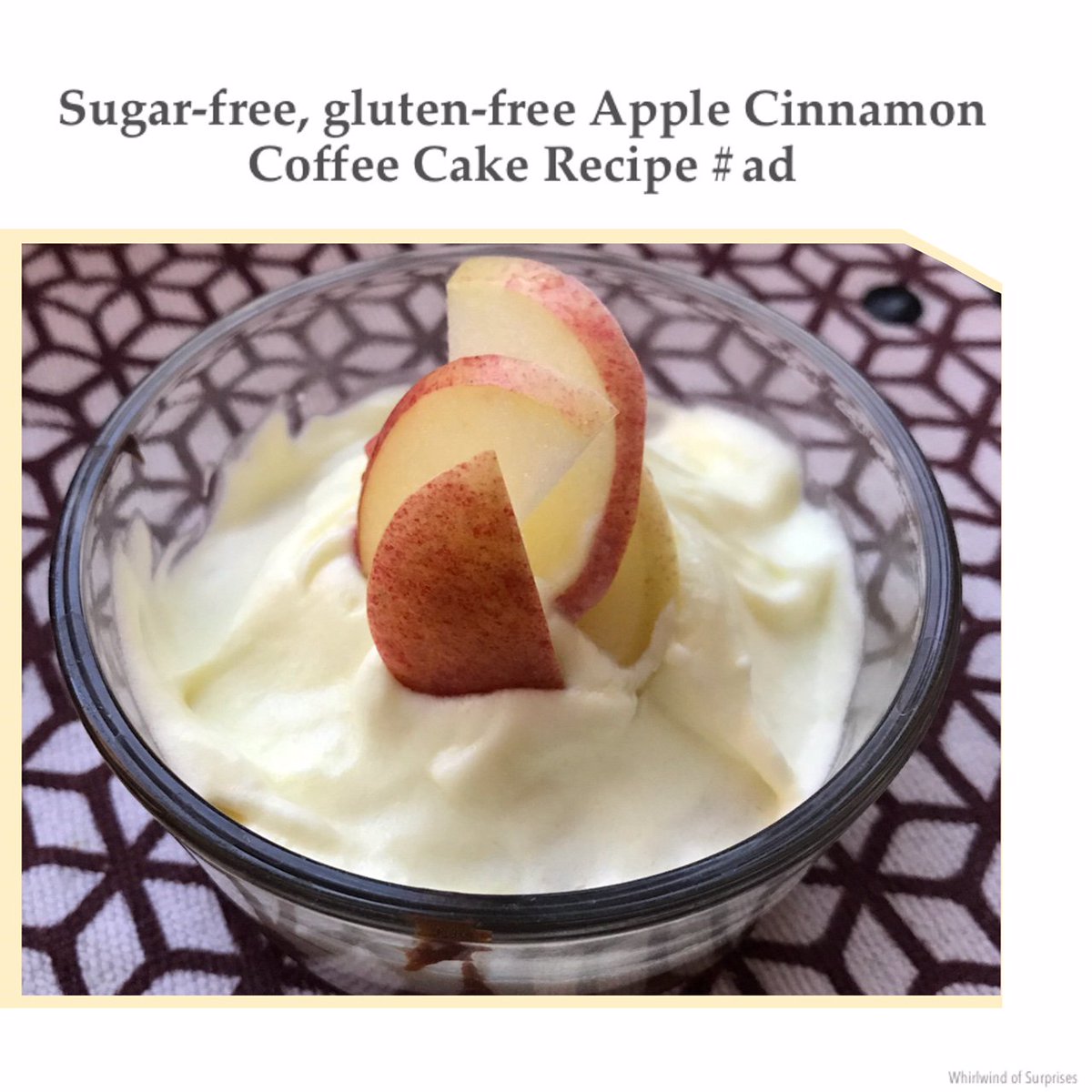 Tip
: A quick dip of the apple slices through mildly salted water will help prevent apples from oxidizing and turning brown.
Pretty awesome, right? Wouldn't you love to give it a go? I, for one, am excited to test out the rest of the naturally sweetened mixes!
The Sans Sucre line has great variety that include but are not limited to:
Sans Sucre Classic Blondie Brownie Mix
Sans Sucre Chocolate Fudge Brownie Mix
Sans Sucre Mousse Mixes: Chocolate Mousse, Mocha Cappuccino Mousse and Key Lime Pie Filling
The baking mixes retail for $7.99 in stores and can be purchased directly on
www.edietshop.com
. Visit
Sans Sucre
for more recipe ideas.
Follow WOS:
Google+
||
GFC
||
@CinnyBBS
||
WOS on facebook
||
Pinterest
||
Instagram
Until next time,