Disclaimer
: The product/s mentioned below have been provided for the purposes of this review. No other form of compensation was received. Opinions expressed belong to Whirlwind of Surprises and are NOT influenced in any way. Please view my full
disclosure, TOS, and privacy policy
. Please take the time to enter my other
giveaways
while you're here.
There is nothing more frustrating than spending hard earned money on fresh produce and have it go bad before you've had a chance to utilize it. The waste in money and loss of great nutrition can ultimately deter people from eating healthy and well. In my personal scenario, I love purchasing fresh fruit and vegetables in the summer time, however my berries always go bad so quickly. However, I have found some tips and tricks that help to keep food fresh longer and stretch those hard earned dollars!
Here are a few of my tips in no particular order.
5 Tips to Keep your Produce Fresh Longer and Save Money
1) Vacuum Sealing -Investing in a good vacuum sealer and some rolls helps to prolong the duration foods can be kept and saves money. For example, chicken can last 6 months in the freezer, however if vacuum sealed, can last 2-3 years instead. Berries instead of lasting 1-3 days can last 1-2 weeks if vacuum sealed.
2) BluApple -This has been a staple in my household since we first discovered them. These adorable blue-colored apples contain in them replaceable packets that absorb ethylene gas thus preventing fruits and vegetables from ripening at their usual pace. I have noticed that my Bella mushrooms are still looking fresh about a week after purchase and my thyme is still looking great 2 weeks after purchase. Each refill lasts about 3 months. When the 3 months are up, the packets can be used as fertilizer for houseplants or in the garden. Since the last time we refilled the BluApple products, they have stepped up their game and added activated carbon to the packs, which also help to eliminate doors in the fridge. The BluApple is still very reasonably priced at $9.99 for a 2 pack and $12.99 for a 2 pack of BluApple with activated carbon. Replacement packs will run $9.99 to $12.99 for 1 year's worth for 2 apples. Not much considering the duration you gain on your products.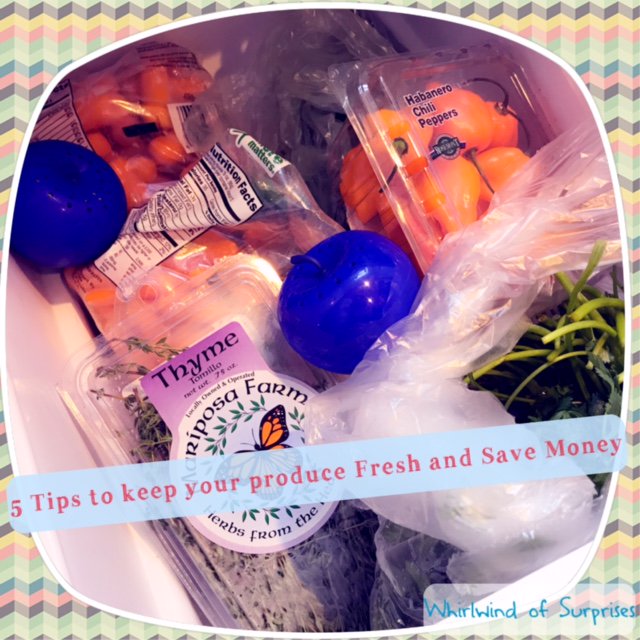 3) VeggieZips -VeggieZips with HydroLiners is the newest innovation from the BluApple line and serve a similar function. Essentially, they are ventilated zip bags that have an added HydroLiner for each bag. A HydroLiner is a soft, cloth-like towel that can be used wet, dry or not at all depending on what you're trying to store. The purpose of the ventilated bags are to allow the ethylene gas to escape, again delaying the ripening process. The general rule of thumb is to dampen the HydroLiner prior to wrapping it around to produce and placing in a VeggieZips bag for produce that needs extra moisture to stay fresh such as cilantro, lettuce or green onions. For things like mushrooms that need to stay dry, you would store the mushrooms with a dry HydroLiner. Other produce like peppers and eggplant can be stored without a HydroLiner in the VeggieZips bag. The idea of the product is actually pretty great. For some products, you can wash the produce in the bag and not even worry about a strainer. However, it does get quite complicated as there are different recommendations for various products and most should be stored prior to it being washed, meaning increased usage of VeggieZips and HydroLiners. I can see the VeggieZips bags as reusable, however, believe the HydroLiners would have to be replaced. A pack of 22 VeggieZips and HydroLiners will run for $9.99. Having the option of purchasing replaceable HydroLiners may be something to think about for the future. You can head to their site to
learn how to store over 200 types of produce
.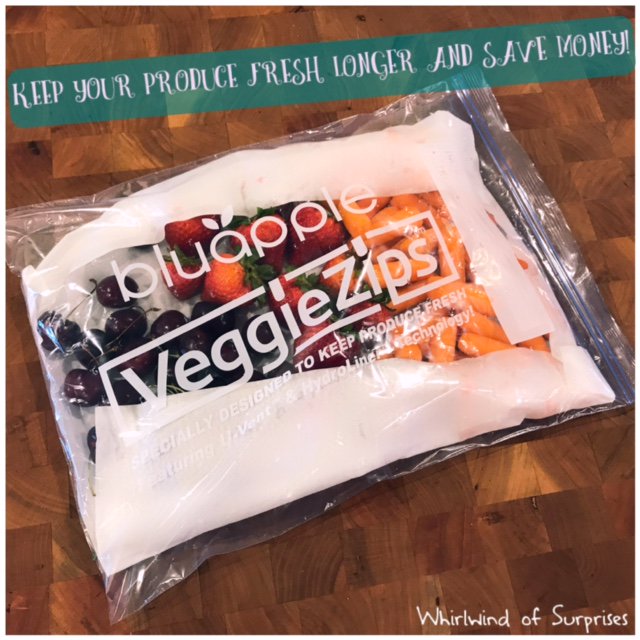 4) Bananas -Bananas are not your friend. Keep bananas away from your other produce as they produce high levels of ethylene gas thus increasing the rate of ripening for everything else around them.
5) Cold sensitive -Cold sensitive fruits and vegetables should be stored at room temperature and not in the fridge so that they last longer. These include peaches, avocados, watermelon, bananas, tomatoes, nectarines, onions, potatoes, winter squash, or garlic.
Win It
: BluApple was generous enough to offer 3 Whirlwind of Surprises' reader the chance to win a 2 pack of BluApple with activated carbon and a VeggieZips ($23 value) for themselves. Open to US/Canada, 18+ until 8/8/2017 11:59PM EST. Good luck!
BluApple
Stay connected with BluApple:
Facebook
||
Site
Follow WOS:
Google+
||
GFC
||
@CinnyBBS
||
WOS on facebook
||
Pinterest
||
Instagram
Until next time,