Disclaimer
: No form of compensation was received. Opinions expressed belong to Whirlwind of Surprises and are NOT influenced in any way. Please view my full
disclosure, TOS, and privacy policy
. Please take the time to enter my other
giveaways
while you're here.
Some days, I feel lost, kind of like a fish swimming in the ocean. These last couple days more than others...Do I feel like Dory? Mmm, maybe... she's just so cheerful regardless of her forgetfulness. I believe that it's a trait that we all love in Dory! So from our friends at Disney, I have some fun coloring pages and activity sheets to share that is sure to pick up anyone's day! And for our fellow Disney fans, we also have the newest trailer for Disney's The BFG (Big Friendly Giant) that's sure to ignite your imagination of what's to come.
Click the image below to download
Finding Dory activity sheets
which include 11 pages of colouring sheets, connect the dots, and a maze!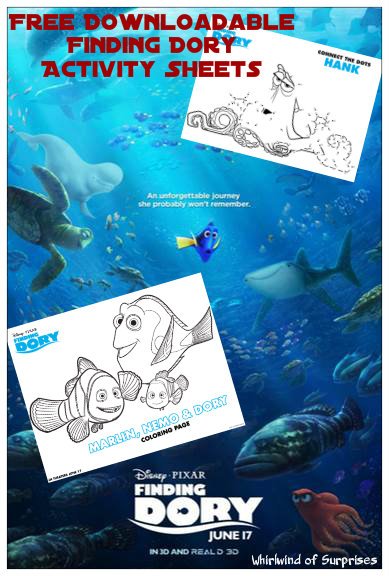 Photo Credit: Disney, Edits: WOS
Finding Dory arrives in theatres June 17th.
Less than 2 weeks after Dory visits, a big friendly giant visits town on July 1st. Steven Spielberg is the director of Disney's film The BFG, based on the best selling book by Roald Dahl. Roald Dahl is the author of some of my favourite childhood books like "Charlie and the Chocolate Factory," "James and the Giant Peach" and "Matilda." The beautiful thing about the release date of The BFG is that it marks the 100th anniversary of Dahl's birth.
The storyline follows that of a young girl, Sophie, and a Giant who picks her up and introduces her to the sights and wonders, as well as the dangers of Giant Country. In par with the Disney films that I know and love, there's always a story about family, empowerment, loyalty, and friendship. To me, these two movies have very different stories but yet it always comes down to "Help and love comes in all shapes and sizes."
This, I have truly experienced from the time I lost my wallet with my passport in it the day I needed to leave for a flight and some random stranger picked it up and got it back without expecting anything in return to today. I lost my wedding band at work yesterday and it is of more significance to me than a usual wedding band because of the story behind it. Though, I have not yet found it and really, it may truly be gone; I was truly touched when many from work, even those I don't know as well, reached out to try and help me locate it today. The upside is that people do care and can be honest. What truly made my day though is that my husband by some miraculous luck was able to find my ring for me, making everything that much better again! With that said, I leave you to the trailer of the BFG which shows just how beautiful people, little or big, can be.
If you're a fan of Steven Spielberg, check out
Steven Spielberg's Facebook Live tour of Amblin Entertainment
.
Stay connected:
Finding Dory
Facebook
||
Twitter
||
Site
The BFG
Facebook
Follow WOS:
Google+
||
GFC
||
@CinnyBBS
||
WOS on facebook
||
Pinterest
||
Instagram
Until next time,