Disclaimer
: This post is sponsored by PetSmart & Wellness Natural Pet Food and the BlogPaws Professional Pet Blogger Network. I am being compensated for helping spread the word about Wellness TruFood, but Whirlwind of Surprises only shares information we feel is relevant to our readers. Wellness Natural Pet Food is not responsible for the content of this article. Opinions expressed belong to Whirlwind of Surprises and are NOT influenced in any way. Please view my full
disclosure, TOS, and privacy policy
. Please take the time to enter my other
giveaways
while you're here.
We often know and say what our #TruLoveIs. However, what about our pets? What do you suppose their True Love is? For JR, I long realized that she was a glutton and loved to eat. It didn't really hit me until I weighed her the other night and realized she is now 6lbs overweight, from being a mere 3lbs overweight! It doesn't sound like a lot but when you're only supposed to be 15lbs, 6 is almost 1/3 of it! BabyPom, on the other hand, loves the outdoors and running outside. Seeing all of this, it was time to go on an adventure and find more true loves for JR.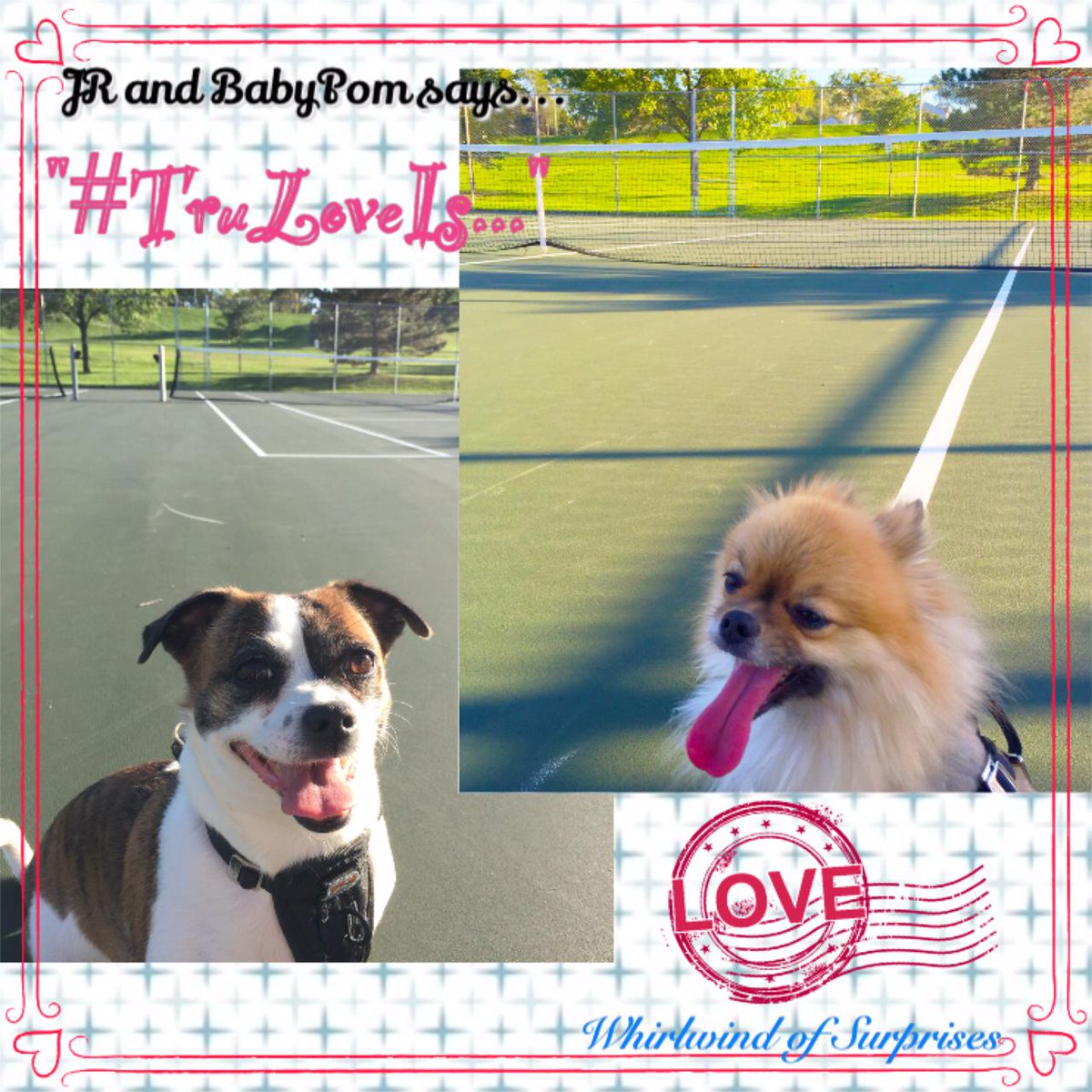 #TruLoveIs
going out to play tennis -JR and BabyPom are glorified ball pups. On sunny days, they enjoy lounging in the sun on the tennis courts and chasing after balls. I like to think that they're cheering their mother on.
#TruLoveIs
running around the park -No good day out is without some free range time in the park...exploring, sniffing the flowers, and rubbing their scents into the grass, these pups think they own all the parks! Of course, JR and BabyPom love to run themselves silly and chase each other until they're starving...
#TruLoveIs
family -Ya, that's right, we said it. Who else gives unconditional love and sloppy kisses and are always excited to see their family come home?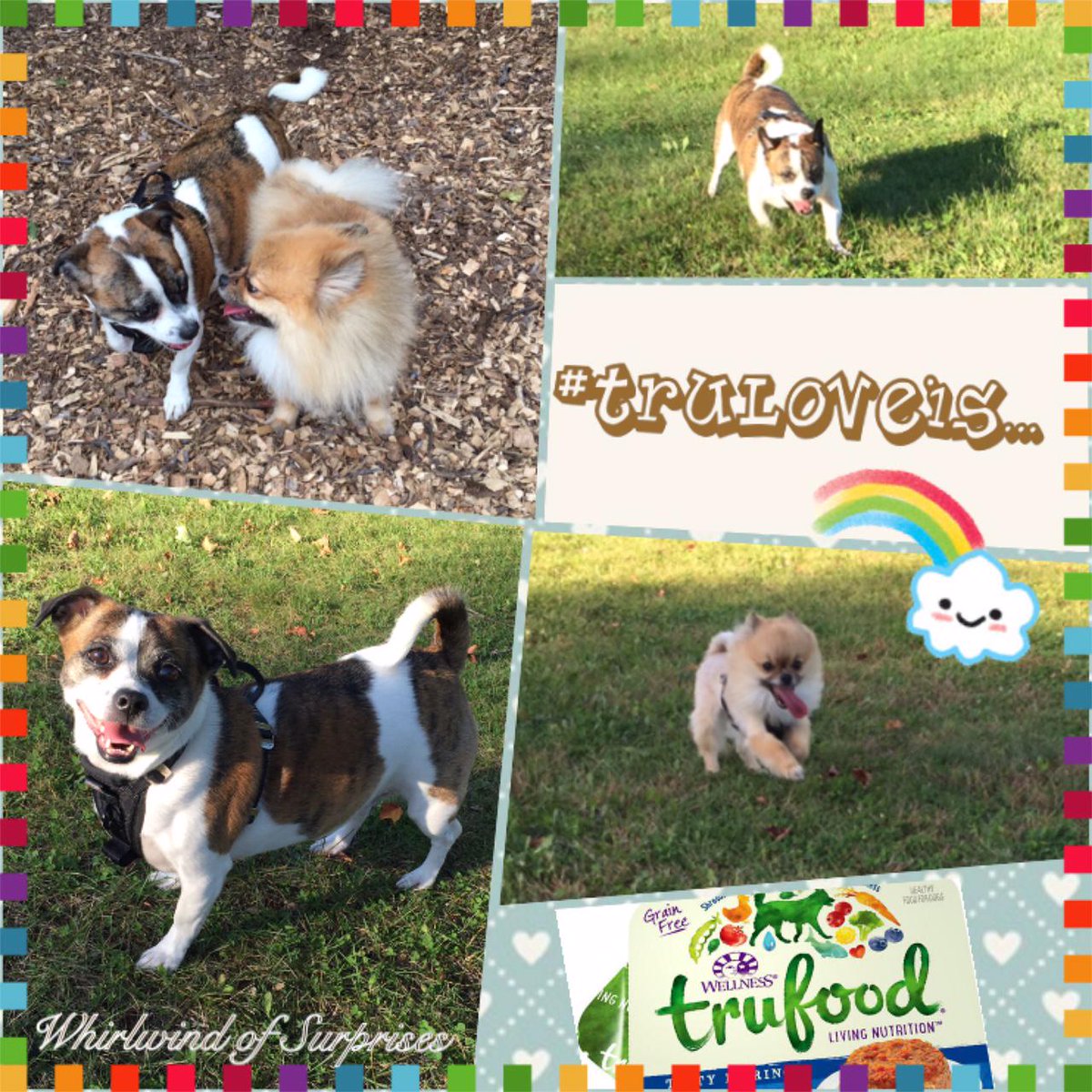 Of course, we can't avoid their key true love...
#TruLoveIs
Wellness® TruFood® at PetSmart®
A key part of your pets' health and wellness depends on their nutrition.
Wellness Trufood
is a new line of dry food, wet food, and treats for both dogs and cats has arrived in PetSmart. TruFood is a whole new level of natural pet food. Wellness TruFood Dog Food is made from whole foods and has 70% more raw protein than most pet foods. TruFood Wellness isn't without good grains and vegetables though. In each and every TruFood, there are also kale, broccoli, green beans, and superfoods like beets, blueberries and cranberries. Grain-free fiber like chickpeas, flaxseed and lentils are a key component of Wellness TruFood to help digestion, along with pumpkin, gender, turmeric and live yogurt cultures. The recipe together helps to great a healthy choice to support our furbabies' immune system and contribute to a healthy weight.
#TruLoveIs
a good nap -I have to say this is true for all of us, not just JR and BabyPom. Who doesn't love a fantastic food coma? After a yummy meal is time to nap and rest up for the next adventure to come!
Tell me what your pets' or your #TruLoveIs!
Stay connected with PetSmart:
Facebook
||
Twitter
||
Site
Follow WOS:
Google+
||
GFC
||
@CinnyBBS
||
WOS on facebook
||
Pinterest
||
Instagram
Until next time,