Disclaimer
: The reviewer has been compensated in the form of a Best Buy Gift Card and/or received the product/service at a reduced price or for free. No other form of compensation was received. Opinions expressed belong to Whirlwind of Surprises and are NOT influenced in any way. Please view my full
disclosure, TOS, and privacy policy
. Please take the time to enter my other
giveaways
while you're here.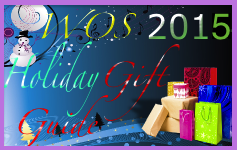 Home safety is something that everyone worries about. When we travel or work, what happens at home? What if someone breaks in? What if you just want to make sure your place is safe and sound or that the kids are safe? In my case, we live in a place where the "maintenance" people come in at times to change the filter or check the alarms, whether we're home or not. That itself drives me crazy because I don't know what else they could be doing when I'm not at home supervising. We also have two four pawed family members that I always worry about when we're not at home. What kind of troubles do they get into? For all these reasons and more, a good home security system is a must. When it comes to security systems, there are many choices and varying price ranges. How do you choose?
One of the newer, more affordable options includes
The Canary Indoor Wireless High-Definition All-In-One Home Security device
that ranges in price from $200-$250 depending on the vendor. Housed in a sleek minimalist look that's is easily held in your hand and smaller than one of my wedges, the Canary features HD 1080p resolution video monitoring with sound and motion detection notifications to help keep your home safe.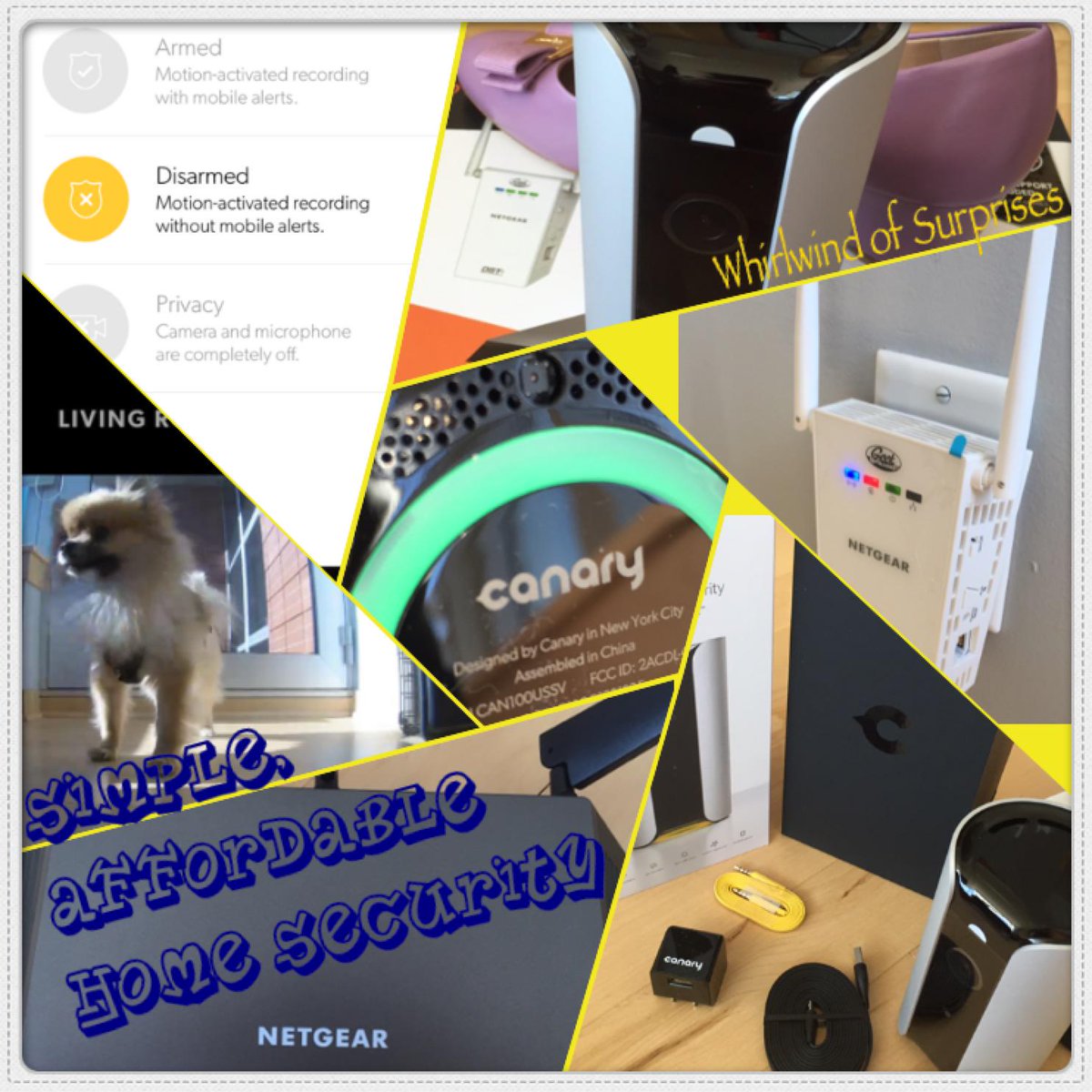 Design
: I loved the minimalist look of both the package and the Canary itself looked. It amazed me that the tiny camera inside of the console was able to provide a wide 147° field of view, minimizing blind spots. So if you place it in the right place, it really gets a view of almost everything. The LED coloured ring that changes from green (armed) to yellow (disarmed) mode was quite a sight to behold.
Photo Credit: Best Buy
Functionality
: If any of you have ever used Presence, a free app that uses your extra Apple devices to monitor your home or pets, Canary works quite similarly, however with better features. Canary is able to automatically sense when you are gone to automatically change the surveillance system from disarmed to armed. The difference between the two modes isn't much. They both have motion-activated recording, however when it's armed, you get push notifications to your Apple or Android smart phone when the motion-activated recording is triggered. With either of these two modes, you can "watch live" although I've found that there's a 10-15 second lag before the video loads. Even with the motion-activated recordings, the lag can be 10-20 seconds long from the actual motion to it showing up on the watch live video. At which point, you can decide whether to trigger the 90+ dB siren or contact emergency numbers direct from the app. I decided to set off the alarm to see how loud it would be and can say it would definitely startle any potential intruder. Sync up to 4 Canaries with 1 device. There's also a third private mode in which no video or sound is being recorded.
The high quality imaging isn't only limited to day time monitoring. The Canary has infrared night vision that provides for startling high quality video for images up to 20' away.
The Canary is also equipped with HomeHealth technology, which essentially comprises of various sensors that are able to monitor the temperature, humidity and air quality of your home.
Photo Credit: Best Buy
Affordability
: You can stream live video at any time through the free app. The app itself is free and once you purchase the Canary system, you don't necessarily need to upgrade plans. However, like all other surveillance apps, there are options to upgrade where you can have more storage and recorded events than the 12 hours that come with the free version and unlimited video download. The premium plans go from $5 to $30 per month. They also offer a savings with StateFarm insurance, which is something I still have to figure out. Canary states that owning a Canary may save you money with your home insurance.
User Friendly?
-When I opened the box, I have to admit I was a little frustrated because I couldn't figure out how to set it up. There's a little booklet that makes it seem super easy but what users need to know is that all the instructions are available once you download the free Canary app. Once the app is up, it walks you through the set up step by step. You can even add your other household members to the app so that Canary knows when other family members are home so it knows when to arm the system. The system otherwise is easy to set up. You just have to decide where you want to place it, plug it into the power and connect it to your Wi-Fi network. You can even try to program certain events to teach Canary what's normal so that it doesn't send notifications for every little thing.
Overall, the system is pretty neat. It's not your typically alarm system that alerts a company and sends help. Rather, it alerts you and you choose whether to call for additional help or set off the alarm. I love the design and crisp clear pictures 24/7, however a limitation is that the device has to be plugged in at all times. For my purposes, it is a good choice for affordable home security and an added level of monitoring for when I'm at work or travelling. For others, it has done so much more -"Since the March 2015 launch, nearly 75 known burglaries, home invasions, caretaker abuse and other emergency situations have been captured by Canary, resulting in multiple arrests". If Canary had an in-unit rechargeable battery source, it would more easily blend into the home decor.
Speaking of WiFi systems to connect home security systems with, I have a fantastic new router from Netgear® that I absolutely love. The brand new
Netgear® Nighthawk™ DST Router and DST Adapter with Geek Squad included
that is exclusively at Best Buy is such a geeky drool-worthy router. This router is the brainchild of Netgear's collaboration with Best Buy. The goal behind the Nighthawk was to provide consumers with an easy, all-in-one solution to support all of our multiple devices at home. Between my husband and I, we alone have 8 devices that consistently use our network prior to acquiring the Canary.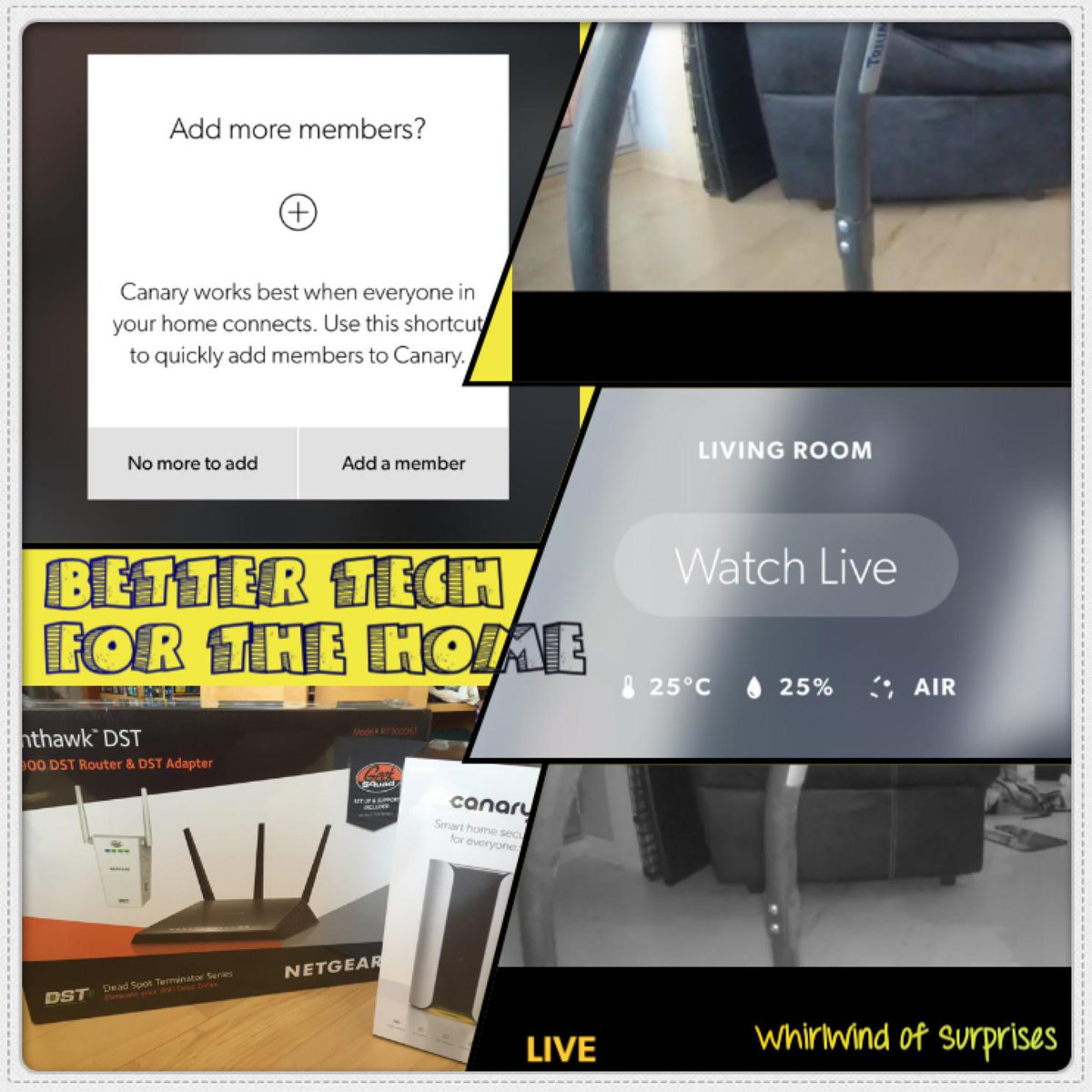 It sounds a bit crazy since the average US household has 7 "connected devices" including the smart phones, tablets, laptops, computers, Wi-Fi printers. We already have 8 when our family and friends aren't visiting. Can you imagine how our future family's internet network would have to be like to support all of our devices? There are times and areas where the connection is just not that great. I have area in my small 2 bedroom apartment that I experience dropped calls when I'm trying to call my family through Skype.
Design
: The design of this router is reminiscent of a spaceship. With the 3 antennas, it has quite the unique look, however is a little bulky for placement in my entertainment cabinet. I had to rearrange a few of my electronics in order to fit it in due to the antenna length.
Functionality
: Netgear® Nighthawk™ DST Router and DST Adapter excels at functionality. It is built to support 10+ connected devices and has 2 different WiFi networks for speeds so that you can prioritize devices for streaming videos or music on the faster connection. With the Canary, I definitely want the faster speeds and less lagging so it's even more important that I have a great router, however should note the Canary doesn't work with the 5G network.
The model AC1900 comes with one DST ("Dead Spot Terminator") adapter that functions as a mini-router in a "dead spot" area to help improve Wi-Fi access. You can even use it like a router by plugging in for a direct connection. If you're living in a huge house and finding that the access isn't that great, you have the option to purchase additional adapters.
Affordability
: The Netgear® Nighthawk™ DST Router and DST Adapter is $299.99, which is a bit more than I usually would like to pay for my routers. However in today's growing households, it's worth it to have a router that is able to provide extended coverage. The additional DST Adapter is such a bonus to have. I found my wireless now reaches outside my apartment almost to the elevator which was a complete dead zone before for both my 4G network and my home WiFi. When we move this next summer, I am really looking forward to having such a powerful router in our new home.
User Friendly?
This was one of the easier routers that I've set up in my life. Simply plug it in, turn off the modem, turn everything back on and connect to the network. Then follow the instructions to set up the whole system via the NetGear Genie and it's all done. If you need help, there is help included via the Geek Squad Set Up and Support via phone for a full year 24/7.
What do you use for home safety? Wouldn't you love to try the new Netgear® Nighthawk™ DST Router and DST Adapter with the Canary?
Follow WOS:
Google+
||
GFC
||
@CinnyBBS
||
WOS on facebook
||
Pinterest
||
Instagram
Until next time,