Disclaimer
: The product/s mentioned below have been provided for the purposes of this review. No other form of compensation was received. Opinions expressed belong to Whirlwind of Surprises and are NOT influenced in any way. Please view my full
disclosure, TOS, and privacy policy
. Please take the time to enter my other
giveaways
while you're here.
The spooky ghoul time of year is fast approaching. For some, that means horror, blood, and zombies. For me, it means a fun time to dress up as your favourite characters. I miss the good old days when we were kids and got to go trick or treating! Don't you remember the times that we accumulated masses of sweet treats and competed with our siblings to see who got a better haul? It was always a close one between my brother and I.
Just because we're all grown up though, doesn't mean the dress up stops. For some of us, that means dressing up with the kids and going out trick or treating with them. For others, it's a Halloween party, rowdy or not. Regardless, when it comes to costume shopping, I tend to check out
Costume SuperCenter
because of their wide range of choices and reasonable prices.
Minion fans, celebrate! Your favourite yellow and blue minions can now join you for Halloween! There's all sorts of
Minions Costumes
out there, however, I have found the perfect one! My Minion Pajama costume is the most perfectly soft and comfortable one piece micro fleece jumpsuit that is an Officially Licensed Costume. Designed in the classic Minions look with the blue coveralls, it is just too cute to describe. There's even a patch of hair attached like Kevin!
What I loved about it was that it was loose and comfortable. It would be a work and kid-appropriate costume that would transition perfectly afterwards to a relaxing on the couch jammies. I sent a goofy selfie of myself in my Minion attire to my brother for kicks and lo and behold, it ended up as his picture of me in his contacts. Ah, the sibling love...
Made of 100% polyester, the suit is easily cared for as it can be machine washed and dried. Two sizes exist in the form of S/M and L/XL. I chose the S/M and found that it fit nicely in term of length (I'm 5'6") and the onesie ended right around my ankles. It was a bit loose and baggy on me but it's just the right comfortable size. If you're 5'7" or taller, you'd probably have to go with the L/XL.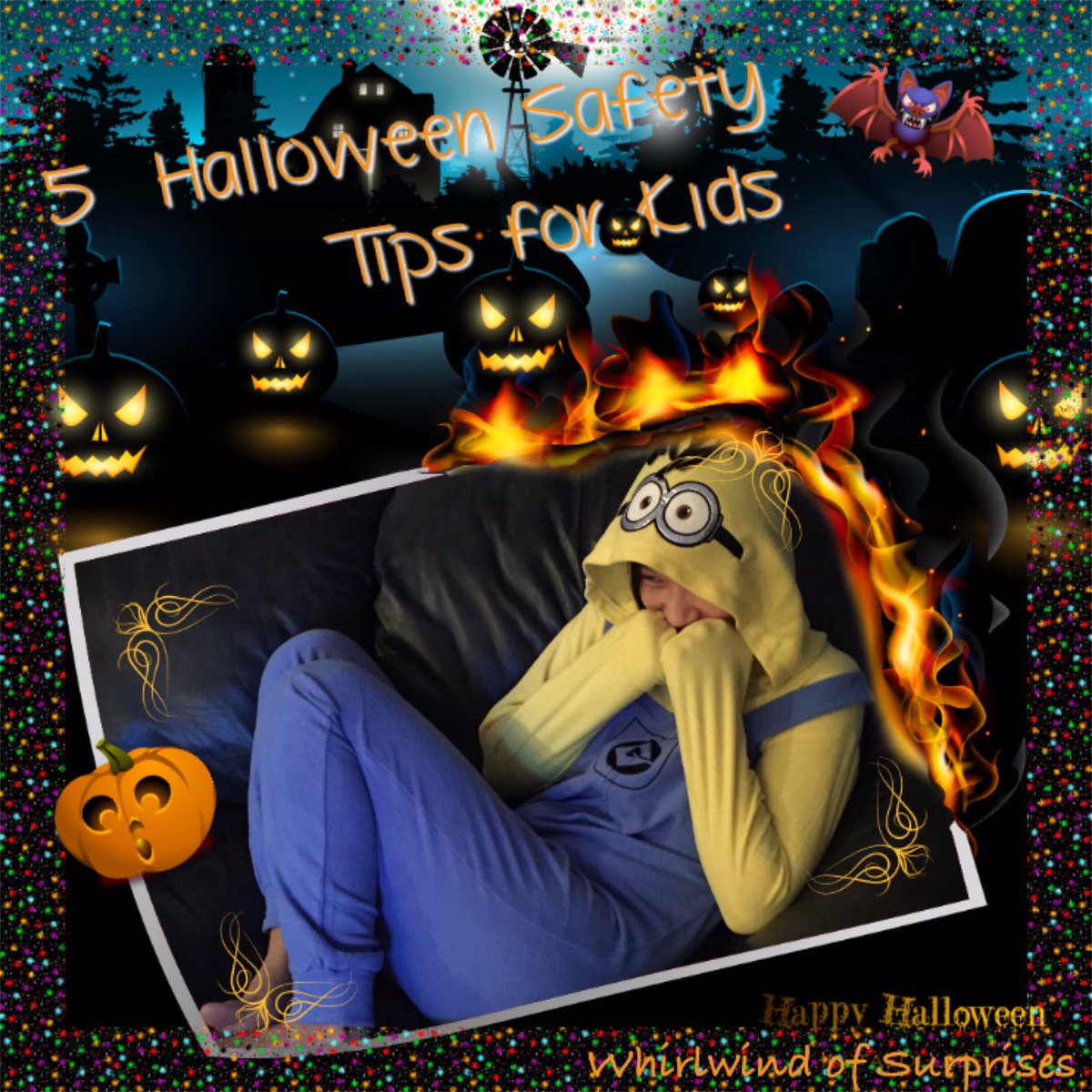 Now that I've decided on my costume for this year, let's talk about Halloween Safety.
5 Halloween Safety Tips For Kids
1) Costume
-Reflective tape is a great and easy way to increase visibility on a costume, which is so important when it's dark and trick or treaters are walking everywhere. Make sure kids aren't obstructing their view with masks or head gear. Check the length of their costume. If it's too long, kids could accidentally trip.
2) Trick or Treating
-Stick to neighborhoods that you're familiar with and go in a group. There's safety in numbers. It's obvious that kids should never step into a home by themselves unless it is someone they know.
3) Inspection
-This was my parents favourite and most enforced part and I totally get it. No candy until you get home and inspect the candy for any tampering or choking hazards. Store bought treats are typically safe but home made treats (unless they're from someone you know) are typically trashed.
4) Carry a flashlight
-It's convenient and nice to be able to see where you're going in the dark.
5) Have a filling dinner
-Have a healthy and filling dinner prior to heading out to trick or treat. That helps to puts a limit on the amount of sugary sweets the little ones may be tempted to have.
Have a safe and happy Halloween! What are you planning to do or be this Halloween? Do you have any safety tips you always stick by?
Follow WOS:
Google+
||
GFC
||
@CinnyBBS
||
WOS on facebook
||
Pinterest
||
Instagram
Until next time,