I love my sticky notes. I really do. I have them in all sorts of shape and sizes. So when the opportunity to review Avery's newest idea, See-Through Sticky Notes, I jumped on it! How cool is that? I always layer my stickies and flip through them but with these, I don't have to. I can just see through and see what sticky note I need or what I've written underneath! Isn't that the coolest thing? And they come in all sorts of colors too!
I was sent a couple packets of these see-through sticky notes to try. Want to see them in action? Look at this recipe book demo below. Isn't it cool how you can edit and "write" on a recipe book but not really write on it at the same time? And your recipe book stays in perfect condition, free of writing. Plus, its great how you can add your additions but still see everything beneath it. These will definitely come in handy for my planners, bills, and everything in general!
Did you know Avery is contributing towards schools and has launched the "Avery Sticky Notes Mark the Spot" Sweepstakes? Twenty-thousand people who register for the sweepstakes will be randomly chosen to win a FREE pack of Avery See-Through Sticky Notes. Five of those winners will further be chosen to receive 100 000 Box Tops coupons valued at $10 000 to be given to a school of their choice!! Isn't that great? Sign up is simple. Just go to
Avery's facebook page
and sign up to win and choose the school that you'd like to win the money for. Imagine what you can do with Avery Sticky Notes and what schools can do with a half million in Box Tops Coupons! The sweepstakes end October 25, so go check it out after you enter to win below!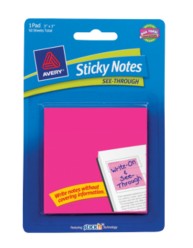 Buy It
:
Avery See-Through Sticky Notes
are available online! They range from $3.29 for a 3x3" pack of 50 sticky notes or $14.99 for 5 packs (250) sticky notes.
Win It
: Avery is generous enough and is offering 2 Whirlwind of Surprises' reader the chance to win 3 packs of See-Through Sticky Notes each for themselves. Open to US. Good luck!
I am making use of Rafflecopter, a new beta software, for this giveaway so please enter on the Rafflecopter form below. If you encounter any problems or have any comments about this new method of entry, please leave a comment below. If the form will not let you add your daily tweet, please fill out mandatory entry again with DO NOT COUNT in the extra info box. It will then let you complete the daily tweet. Give it a minute to load and if you don't see the widget after that, please hit refresh.
Disclaimer
: The product/s mentioned above have been provided for the purposes of this review. No other form of compensation was received. Opinions expressed belong to Whirlwind of Surprises and are NOT influenced in any way. Please view my full
disclosure
.
Like what you see? Follow me on GFC and
twitter (@CinnyBBS)
to get the latest updates. Like us on
facebook
or join us through
Network Blogs
. Leave me a comment if you'd like me to follow back on any of these.