Disclaimer
: The product/s mentioned below have been provided for the purposes of this review. No other form of compensation was received. Opinions expressed belong to Whirlwind of Surprises and are NOT influenced in any way. Please view my full
disclosure, TOS, and privacy policy
. Please take the time to enter my other
giveaways
while you're here.
It is May again and with it, comes our much-celebrated excitement for Dino-MAY-nia! It is one of our absolute favorite and I mean, FAVORITE, Nat Geo Kids events of the year! We read and re-read all of our Dinosaur books so you can tell how much my preschooler loves his Dinos!
Are dinosaurs scary? Well, some of them can be scary and I'm glad we no longer live with dinosaurs romaing the Earth. However, they are just so fascinating to learn about. I love how when we read a good book, it is just so interesting that my son recalls the little random facts and tidbits we read and subsequently regurgitates it to me weeks later! Check out the National Geographic
DinoMAYnia website
of games, videos, and more! My preschooler loved seeing the pictures and asking about the various dinosaurs and learning about the dinosaur contest.
Check out this DinoMAYnia video featuring Nat Geo Explorer Nizar Ibrahim.
Inside our DinoMania National Geographic Book Collection, there is:
Little Kids First Big Book of Dinosaurs
(ages 4-8, 128 pages, $14.95) - This is one of our favorites in the "First Big Book" series. Kids learn about the different sized dinosaurs (small, big, giant, and gigantic) with lots of fantastic facts. This is a #1 best seller on Amazon and I'm not surprised. It's definitely a fan favorite in our household and I have honestly read and re-read it multiple times with our son which is crazy considering how long this book is. However, I can tell you without a doubt, this is one his favorite Little Kids First Big Book.
How to Survive in the Age of Dinosaurs
(paperback, ages 8-12, $9.99) - We have been working through this book nightly and it is so interesting! It brings you back into the time of the dinosaurs and even before when the greatest extinction event occurred on Earth, paving the way for the dinosaurs to rule the Earth. It walks readers through what to expect and well, how to survive. I can honestly say...I would not be a great candidate for survival in the age of the Permian or afterwards... think LARGE insects...GIGANTIC insects... UGH! I cringe thinking of millipedes as long as humans are tall today! Still, it is a fantastically interesting read and I watch my preschooler flip back to read the page with the dinosaur tracks to identify dinosaurs which is super cute!
Weird But True! Dinosaurs
(ages 8-12, 208 pages, $8.99) -This is such a curiously fact filled book! This had some interesting 300 dino-mite facts including the crazy one that people collect dinosaur poop! Dinosaur poop? This is a running joke in our family as yep, we've also read and re-read this one multiple times. It is just that popular. My son loves to say, "I wouldn't want dinosaur poop!"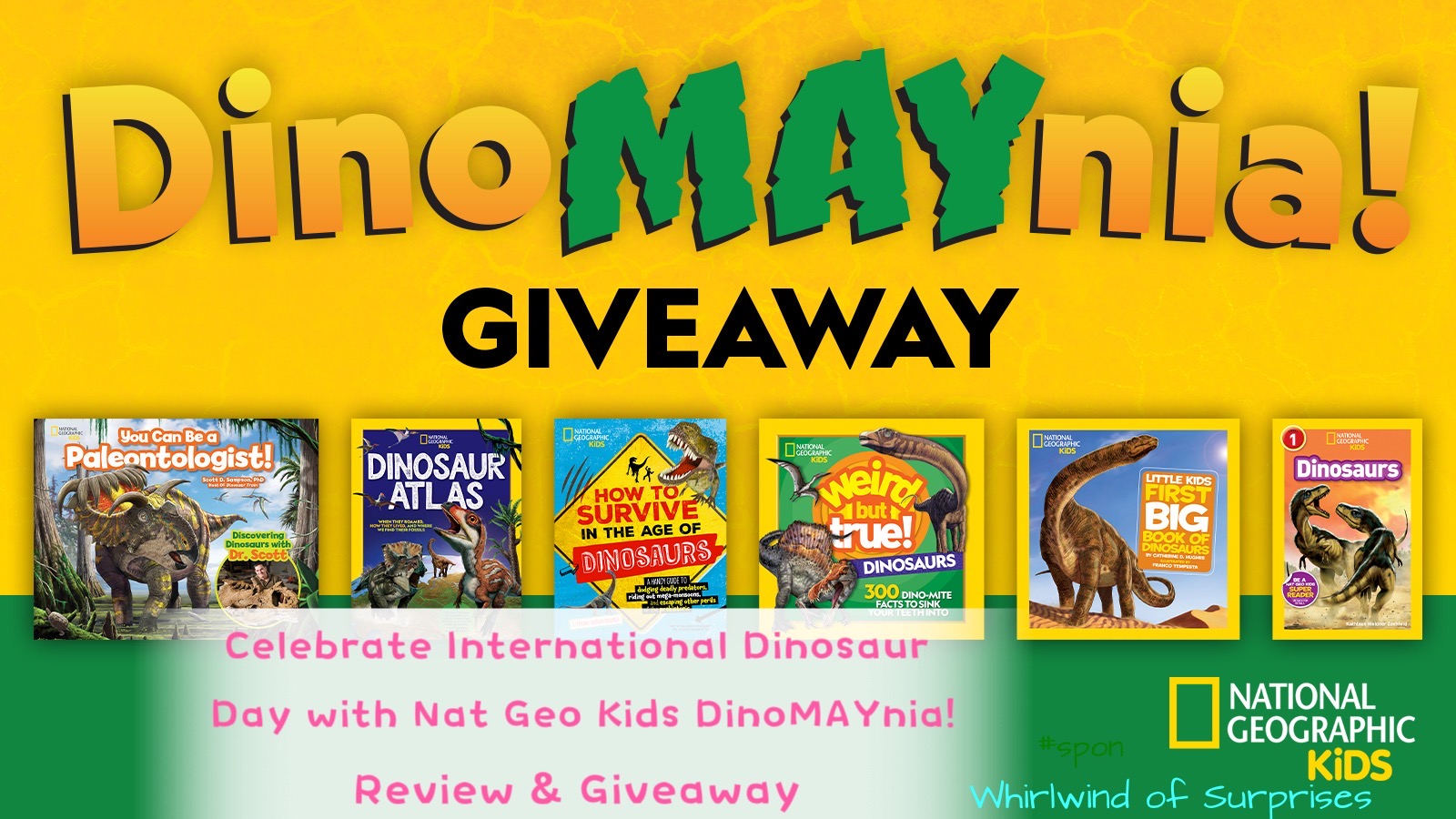 The National Geographic Kids Dinosaur Atlas
(hardcover, ages 7-10, $24.99) -Dinosaur Atlas is a pretty comprehensive atlas full every dinosaur-inhabited continent, from Pangea to the modern day. It goes through various dinosaurs, where they lived, what their habitis where like and so forth. There are also some fascinating reads and believe it or not, we would read a few pages every night until we got through the entire book! I don't think there's been a single Dinosaur book, big or small, that has not been read cover-to-cover multiple times in our home.
You Can Be a Paleontologist! with Dr. Scott
(hardcover, ages 4-8, $16.99) -This is a cool book narrated by DR. Scott Sampson who teaches kids what paleontologists do and how they find dinosaur bones. Kids learn how dinosaur bones are extracted and what the information teaches us about how dinosaurs lived!
National Geographic Reader: Dinosaurs
(Paperback, ages 3-6. $4.50)-I love early reader books! My preschooler is definitely starting to pick up words and so this was perfect to introduce new words and reinforce old words with him. The level 1 text is easy for him to grasp and the topic interests him enough that we work together to read all about dinosaurs together.
If you have a kid like ours that LOVES Dinos, you can't miss out of
National Geographic Kids' Dino books collection
. Our child is absolutely developing his love for reading with our beautifully-curated National Geographic Kids collections and this was no different. I LOVE the joy that sparks on his face when he knows new books are coming! This May, celebrate DinoMAYnia and International Dinosaur Day on May 16th with us with our Nat Geo Kids T-rexcellent collection!
Our friends at National Geographic Kids have offered up an DinoMAYnia "T-rexcellent" Prize Pack Giveaway (ARV $83) to one of our WOS readers which includes the 6 titles above. Open to the US/Canada, 18+. Ends 11:59PM EST on May 29, 2023. Good luck! Winners have 48 hours to respond before a new winner is chosen.
Nat Geo DinoMAYnia 2023 Prize Pack Giveaway (ARV $83) US 5/28
Stay connected:
DinoMAYnia HQ
||
Facebook
||
Twitter
||
Dino Books!
||
Site
Follow WOS:
@CinnyBBS
||
WOS on facebook
||
Pinterest
||
Instagram
Until next time,