Disclaimer
: The product/s mentioned below have been provided for the purposes of this review. No other form of compensation was received. Opinions expressed belong to Whirlwind of Surprises and are NOT influenced in any way. Please view my full
disclosure, TOS, and privacy policy
. Please take the time to enter my other
giveaways
while you're here.
I love a good Marvel movie and can never resist. Ant-Man and the Wasp return in Quantumania.
Synopsis:
Super Heroes Scott Lang (Paul Rudd) and Hope Van Dyne (Evangeline Lilly) return to continue their adventures as Ant-Man and The Wasp. Together, with Hope's parents Janet Van Dyne (Michelle Pfeiffer) and Hank Pym (Michael Douglas), and Scott's daughter Cassie Lang (Kathryn Newton), the family finds themselves exploring the Quantum Realm, interacting with strange new creatures and embarking on an adventure that will push them beyond the limits of what they thought possible. Directed by Peyton Reed and produced by Kevin Feige and Stephen Broussard, Ant-Man and The Wasp: Quantumania also stars Jonathan Majors as Kang, David Dastmalchian as Veb, Katy O'Brian as Jentorra, William Jackson Harper as Quaz and Bill Murray as Lord Krylar.
Marvel Studios' Ant-Man and the Wasp: Quantumania is now available on Digital and will be available on 4K Ultra HD, Blu-ray and DVD on May 16th. For fans of the Marvelverse, I think we all just absorb any Marvel movie and love the various franchises, if you will. I have loved how there have been more incorporation of girl-power in the Marvel movies.
Check out the trailer:
Ant-Man and the Wasp: Quantumania is at times confusing and other times, hilarious. It felt like a lighter movie that intermittently poked fun at itself and it's characters with it's constant jabs at Scott's books. It also incorporates the awkward teenage years and of course, the uncomfortable aspect of parental relationships and well, through it all, the fact that family matters the most.
Bonus Features include:
-Gag Reel
-Audio Commentary
-Featurettes
-All in the Family
-Formidable Foes
-Deleted Scenes
-Drink The Ooze
-I Have Holes
Overall, the family enjoyed the movie. We thought the Ooze was hilarious and even watched the deleted scenes. The whole Darren-thing was odd but other than that, it was a good family movie.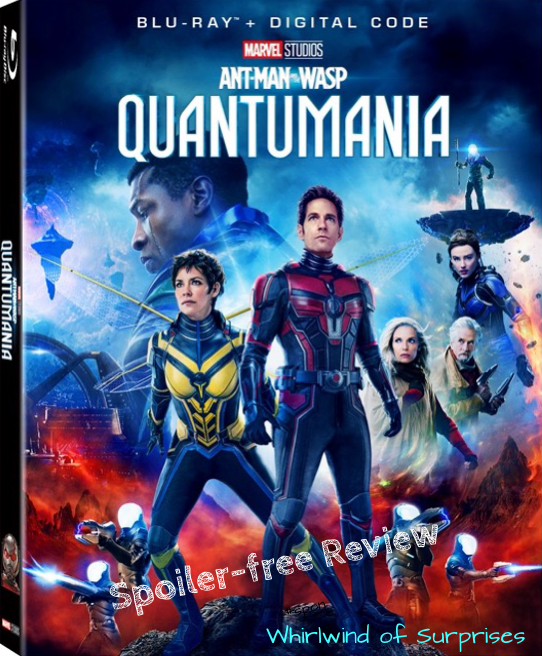 In line with our love of the Ooze, are you ready to drink some Ooze? Make your own Ooze drink inspired by Ant-Man and the Wasp: Quantumania, available to buy only on Digital retailers now and arriving on 4K Ultra HD™, Blu-ray™, and DVD on May 16!
Feature Run Time: 125 Minutes
Rating: PG-13
Genre: Family
Facebook
||
Twitter
Follow WOS:
@CinnyBBS
||
WOS on facebook
||
Pinterest
||
Instagram
Until next time,