Disclaimer
: The product/s mentioned below have been provided for the purposes of this review. No other form of compensation was received. Opinions expressed belong to Whirlwind of Surprises and are NOT influenced in any way. Please view my full
disclosure, TOS, and privacy policy
. Please take the time to enter my other
giveaways
while you're here.
As school comes closer to the end of the year, I'm always looking for good books to read and to encourage my kiddo to still stay focused without losing the fun this summer. I cannot believe he is already done with preschool! The more kids love reading onnd do well with reading, they better they do in school.
What's Cooking in Flowerville?
by Felicita Sala (Hardcover $14.95; Ages 5-9; 40 pages) -I like how this book shows young readers and cooks the different foods that come in different seasons. There are travels to the yards, balconie and rooftops to see where the citizens of Flowerville grow their vegetables plus of course, a delicious recipe that we can't wait to try out. I will admit, I'm most wanting to try the croquettes! We just love how it incorporates healthy ingredients to encourage proper nourishment for our kids.
The Wild Garden
by Cynthia Cliff (Hardcover $16.95; Ages 5-9; 32 pages) -This book introduces kids to community and biodiveristy and the way different things can grow and flourish in nature. It features a tidy community garden in the village of Mirren and the wild garden that Jilly and her grandfather enjoy. They bring about a merge of the gardens which shows that diversity can be a strength and allow different ideas, concepts to join and become better.
I Love Strawberries!
by Shannon Anderson (Hardcover $17.99; Ages 6-8; 32 pages) -This book has quickly become a favorite in our home and fits in so perfectly with the seasons and the obsessions kids dive headfirst into. This book features a young girl and her love of strawberries and the adventures that ensue as she tries to prove to her parents she is "old enough" and responsible enough to raise her own strawberry garden. It truly is an adorable book.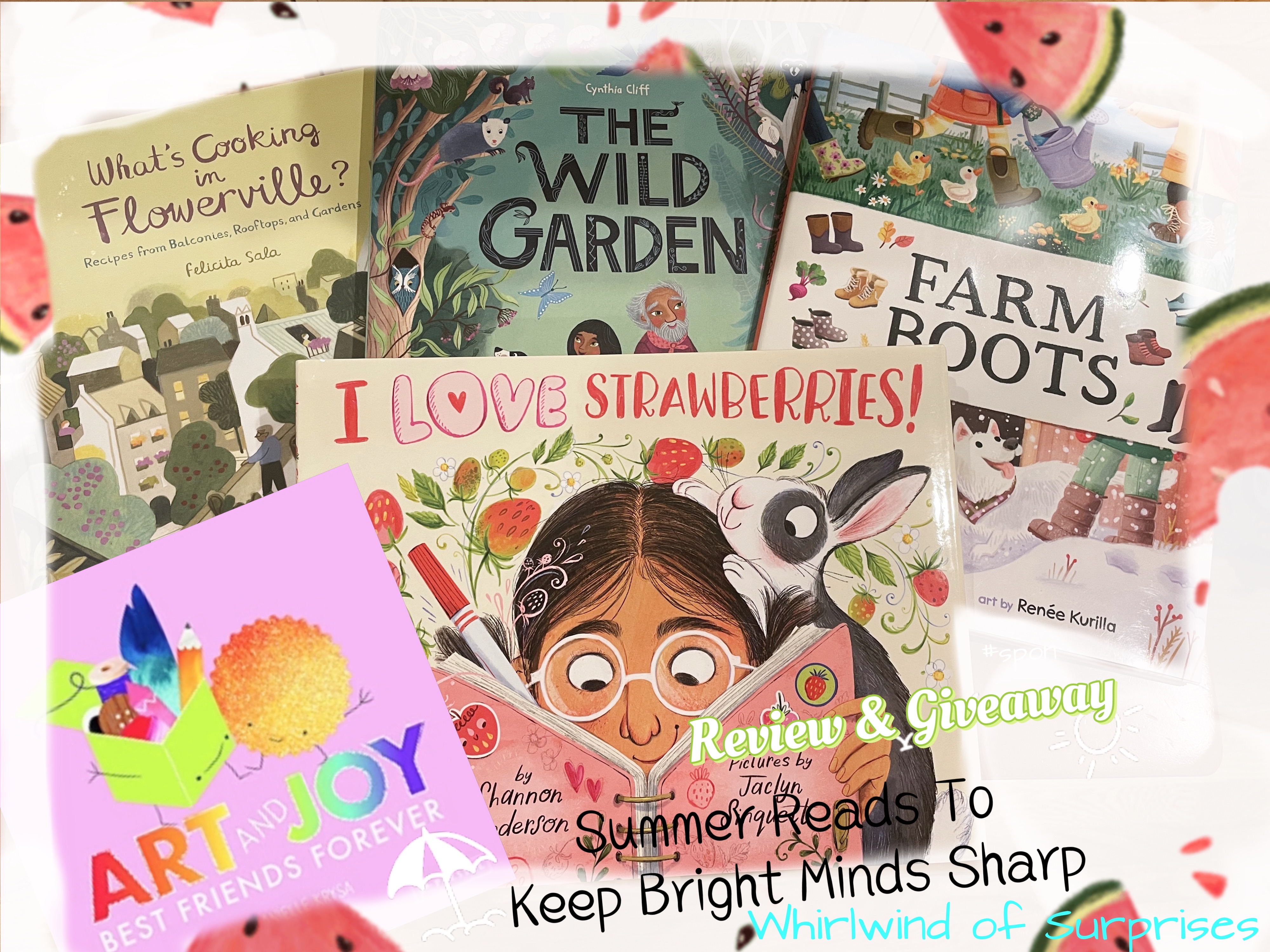 Farm Boots
by Lisl Detlefsen (Hardcover $17.99; Ages 3-6; 32 pages) -We live in rural Minnesota so we know a lot of farmers. This is such a celebration of life on the farm and the fun different types of boots that can be used in all seasons and for all sorts of different chores on the farm. This has been a frequent pick for our night-time reads as well. The funnest part is that now that our preschooler has a sibling on the way, he totally identifies with growing out of his boots and swapping them for new ones and sharing his hand-me-downs with his sibling when he or she arrives.
Art & Joy: Best Friends Forever
by Danielle Krysa (Hardcover $16.95; Ages 5-9; 40 pages) -We absolutely LOVE this book! We have Danielle Krysa's other book How to Spot An Artist and absolutely adored the concepts in it too so I found myself gravitated to Art & Joy: Best Friends Forever as well. I have been using this book as a fun reminder to our preschooler that hey, art is supposed to be fun! It doesn't need to be perfect. Sure, his art skills are improving and he can color within the lines. However, he doesn't need to be so harsh on himself when he accidentally colors outside the lines. It has been nice to remind him that we don't need an "art bully" to make our art less fun. Or that we can create over little imperfections to make it that much more fun and allow free expression.
I think these are a fantastic collection of summer books to encourage reading and creativity this summer. It's ever so improtant to keep those young minds engaged so they don't go back to school behind in the fall!
Do you have a favorite?
Our friends have been so kind to offer up a fun giveaway prize pack including 4 hardcover books - What's Cooking in Flowerville?, The Wild Garden, Farm Boots, and I Love Strawberries! (MRSP $68) perfect for summer reading. Open to US/Canada/UK, 18+. Ends Jun 13, 2023, 11:59PM EST. Winners must respond within 48 hours or a new winner will be drawn. Good luck!
Summer Reading Prize Pack Giveaway (ARV $68) US 6/13
Follow WOS:
@CinnyBBS
||
WOS on facebook
||
Pinterest
||
Instagram
Until next time,