Disclaimer
: The product/s mentioned below have been provided for the purposes of this review. No other form of compensation was received. Opinions expressed belong to Whirlwind of Surprises and are NOT influenced in any way. Please view my full
disclosure, TOS, and privacy policy
. Please take the time to enter my other
giveaways
while you're here.
Mario and Luigi, household favorites with my brother and I as we were little. We loved playing our Nintendo Super Mario games. In fact...begged for our first Super Nintendo system from her parents together...with the Super Mario game kit. So, yep, we were definitely going to watch the new Super Mario Movie. We even loved playing Super Mario Kart as we got older, had the Nintendo Gameboy and DS and everything. My preschooler had the ? box shirt before he even knew who Mario and Luigi were. LOL! So yep, my husband and I were super excited to see The Super Mario Bros. Movie!
Synopsis:
While working underground to fix a water main, Brooklyn plumbers Mario (Chris Pratt; Jurassic World and The LEGO Movie franchises) and brother Luigi (Charlie Day; It's Always Sunny in Philadelphia) are transported down a mysterious pipe and wander into a magical new world. But when the brothers are separated, Mario embarks on an epic quest to find Luigi. With the assistance of a Mushroom Kingdom resident Toad (Keegan-Michael Key; The Lion King) and some training from the strong-willed ruler of the Mushroom Kingdom, Princess Peach (Anya Taylor-Joy;The Queen's Gambit), Mario taps into his own power.
Our preschooler naturally just got roped in. He wasn't quite sure what they hype was all about given this is his real first exposure to the Super Mario Bros. However, he got into it quite quickly and loved the movie!
Check out the trailer:
We were absolutely in love! Especially, where there were Mario Kart references. How cool is that?! Toad and his massive vehicle...we were just beside ourselves. Plus hahaha, this cast is seriously star-studded. I didn't realize truly how big the cast was. Besides the amazing cast in the synopsis, there's also Jack Black as Bowser, Seth Rogan as Donkey Kong, Fred Armisen as Cranky Kong, Kevin Michael Richardson as Kamek, and Sebastian Minascalco as Spike. There's even a special voice appearance by Charles Martinet, who voiced the characters of Mario and Luigi in the Super Mario games for more than 30 years!
Hands down though, this is a great summer movie that entertains thoroughly. Plus, "Peaches" the song sang by Bowser is now forever embedded into our household. It is literally sang multiple times a day by my husband and preschooler.
Bonus Features include:
-Getting to Know the Cast
-Leveling Up: Making THE SUPER MARIO BROS. MOVIE
-THE SUPER MARIO BROS. MOVIE Field Guide
-"Peaches" Lyric Video
-Leadership Lessons with Anya Taylor-Joy
Overall, we LOVED the movie. Here's to hoping for a sequel!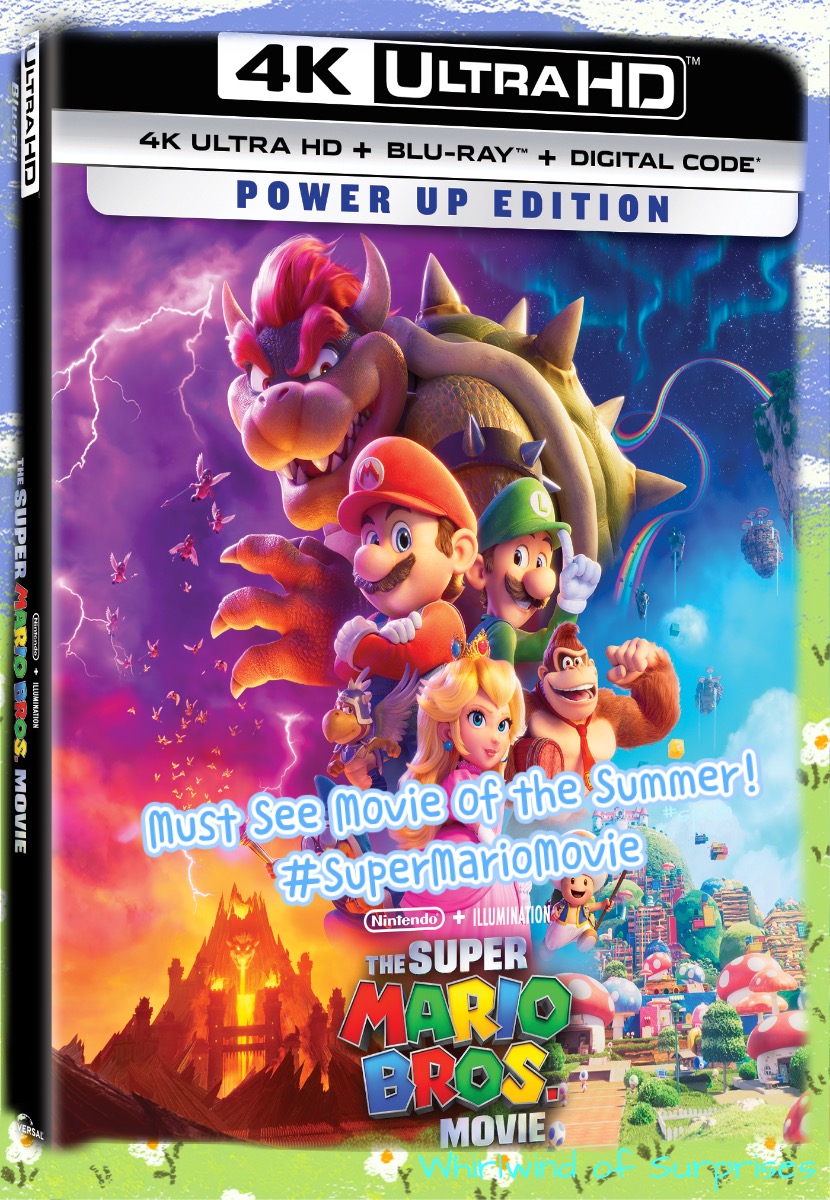 Feature Run Time: 92 Minutes
Rating: PG
Facebook
||
Twitter
||
Site
Follow WOS:
@CinnyBBS
||
WOS on facebook
||
Pinterest
||
Instagram
Until next time,