Disclaimer
: The product/s mentioned below have been provided for the purposes of this review. No other form of compensation was received. Opinions expressed belong to Whirlwind of Surprises and are NOT influenced in any way. Please view my full
disclosure, TOS, and privacy policy
. Please take the time to enter my other
giveaways
while you're here.
Spring is in the air! Okay, I know it's Spring already, but honestly, for us in the Midwest, we've still been getting snow and winter weather advisory so it's really hard to celebrate Spring right now. I would absolutely love a little more sunshine and a little less snow. Perfect in time to boost our moods is our friends from Nat Geo Kids with their Hop Into Spring Collection!
So I'm not against sweets but there's so much of it these days that I try to stay sweet-free in our Easter baskets at home too and it wouldn't be completely without our Nat Geo Kids Hop Into Spring Collection. Check it out below. I love nourishment for the minds!
Inside our Nat Geo Kids "Hop Into Spring" Collection, there is:
That's Fact-tastic! Mind-Blowing, Eye-Popping, Jaw-Dropping Stuff About Our World
(Hardcover, $19.99, ages 8-12,192 pgs) - We love our fact books and learning so much about the random yet beautiful things in our world. I had no clue a giraffe's eye is as big as a Ping-Pong ball or the absurd amount of hot dogs that are sold at MLB games yearly. I think secretly, I love reading these books to our preschooler and having my husband randomly listen in and be shocked at all the cool facts that fill these pages. This book is definitely for kids older than our preschooler but he is just so curious about everything that he loves the special features in this book like Extreme Weirdness and Strange Places.
Little Kids First Board Book: Becoming a Butterfly
(Board Book, $7.99) -Now that my preschooler is starting to read on his own and picking up words, these Little Kids First Board Book series is just so perfect! With it's super-simple facts and beautiful pictures, it's a great book to read to the little ones or encourage them to start reading out loud with you. Becoming a Butterfly is an artistic yet down-to-earth book to learn about the life-cycle of a butterfly.
Little Kids First Big Book of Sports
(Hardcover, $14.99, ages 4-8, 128 pgs) -You readers probably get sick of me mentioning our favorite series but Little Kids First Big Book Series are the best! There is so many fantastic book in this series but I cannot count how many times we've read about Dinosaurs and Reptiles and Amphibians. This is definitely a book that encompasses so many different sports and will be the perfect thing to introduce our preschooler to different types of sports and how they're played. There are even special sections fo rthe Olympic and Paralympic Games. I admit I sometimes have troubles with trying to explain certain sports to my kiddo so this is a great reference to help make my explanations easier.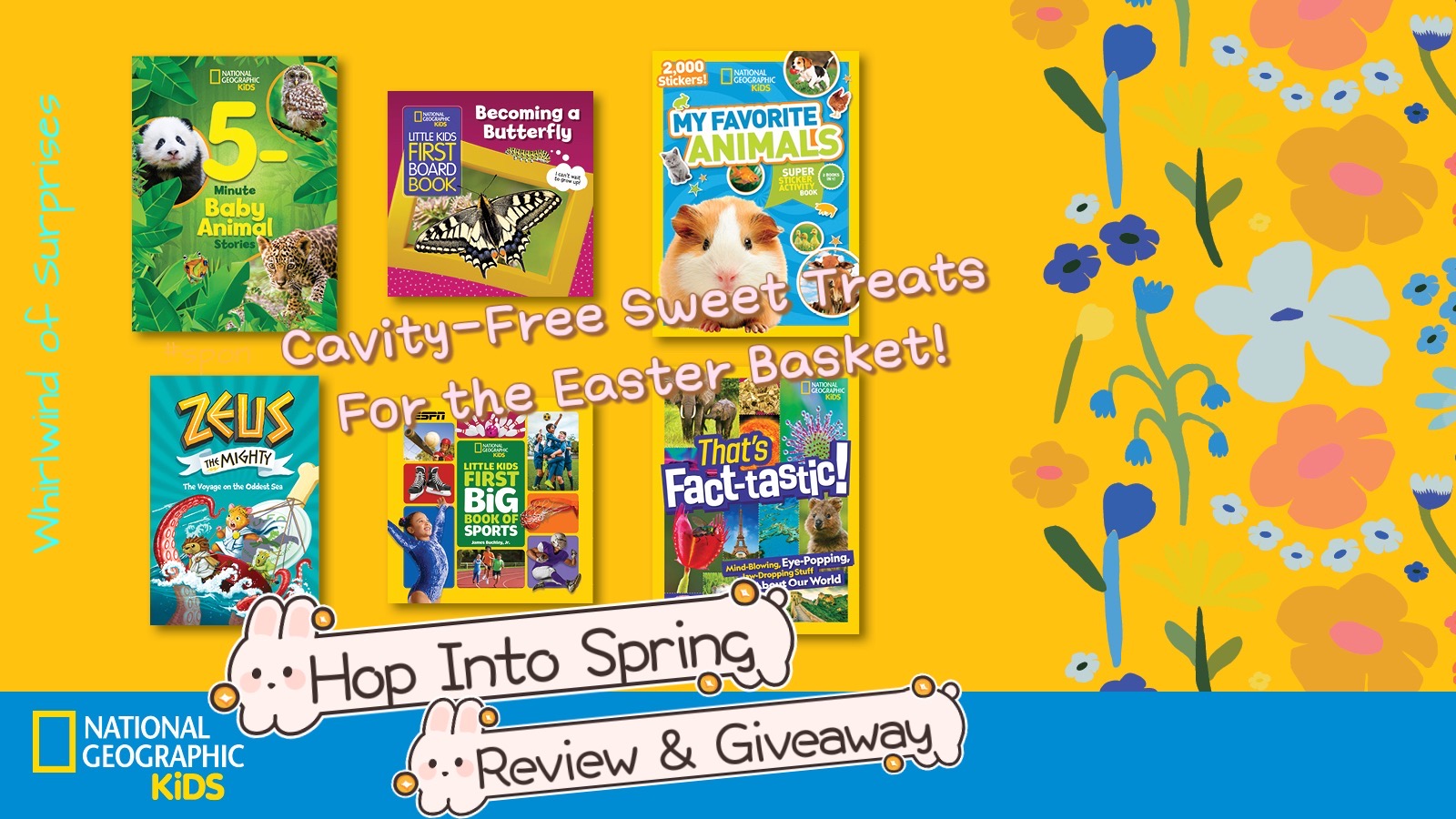 Zeus the Mighty: The Voyage on the Oddest Sea
(Hardcover, $12.99, ages 8-12, 192 pgs) - We have absolutely enjoyed reading this series. Our chapter books go on our road trips and we read a bit at a time and our preschooler loves the pictures interspersed between the words and always asks about the Olympians' antics. The Voyage on the Oddest Sea is the 5th installment in this series. This time, an earthquake rocks the Aegean Sea and Zeus and Demter find themsleves in an underwater realm where the other Olympians mount a rescue mission.
5-Minute Baby Animal Stories
(Hardcover, $14.99, ages 6-8, 208 pgs)-This is such a beautiful book. Meant to be great reading that can be done in 5 minutes, or less for avid readers like us, they are great little non-fiction stores about 12 different baby animals! We've been reading a story at naptime and at bedtime so we'll be through this book in no time. I love how these are true tales of some of our favorite baby animals too.
My Favorite Animals Super Sticker Activity Book
(Paperback, $12.99, ages 4-8, 112 pgs)- I barely got the books unpacked when I realized one was missing. A short search later found this Super Sticker Activity Book in the possession of my preschooler, who had snuck it away and hidden away in a kitchen nook flipping through the pages already! My Favorite Animals Super Sticker Activity Book is a cobmination of 2 Sticker Activity Books: On the Farm and Amazing Pets. We love these books because of their interactive nature and fun learning facts. The only issue I have with any sticker activity book is that the stickers don't like to stick for long or very well. Otherwise, they're great books if I can get my kid to work on the activities instead of sticking all the 2,000 stickers that are available!
This Easter, we're going on our first Easter Egg Hunt! Well, I know...my kid's a preschooler and it's hios first Easter Egg hunt?! The pandemic, cancelled hunts, health worries, etc...all messed with our plans. So yes, his very first Easter Egg Hunt where I'm sure he'll have a ton of treats and sweets to pick up along with great memories. So, I enjoy balancing Easter baskets out with some not-so-cavity-inducing sweets, such as this amazing Hop Into Spring Collection from Nat Geo Kids!
Our friends at National Geographic Kids have offered up a "Hop Into Spring" Giveaway (ARV $76) to one of our WOS readers which includes the above goodies. Open to the US/Canada, 18+. Ends 11:59PM EST on Apr 17, 2023. Good luck! Winners have 48 hours to respond before a new winner is chosen.
Nat Geo Hop Into Spring Giveaway Prize Pack $76 US/Can
Stay connected:
Facebook
||
Twitter
||
Site
Follow WOS:
@CinnyBBS
||
WOS on facebook
||
Pinterest
||
Instagram
Until next time,