Disclaimer
: The product/s mentioned below have been provided for the purposes of this review. No other form of compensation was received. Opinions expressed belong to Whirlwind of Surprises and are NOT influenced in any way. Please view my full
disclosure, TOS, and privacy policy
. Please take the time to enter my other
giveaways
while you're here.
I love my sweets as much as anyone else but I admit, I'm a little bit of a hypocrite when it comes to my child. In a sense, having a child has curbed a lot of my bad eating habits. I tend to go for healthier options to try to set that good example to get them started on life in a healthy way. So, our Easter is typically less sweet-tooth oriented than it used to be. One of my absolute favorite go-to's are gifts that are both fun and educational if you've followed along the blog at all. Our proverbial Easter basket for our preschooler this year is sweet in a non-sugary way.
National Geographic Kids is a staple in our household and honestly, what better way to add to a fun Spring-filled holiday than adorable animal boos and fun facts? This collection features books we already know and love plus some new ones as well.
In our Easter Basket National Geographic Book Collection, there is:
Celebrate Easter
(ages 6-9) - This is such a rich book...rich in the sense that it is full of the origins and traditions of Easter and it shows how it it celebrated around the world in different cultures. In our fragmented society these days, having something that shows various cultures celebrating the same event, the rebirth of Christ sends a powerful message.
NG Kids Baby Animal Sticker Activity Book
(ages 4-8) -This book is an absolute hit with our preschooler. I think Nat Geo sucked him in already at the 1,000 stickers part. What kid doesn't love to stick and play with stickers. What makes this book special though is how using those stickers correctly teaches fun facts about so many different animals and the natural world. THere's games like mazes, coutning, matching and so much more.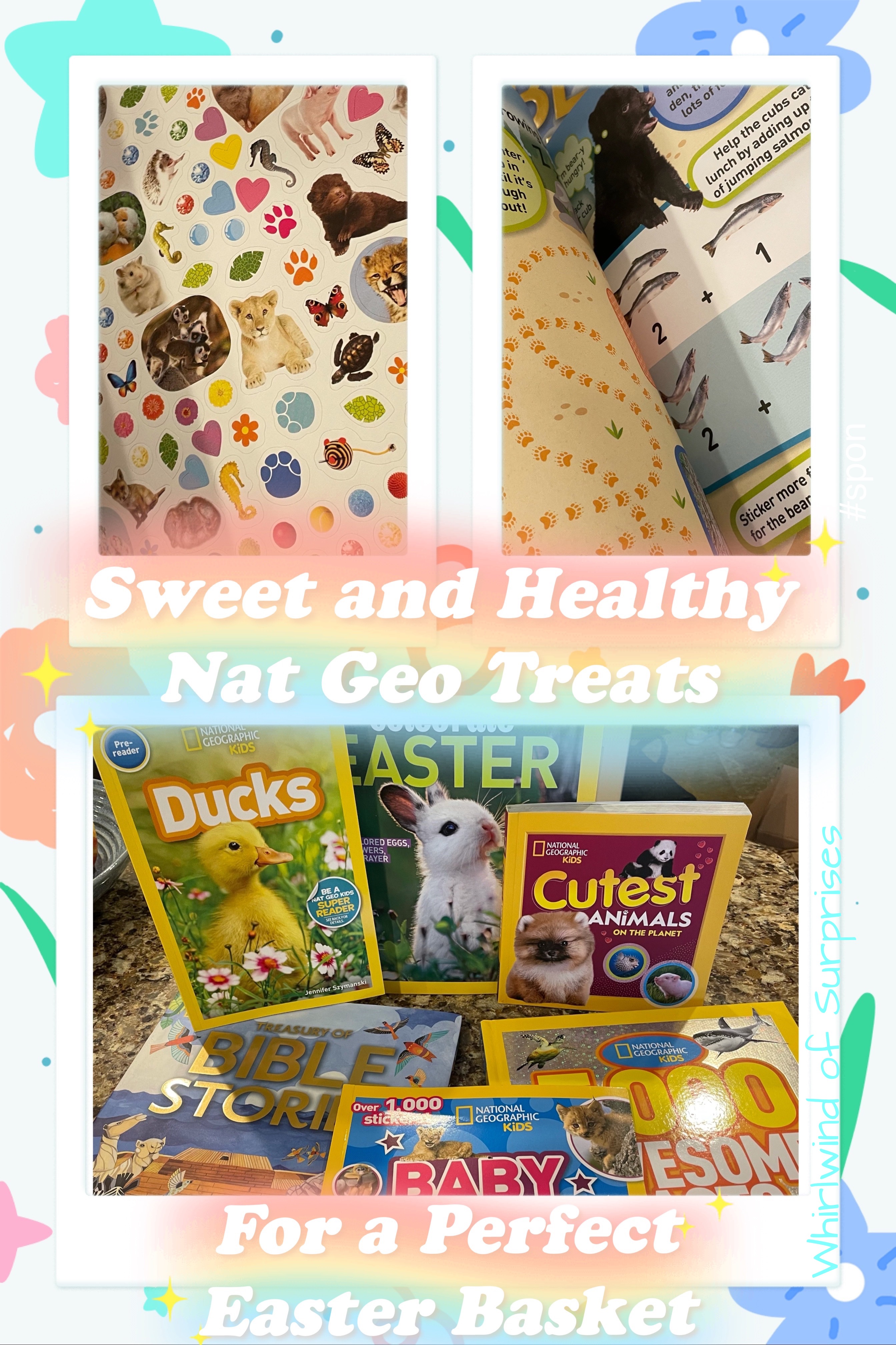 National Geographic Pre-Reader: Ducks
(ages 2-5) -Ducks is such a lovely straight forward book for early readers. I knew there were a lot of different types of ducks and we enjoy pointing them out on our walks. However, it was so nice to be able to put names to some of the ones we see and actually know their actual names. The wording is nice and simple and perfect for our preschooler who's starting to learn to pick out words. Parents themselves, us included, may just have an in-depth lession learning more about ducks that you ever thought you would.
Cutest Animals on the Planet
(ages 8-12) -Oh my goodness! I don't think the could make a cuter book. I mean how did no one think of this before? Cutest Animals on the Planet is the first book in a brand-new series from National Geographic Kids. It features all sorts of animals that could definitely vie for the title of cutest animal ever and various learning points about those animals. Yep, this is a serious sucker punch for any animal lover.
Treasury of Bible Stories
(ages 8-12) -This is a classic. Yes, Easter has all these cute bunnies and chicks, eggs and goodies...however, the cultural history of Easter is just as important. Stories simplified for children that highlight values that are so important, even more so today -faith, loyalty, kindness, generosity, and issues such as violence, greed, jealousy and more.
5,000 Awesome Facts About Everything
(ages 8-12) -I never thought I'd say this but there's something about learning about random facts that's kinda cool. With fun pictures and photographs along with a mind-numbing number of facts, you'll keep learning something new with your kids.
Isn't this a fun collection of Easter books perfect for a non-sugary Easter basket? I certainly think so!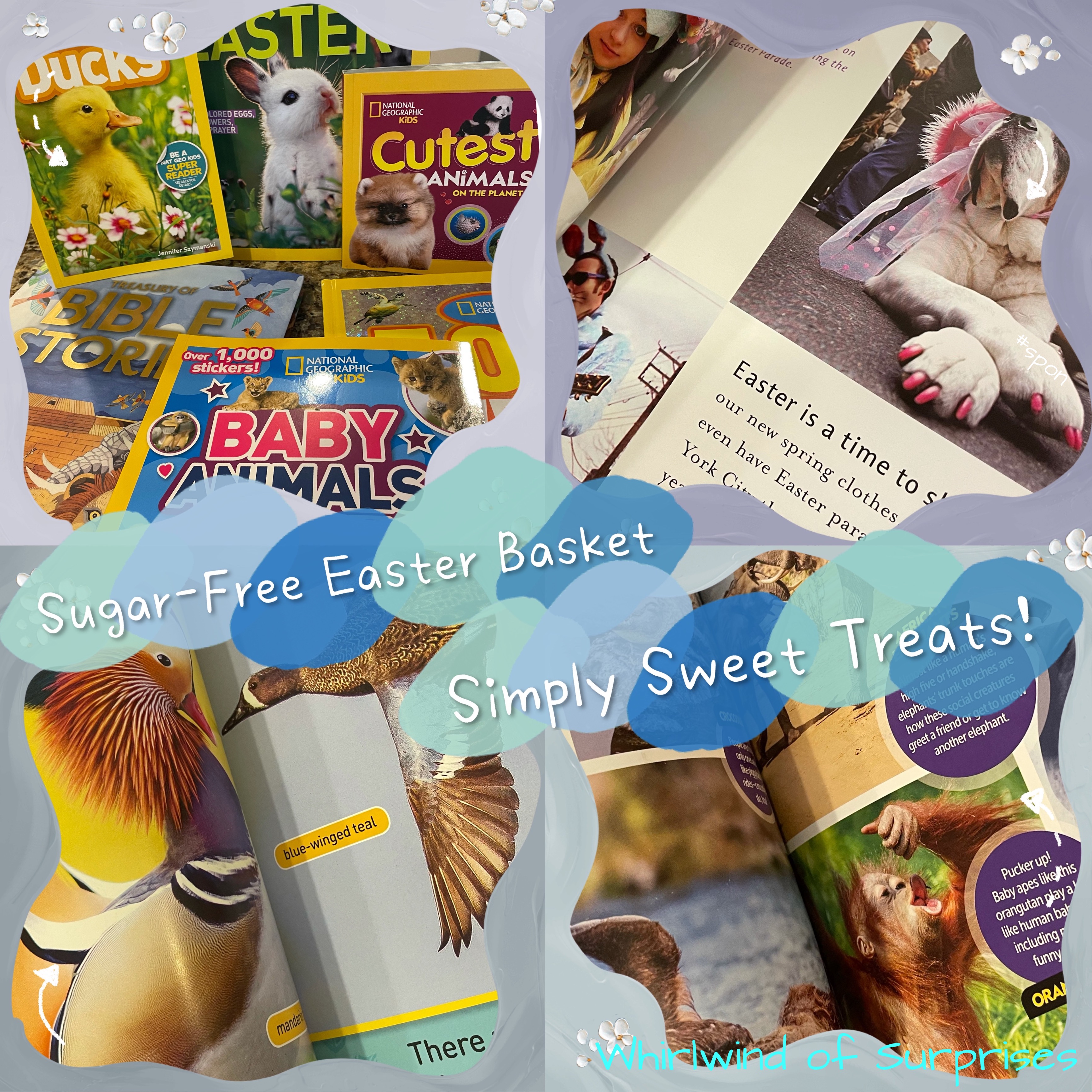 Our friends at National Geographic Kids have offered up an Easter Basket Prize Giveaway (ARV $75) to one of our WOS readers which includes the 6 titles above. Open to the US, 18+. Ends 11:59PM EST on Apr 11, 2021. Good luck! Winners have 48 hours to respond before a new winner is chosen.
Nat Geo Easter Basket Prize Pack $75
Follow WOS:
@CinnyBBS
||
WOS on facebook
||
Pinterest
||
Instagram
Until next time,