Disclaimer
: The product/s mentioned below have been provided for the purposes of this review. No other form of compensation was received. Opinions expressed belong to Whirlwind of Surprises and are NOT influenced in any way. Please view my full
disclosure, TOS, and privacy policy
. Please take the time to enter my other
giveaways
while you're here.
How are those New Years resolutions going? Now that we're officially in March, this is when some of those resolutions start fraying at the seams. This March is also when we've made it through an entire year of life in various levels of quarantine. People have adapted to some degree and coped, with some doing better than others. So, here's your virtual check in.
Running Press has brought up a great topic on Reflection and Renewal. I've seen people respond in such different ways both in my personal and work life to the pandemic that it sometimes baffles me. As much as I love educational children's books, I've decided to do the following review and giveaway for those who may be wanting help but not sure where to start. And it may be because you aren't quite ready to open up to a stranger, or rhat you're too busy taking care of your kids or parents, or you just don't know where to start.
This is about who you were, are, and want to be going forth.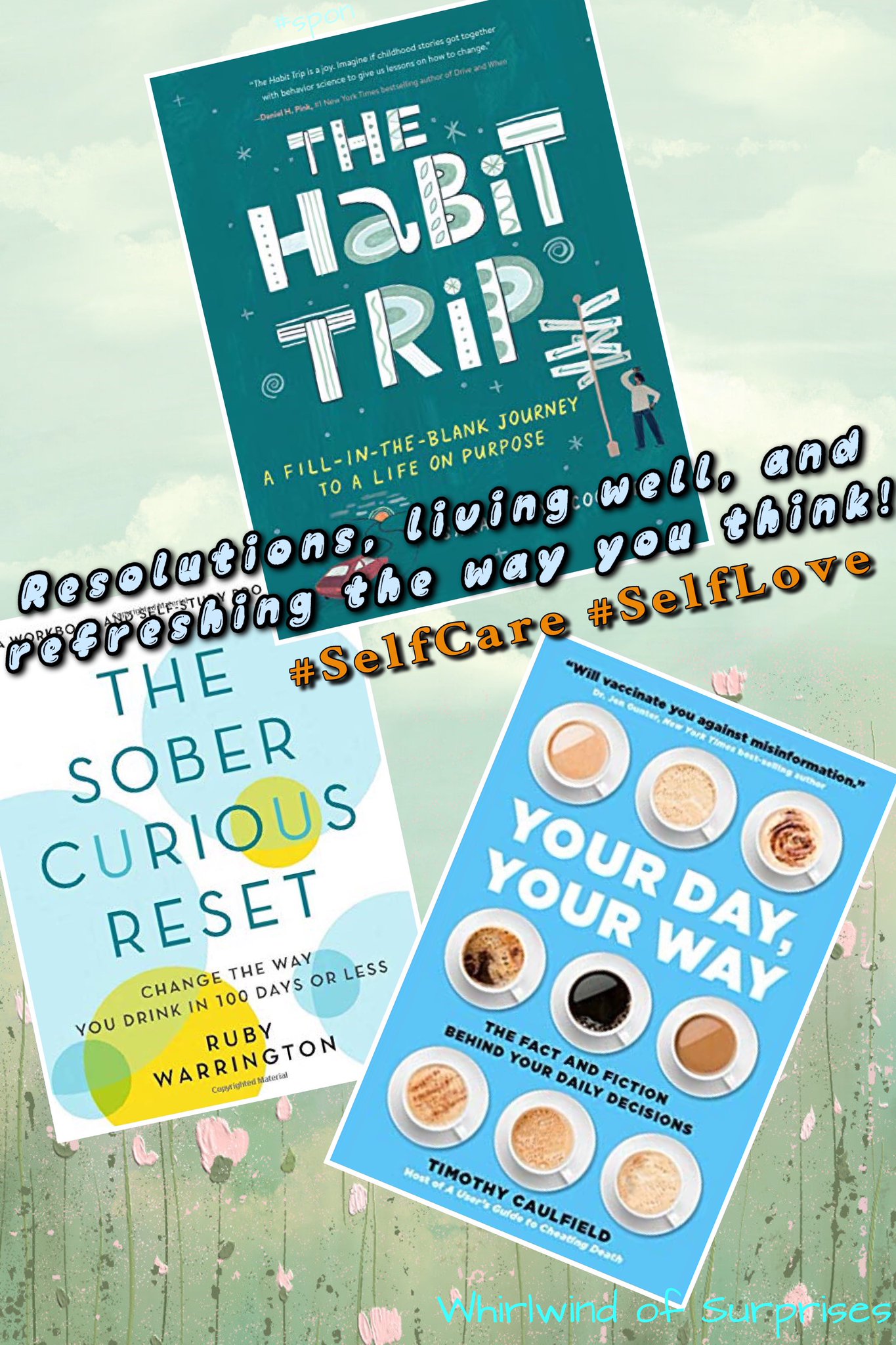 The Habit Trip by Sarah Hays Coomer
Find your motivation and purpose in life by working through changing your life habits a little bit at a time. No one expects you to have everything fixed overnight. We always have these big goals and inevitably get disappointed when we don't accomplish it all. I may be guilty of this myself. The Habit Trip helps to pare these down to smaller goals that we can meet and feel good about. Minimize stress and frustration with this work book that helps you identify the Situation, finding the Solution, and the resultant Pay Off.
Sober Curious Reset by Ruby Warrington
So yes, this isn't my typical book however I also recognize and realize that some people do drink more than usual and may or may not see it as a problem. I'm inclined to enjoy a drink or two every now and then however am aware of certain family members and contacts who drink quite a bit more often because of various reasons. This workbook and self study program invites drinkers of all persuasions and amounts to go on a 100 day process of rethinking their drinking. No, it's not a you must quit drinking book but a process to create sustainable habits to promote overall well-being.
Your Day Your Way by Timothy Caulfield
It's true, we think and think and think before we finally come to a decision. Sometimes it takes absolutely forever for the most minuscule decision. This equates to stress! Time loss! Why the heck do we do it? It's not as if we don't have enough stressors in our lives. Your Day Your Way offers a humor filled way to analyze our decision-making process to cut the extra stress and live happier and healthier lives with less anxiety. We could all use less stress!
I leave you with this... You have to be able to take care of yourself before you can care fully for those around you. Take the time to invest in yourself and love yourself!
One lucky WOS reader will win these 3 books (ARV $57) thanks to our sponsors. US, 18+. Ends March 18, 2021 11:59pm EST. Good luck!
Self-Care and Self Love Prize Pack $57
Facebook
||
Twitter
||
Site
Follow WOS:
@CinnyBBS
||
WOS on facebook
||
Pinterest
||
Instagram
Until next time,