Disclaimer
: The product/s mentioned below have been provided for the purposes of this review. No other form of compensation was received. Opinions expressed belong to Whirlwind of Surprises and are NOT influenced in any way. Please view my full
disclosure, TOS, and privacy policy
. Please take the time to enter my other
giveaways
while you're here.
Spring is almost here! After our 2 weeks of windchill at -40F in the Midwest, honestly, even the 30F, 40F feels blessedly warm. The pros and cons of keeping your kids home during the pandemic is that there is always a need to find something interesting to occupy their minds and to keep them busy. We have a lovely new collection of Spring books from Prestel Junior that are sure to keep kids of various ages interested.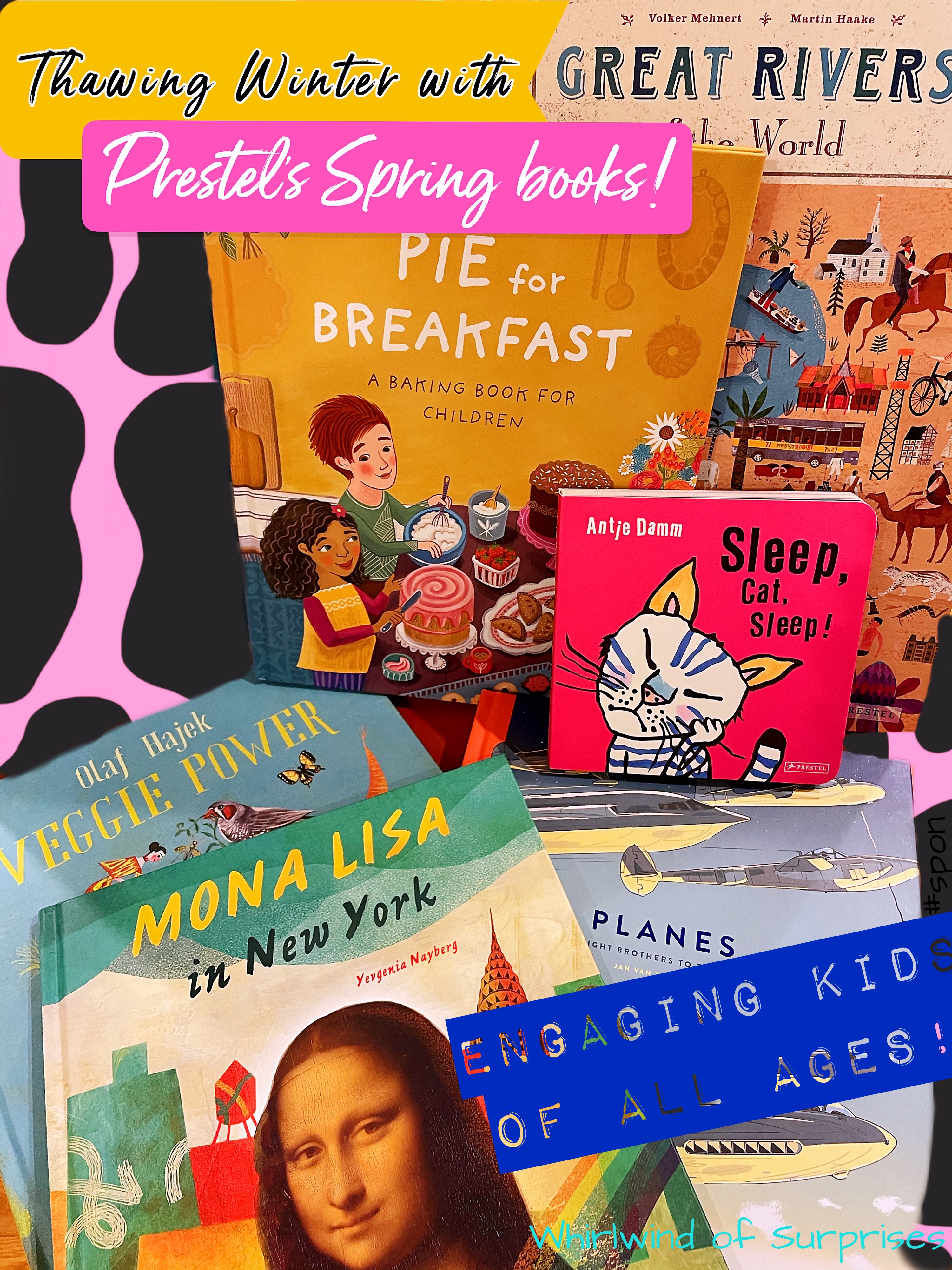 Planes: From the Wright Brothers to the Supersonic Jet by Jan van der Veken
(3/9/21; Hardcover $19.95; Ages 8-12; 104 pages)
Planes is pretty interesting, it's a pretty awesome encyclopedic guide about the history and mechanics of flight. We used to fly quite a bit before the pandemic, but now that's quite muted down so it was fun to read and look at the pictures of planes and the STEM behind it all. Planes answers questions like how a plane moves through the air, what the lines on the runways mean, and more!
Mona Lisa in New York by Yevgenia Nayberg
(3/9/21; Hardcover $14.95; Ages 4-8; 32 pages)
Mona Lisa in New York is an interesting take of how Mona Lisa is taking a trip to New York from the Louvre. It's quite adorable to see things from Mona Lisa's perspective. She goes exploring the city for the first time an shows readers what various wonders lay in New York. I truly miss my years in New York City and this book brings back warm memories and introduces my preschooler to the charms of the various neighborhoods.
Sleep, Cat, Sleep! by Antje Damm
(3/16/21; Board Book $9.95; Ages 2-5; 24 pages)
Oh this book is fun...and perfect for a preschooler! Particularly, my preschooler who doesn't like to go to sleep because he's just having too much fun. However, it can also be sometimes hard to stay asleep with lights, noises and other distractions. Poor Cat has this same problem and he's just begging the readers to close the book so that he can sleep. I think this ended up my preschooler's favorite book of the Spring Set of books because it somewhat mirrors his bedtime situation. He made me read it 3 times in a row as soon as we got it!
Great Rivers of the World by Volker Mehnert and illustrated by Martin Haake
(3/23/21; Hardcover $19.95; Ages 8-12; 40 pages)
Truthfully, a little higher level than my child, however, we loved to let him point out and name the various animals and things he could see. Great Rivers of the World is like a mini-Atlas of the world's greatest rivers and the history, culture, and geography that occurs near those rivers. I was a bit embarassed to say I don't quite know all those rivers but my husband and I were both fascinated by all the learning in this book. We enjoyed learning where the rivers ran through, the naimals from each area, and other fascinating historical details. We also love that the book highlights how important a healthy river is to the areas that they supply and to the local area's livelihood.
Pie for Breakfast: Simple Baking Recipes for Kids by Cynthia Cliff
(4/6/21; Hardcover $16.95; Ages 5-9; 40 pages)
Pie for Breakfast is easily another favorite for my preschooler. The title definitely caught his ear. "Pie for Breakfast"?! Yep, he was all ears when he heard that. He loved this gorgeously illustrated baking book for children. It has a story and features recipes for delicious treats. The subtle beauty of Pie for Breakfast is that it also incorporates family, diversity and heping others which are important values in our family as well. YOu can definitely bet we'll be trying out some of the recipes. Our preschooler was already choosing which recipes mommy was going to make with him. We've got our eyes on carrot cake and pear ginger muffins. Plus the recipes are simple and straight forward which allows kids that want to help to help fully!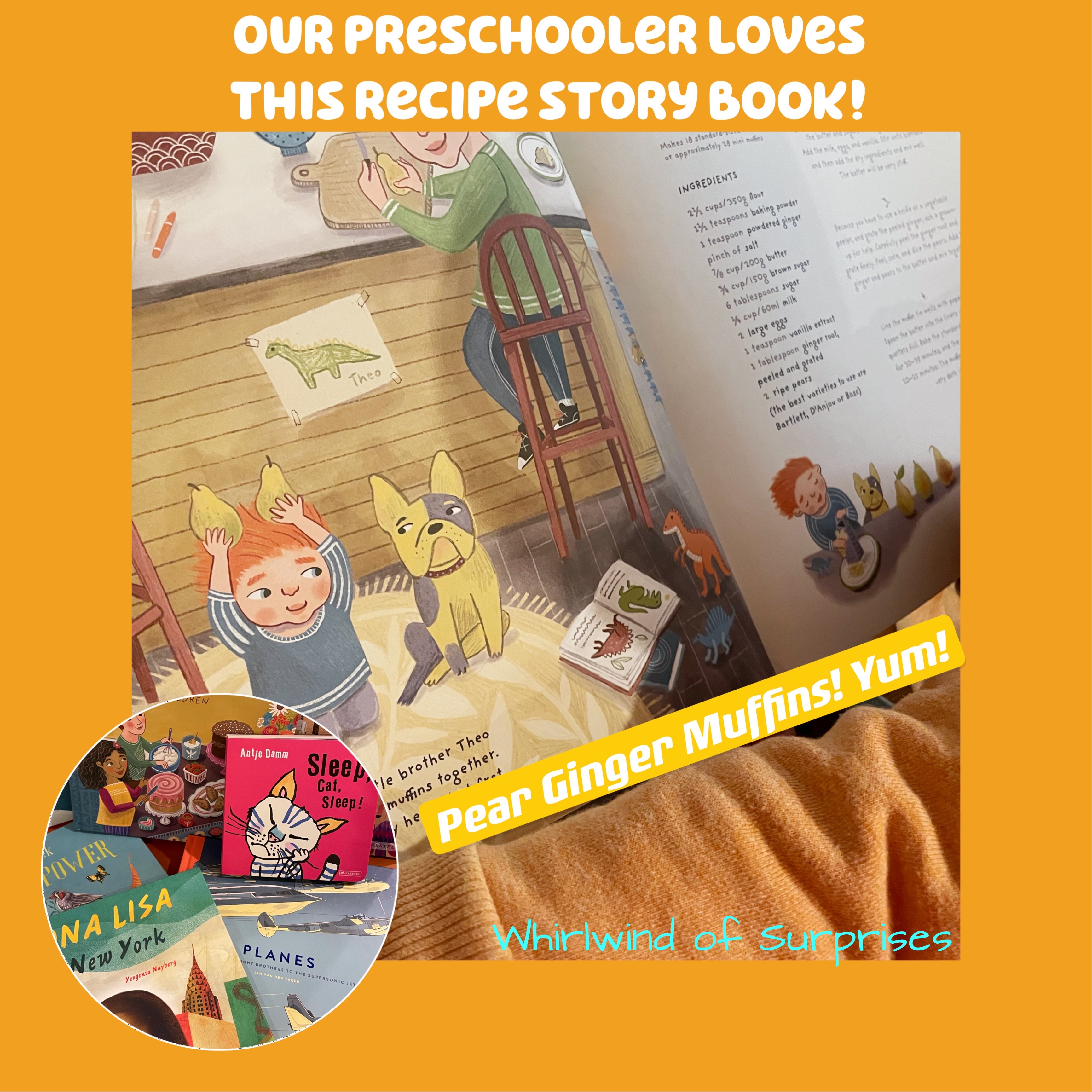 Veggie Power by Olaf Hajek
(4/27/21; Hardcover $19.95; Ages 8-12; 40 pages)
Veggie Power, mmhmm, what parent does not love this title? I am HUGE, I mean HUUUUGE, on making sure my child eats his fruits and veggies and enjoys them. They have such great nutrients and are part of a balanced diet. So when I heard about Veggie Power, I thought - "Perfect!" Veggie Power does not disappoint...it is a whimsical illustrated book that features captivating art that has my preschool asking what everything is, along with a beautiful telling of how each vegetable is grown, how it can be eaten, health benefits, and random facts. We read this book together and he loved naming the veggies that he likes and I'm sure it will be a mainstay in our library.
With the dreary snow and cold we've had here, this collection of Spring books from Prestel Junior brought warmth, laughter, and joy into our household! Which one would your family love?
Stay connected with Prestel Junior:
Pinterest
||
Twitter
Follow WOS:
@CinnyBBS
||
WOS on facebook
||
Pinterest
||
Instagram
Until next time,