Disclaimer
: The product/s mentioned below have been provided for the purposes of this review. No other form of compensation was received. Opinions expressed belong to Whirlwind of Surprises and are NOT influenced in any way. Please view my full
disclosure, TOS, and privacy policy
. Please take the time to enter my other
giveaways
while you're here.
Love is in the air! It's February, which is full of fun things in our family -birthdays, anniversaries, and of course, Valentine's Day! I personally LOVE it when my child comes home from daycare with a Valentine's Day craft gift for his mommy. So, was he ever surprised when I surprised him early this Valentine's Day with this awesome National Geographic Kids Books Valentine's edition book pack. It's a double win when my husband loves the books too. Mmhmm, never let go of the kid in your heart. It brings a lot more happy into your world! Read on to find out what adorable (*ahem* and fun learning) gifts you can choose for this Valentine's Day...plus the chance to win your own Valentine's Prize Pack!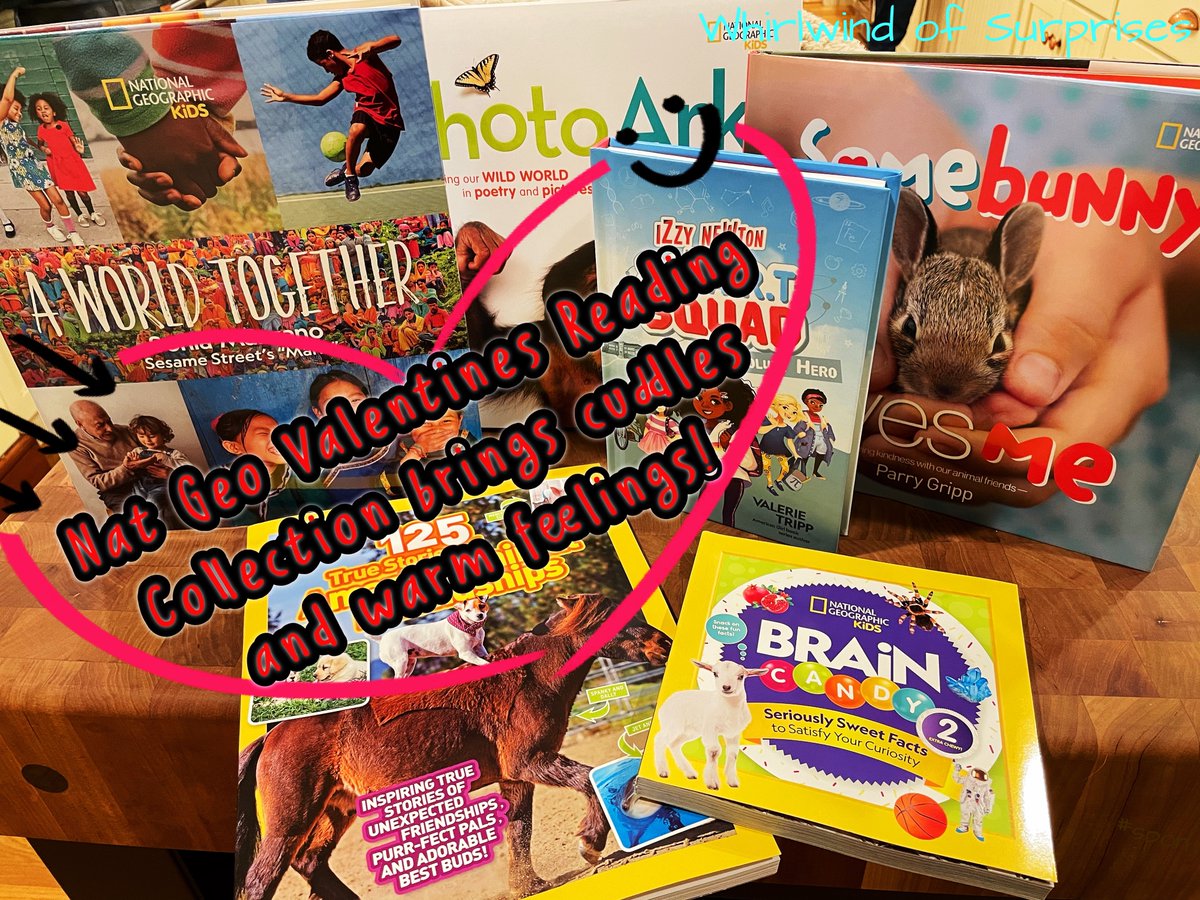 In our very own Valentine's National Geographic Kids Book package was 6 fantastic choices:
1)
Somebunny Loves Me
by Parry Gripp (ages 4-8), Hardcover.
We absolutely loved this book. This was the first book of all the books that our preschooler zoned in on. Of course, it was because there were so many cute animals and what child doesn't love animals?! The totally neat thing about this Somebunny Loves Me is that the author Parry Gripp is an Emmy-winning singer-songwriter which means this book has an accompanying music video. (To which, I'm bopping my head to as I'm writing this post!) I am sure my preschooler is going to be learning the song when I show him. I love how it's written in silly rhymes that show love for animals yet also teach children to gently treat animals and to avoid things that could potentially harm them.
2. A World Together by Sonia Manzano
(ages 4-8), Hardcover.
In a divided country where I honestly sometimes worry about what kind of world my preschooler will grow up in, I pray for a day where we can all be more accepting of others. This picture book by Sonia Manzano looks across cultures and generations to celebrate those differences and what unites us. Cultural diversity is a strength and not a weakness. Underneath all the different looks, customs, and ways, we all feel pain, love, happiness and so much more the same. Caring for others and sharing laughter and love, we can come together and be better. You may also recognize Sonia from her role in Sesame Street as "Maria" whom she played for years.
Watch her read the book below!
3. 125 True Stories of Amazing Animal Friendships
(ages 8-12), Paperback.
This is such a fun book about the interesting and different relationships between animals. There's all sorts of pairs like the cool pair on the cover of a dog riding a horse, cat that loves lizards, puppy pig friendships. It's a beautiful message for kids that friends come in all shapes and sizes.
4. Brain Candy 2
(ages 8-12), Paperback Oh my gosh! We have the original Brain Candy book and it is absolutely one of our favorites in our ever-growing home library. Truthfully, I think my husband and I were more excited when we saw this one. We love the facts and the random knowledge this book spews. There's so much trivia on all sorts of random topics. We actually perused it and I had to use it to lure my preschooler into his highchair for dinner (Yep, that was serious mom skills!)
5. Photo Ark: Celebrating Our Wild World in Poetry and Pictures
by Kwame Alexander, photos by Joel Sartore (ages 4-8), Hardcover. The book featuers some of the most beautiful and endangered animals on the planet. These beautiful pictures by award-winning National Geographic photographer Joel Sartore and paired with uplifting poetry and prose from Newbery award-winning author Kwame Alexander is absolutely exquisite and unique. I'm in awe with some of the shots that are taken. Photo Ark is bound to inspire kids to care for animals and help protect endagered species for future generations to appreciate.
Getting that perfect picture isn't easy! Watch this hilarious blooper reel of what it truly takes to get those gorgeous pictures into a book.
6. Izzy Newton and the S.M.A.R.T. Squad: Absolute Hero
by Valerie Tripp (ages 8-12), Hardcover. We love STEM books and things that encourage kids to learn in a fun way. Valerie Tripp writes of Izzy Newton and her friends at Atom Middle School need to use their science smarts and friendship in the S.M.A.R.T. Squad to get out of troublesome situations. Encourage and inspire!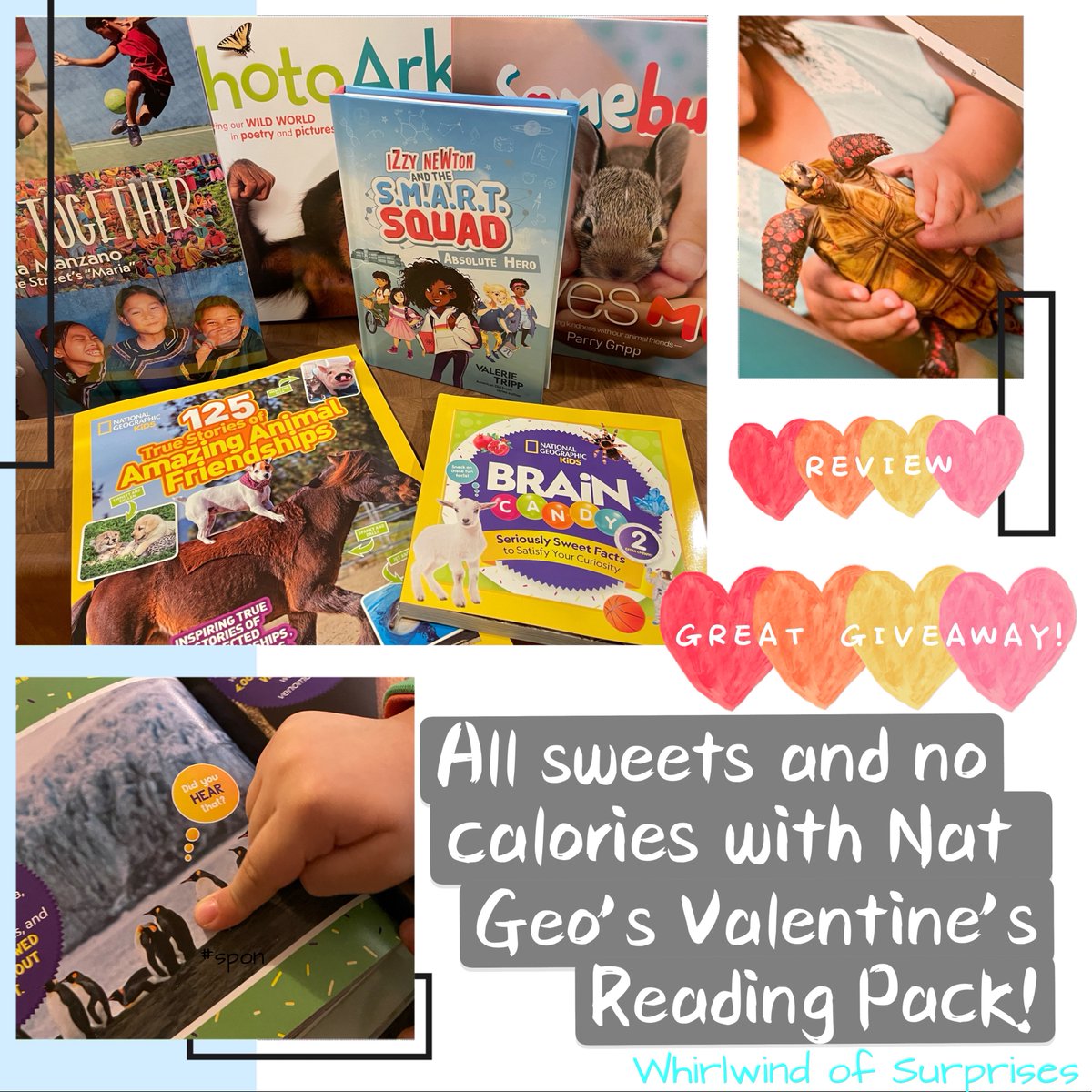 One lucky Whirlwind of Surprises reader will win a National Geographic Kids Books Valentine's Day Prize Pack which includes all 6 titles above (ARV $87). U.S. only, 18+. Good luck! Ends Feb 19, 2021 at 11:59PM EST. Winners have 24 hours to respond before a new winner is chosen. Good luck!
Nat Geo Valentine's Prize Pack $87
Which book would you love?
Stay connected with Nat Geo:
Facebook
||
Twitter
||
Site
Follow WOS:
@CinnyBBS
||
WOS on facebook
||
Pinterest
||
Instagram
Until next time,