Disclaimer
: I attended a screening of The BFG. No other form of compensation was received. Opinions expressed belong to Whirlwind of Surprises and are NOT influenced in any way. Please view my full
disclosure, TOS, and privacy policy
. Please take the time to enter my other
giveaways
while you're here.
I initially had mixed feelings before going to the screening of The BFG. Especially as it comes just a week or so after Finding Dory, which has been very much anticipated by many Disney Pixar fans, I couldn't decide whether I wanted to go based on the trailers I had seen and I wasn't sure if my husband wanted to go with me or not. Less than half an hour into the film, I realized that I was really glad I had decided to go to the screening. In fact, I was certain that my husband would regret not coming with me and that he would enjoy the film just as much as I would.
The BFG is a MUST SEE
because you really can't help but fall in love with The BFG and the beloved Roald Dahl story. Plus, it's directed by Steven Spielberg (see the clip for his thoughts on directing this film!).
There are so many aspects that make The BFG a great film.
The awesome characters
: Sophie and The BFG make for a great combo. In a sense, they are both people that don't quit fit in and were looking for a family to call their own. The BFG's "Gobblefunk" is somehow delightful misspoken English that keeps you wanting more. My favorite was "Whizspopper" but you'll have to watch the movie to find out more. They just kept me laughing.
Humor
: There is humor around every corner of The BFG. I loved how they made fun of mundane life and even the life of royalty. I'd rather not get into spoilers but gosh, there were times when I couldn't hold my laugher back!
Heart
: It's so brilliant how little Sophie dreams up a plan to save the day and at the end of the day, we come back to the precious lesson that love comes in all shapes and sizes.
Filmography
: Well, the pictures and scenery is just breathtaking and gorgeous. Some of the scenery is quite awe-inspiring and the 3D experience made it that much more beautiful.
Adventure:
Every little trip felt like a grand adventure that the audience felt a part of. The imagination and flow was absolutely spellbinding.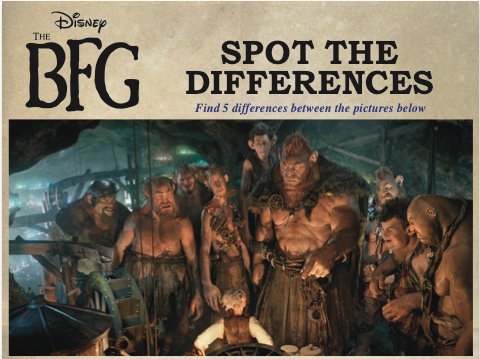 Click to download The BFG activity sheets and free printables!
Photo Credit: Disney
That's enough talk! It didn't take me very long to fall in love with The BFG and the adventures Sophie embarked on with him. Almost wish that we were part of the journey! The BFG is not to be missed, catch in in theaters now! Don't forget to download The BFG activity sheets by clicking the image above and enter THE BFG Dream Sweepstakes for a chance to win a trip for four to Englandand France from Adventures by Disney!
Facebook: To enter the sweepstakes on Facebook, fans need to leave a comment in the post sharing their dreams.
Twitter: To enter the sweepstakes on Twitter, fans need to comment in the post with #TheBFGDreamSweepstakes
The trailers don't do it justice, you really just have to go see it!
Stay connected:
Facebook
||
Twitter
||
Site
Follow WOS:
Google+
||
GFC
||
@CinnyBBS
||
WOS on facebook
||
Pinterest
||
Instagram
Until next time,