Disclaimer
: I attended a screening of Disney Pixar's Finding Dory. No other form of compensation was received. Opinions expressed belong to Whirlwind of Surprises and are NOT influenced in any way. Please view my full
disclosure, TOS, and privacy policy
. Please take the time to enter my other
giveaways
while you're here.
Quick trivia question...When did Disney Pixar's Finding Nemo first swim into theaters?
2
0
0
3
!
Has it really already been 13 years since we watched that movie? Dory, our loveable blue tang, that met Marlin when he was on a search across the ocean for his captured son, Nemo, is now in her very own sequel, in theaters today!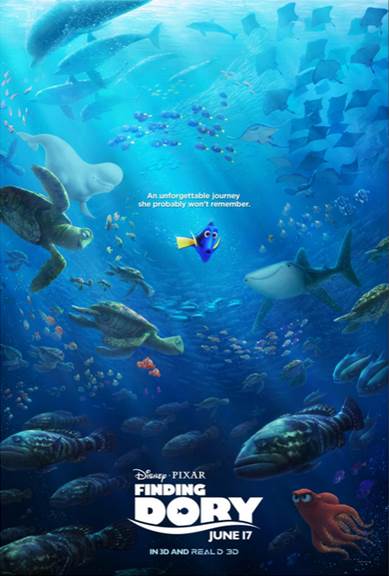 Sitting in the theater the other night, Disney Pixar did not fail the many youngsters in the crowd who ooh'd and ahh'd over the 3D effects and the humour that both adults and children could appreciate. Though the plot is somewhat similar to Finding Nemo, in the sense that Dory is now looking for her parents, it is still pleasantly full of quaint humor and life lessons.
Ellen DeGeneres voices a spectacularly forgetful Dory that shows glimpse of brilliance and reminds us that though we all have flaws, there's always something beautiful that can shine through it all. An unlikely new friend voiced by Ed O'Neill in the form of the "Septopus" rapidly charms his way into everyone's hearts and adds onto the overall theme of "family". Overall, Finding Dory had a lot of adorable moments that just simply make you happy inside. Baby Dory is adorable and the family that she has, new and old, adds to a beautiful splash to this cinematic 3D experience. Catch it in theaters this weekend and check out our
Weekend Activities post for 140 pages of Disney Printables featuring Finding Dory and Alice through the looking Glass
.
After Finding Dory, check out these new trailers for upcoming Disney films, Pete's Dragon (in theaters August 12th) and Moana (in theaters November 23rd).
You'll want to watch this Pete's Dragon trailer for never-before-seen footage of Pete's Dragon, Elliot. I want Elliot!!
Disney's MOANA looks promising with Moana (voice of Auli'i Cravalho) and Dwayne Johnson, voicing Maui, a demigod as the next animated ocean adventure that features an inspiring female lead.
Embark on your ocean adventure today with Finding Dory!
Visit the official PETE'S DRAGON website here:
Stay connected with Finding Dory:
Facebook
||
Twitter
||
Site
Stay connected with Pete's Dragon:
Facebook
||
Twitter
||
Site
Stay connected with Moana:
Facebook
||
Twitter
||
Site
Follow WOS:
Google+
||
GFC
||
@CinnyBBS
||
WOS on facebook
||
Pinterest
||
Instagram
Until next time,