Disclaimer
: The product/s mentioned below have been provided for the purposes of this review. No other form of compensation was received. Opinions expressed belong to Whirlwind of Surprises and are NOT influenced in any way. Please view my full
disclosure, TOS, and privacy policy
. Please take the time to enter my other
giveaways
while you're here.
I hear friends complain all the time. It's summer and my kids aren't doing anything but watching TV. I don't hate TV, however I do know that too much screen time is never great for a kid's development. There certainly are educational programs that are great out there, however, it's also nice to limit that at times, spend some quality time with the kids and have them explore the outdoors. So with the lull of summer and kids being out of school, what better than a fun summer reading pack from National Geographic Kids to stimulate their brains and keep them active?
These books are sure to spark their imagination and inspire experiments and perhaps messes as well. Ha, well you got to make life fun. Sometimes, part of that is accepting the messiness that comes along with kids and life in general.
For our review, we took a look at fantastic new additions to the National Geographic library collection:
-101 Life Hacks
-NG Kids Almanac 2022
-Explorer Academy Book 5: Tiger's Nest
-Zeus the Mighty Series Books 1 and 2
-More Surprising Stories Behind Behind Everyday Stuff
101 Life Hacks: Genius Ways to Simplify Your World
(ages 8-12, paperback) - We had an absolute ball with this book. It was so much fun to learn random life hacks to make life easier. Our favorite with our preschooler was the regrow your green onions. We have what he calls our "mini garden" that we harvest our green onions from every couple of weeks. Sure, it's not a huge money saver but what counts is that he's having fun growing his own little garden and he loves to eat his the food he helped grow. We also had fun with the packing tips. There were just so many cool ideas to simplify, prettify, and eco-fy anyone's lives, not just kids. I also love the idea of upcycling old shirts into a bag too. I can always use a reusable bag.
National Geographic Kids Almanac 2022
(ages 8-12, paperback) - I had no clue that this was the number one selling kids almanac on the planet! We've been reading this and of course, some of this information is way over the head of a preschooler, however there's just so many random facts and learning packed in this book that it keeps his attention focused. Moreover, there's such a variety of information from holidays, technology, science, animals, and more. I never thought he'd grasp the whole yucky germs concept but after we read that page...2 days later, he was telling me all about these yucky germs you couldn't see and that's why we needed to wash our hands.
Explorer Academy Series by Trudi Trueit
(ages 8-12, available in Hardcover and PB) - This series is absolutely fantastic. We started reading it when it first came out and I can't believe we are on book 5 already! There are over 1800 5+ reviews on Amazon. It is such a well-written book of adventure, suspense and fun that we read chapters in the car as we travel. There are so many neat eco-challenges and global missions inspired by real National Geographic Society Explorers. It features Cruz and his 23 classmates as they train at Explorer Academy to become the next generation of great explorers. However, the plot gets deeper as his family's past affects his future and he must solve his mother's cipher and find out who's out to get him. Book 6 is released in October.
5,000 Awesome Facts About Everything
(ages 8-12, Hardcover) -We love this book and it's another fantastic book full of fun facts which great photographs that keeps kids and adults alike intrigued.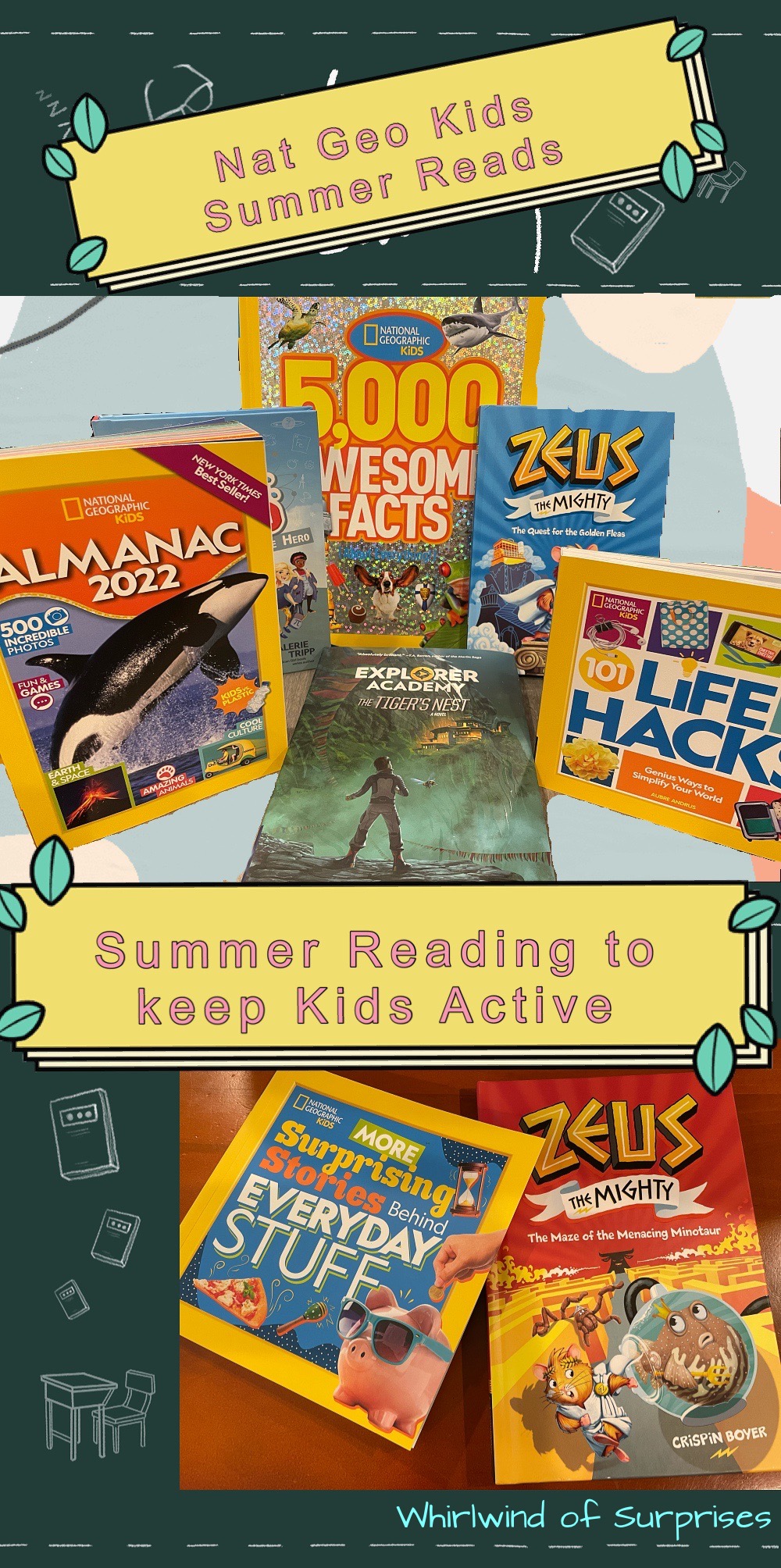 Zeus the Mighty Series
(ages 8-12, Hardcover) - This was too hard to pass up. How adroable is Zeus the Mighty? Mount Olympus is a pet supply and rescue center that sits high on a hill in Athens, Georgia. Zeus, the hamster, Athena, the wise cat, and other rescued pets live on Mount Olympus under the care of Artie, their caretaker who is obsessed with Greek mythology. The most hilarious part of this series is that the pets overhear her favorite podcast, Greeking Out, and think they're the actual mythical beings. Books One and Two are currently available, and Book Three comes out in August. What a fun way to teach kids Greek mythology!
Izzy Newton and the S.M.A.R.T. Squad: Absolute Hero
by Valerie Tripp (ages 8-12, Hardcover) -Valerie Tripp, author of many American Girl books, has started a new series that involves embracing STEM and girl power. I love the concept! Check out the
book trailer, read the first chapter and learn about the characters
. Book 2 comes out in October.
More Surprising Stories Behind Behind Everyday Stuff
-I'm sure you've sensed a theme in the books that we like. There are just so many questions a kid has and so many things to learn about everything. I have no idea where cheese originally came from but we certainly enjoy eating it in our home so these little fun facts that we learn are easily processed. I play golf because I love my husband but I don't love the game. Whoever decided that this would be a fun sport? Despite my lukewarm attitude towards golf, I have no idea when it came to be. This book answers those questions and provides backstories behind the things that we use and do on a daily basis. Neat, right?
Now that we've discussed these fantastic picks for summer reading, we'd love to share a fantastic giveaway from our friends at National Geographic to that you can get your summer reading on with the kids! In our Summer reading Prize Pack, there will be 6 books (ARV $73) consisting of 101 Life Hacks, NG Kids Almanac 2022, 5000 Awesome Facts, Explorer Academy Book 1, Zeus the Mighty Series Book 1, and More Surprising Stories Behind Behind Everyday Stuff! Open to the US, 18+. Ends 11:59PM EST on Jul 22, 2021. Good luck! Winners have 48 hours to respond before a new winner is chosen.
Nat Geo Summer Reading Prize Pack US 7/22 ARV $73
Follow WOS:
@CinnyBBS
||
WOS on facebook
||
Pinterest
||
Instagram
Until next time,