Disclaimer
: The product/s mentioned below have been provided for the purposes of this review. No other form of compensation was received. Opinions expressed belong to Whirlwind of Surprises and are NOT influenced in any way. Please view my full
disclosure, TOS, and privacy policy
. Please take the time to enter my other
giveaways
while you're here.
Ahh, Wonder Park, a movie we've been looking forward to since the trailers have been out. Who doesn't love a good adventure? Roller coasters, the thrill and excitement. I absolutely love my amusement parks and have been going on roller coasters for as long as I can remember. Wonder Park is Paramount's latest release that debuts on DVD on Jun 18, 2019. Wonder Park presents an interesting combination of concepts that presents both fun along with learning points.
Wonder Park tells the story of June (Brianna Denski) who is a girl with a delightful sense of imagination. I absolutely applaud her sense of creativity for the amusement park of her dreams. While being sent off to math camp as her mother (voiced by Jennifer Garner) is diagnosed with a medical condition, she makes the discovery of a lifetime! Her make-believe amusement park has come to life. With a big voice-cast including Mathew Broderick as June's father, Kenan Thompson and Ken Jeong as beavers Gus and Cooper, Mila Kunis as Greta the warthog, Ken Hudson Campbell as narcoleptic bear Boomerm and more, June must team up with her friends to save the park from the monkeys.
While there is some overshadowing of an ailing mother and worry about how her father is faring, the movie encourages childhood imagination and tackles a couple of the more difficult emotions a child may face, fear and worry with regards to an ill family member. While this may seem morbid to some, I think it's a hard concept to explore and discuss with a child and it is commendable for Paramount to take up the task. Fear not though, the movie is not all about doom and gloom, there's still a lot of humor and adventure for all. Epic battles to save the park and adorable furry comedy fill the movie with a fun and colorful time.
Pick up Wonder Park in stores on Jun 18, 2019.
Are you heading to an amusement park this summer? Check out our...
Top 10 Amusement Park Survival Tips for Families with Young Kids!
As a mother of a toddler, it is often chaotic. We travel with our 2 small dogs and our son sometimes and this summer, we have plans for both! We will be headed to an amusement park and I have been planning ahead. So, here are our Top 10 Amusement Park Tips for Families with Younger Kids.
1) Sun screen -A definite must. Much of the damage to our skin occurs before we turn 18 and so protection of their sensitive skin comes first.
2) Rash guard outfits -Oh yes, this is such a smart option. I'll tell you why. It's nice to dress the kiddos in something that can be easily cleaned for minor messes and will dry easily in the sun. Say, they play in the water area of an amusement park, go on a log ride, and so forth. It's nice to have easy to manage clothes.
3) Backpack/Fanny pack -Some sort of bag to carry everything you need, whether you want to go old school like "The Rock" and wear a fanny pack, that's totally on you.
4) First Aid Kit -It's always nice to have a minor first aid kit on hand for the minor scrapes and bumps that may happen. As well all know with those little ones, falls can happen as much as we try to prevent them!
5) Toys -Mmmhmm...some sort of distraction is always a must. I don't know about you, but my toddler's attention span can sometimes be great and other times, seem to not exist at all! Having some sort of distraction available is always helpful to divert hell-raising tantrums.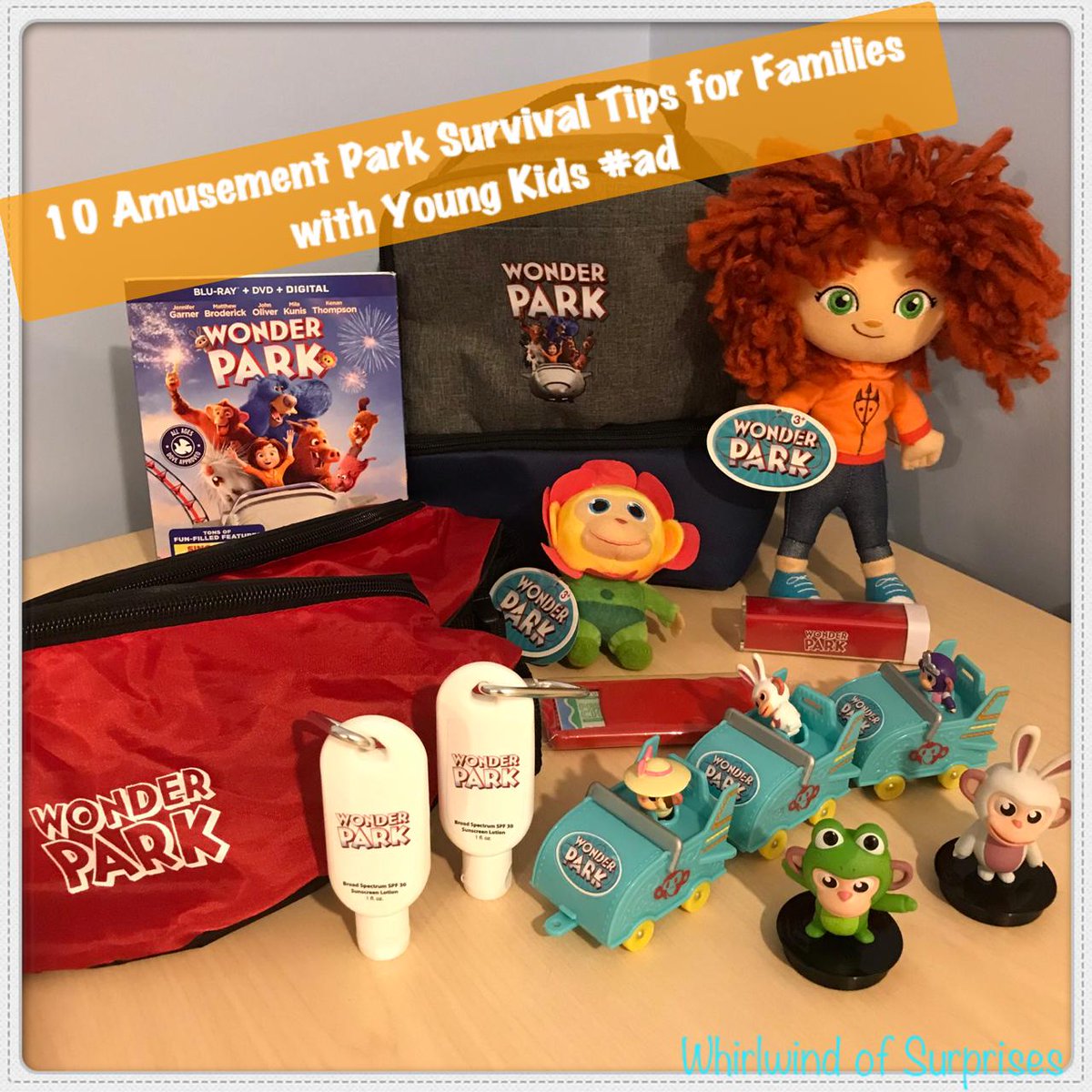 6) Spare charger -When toys fail, out comes the phone. Before you nay-sayers comment, yes, I do regulate his screen time so no excess screen time for my child. However, between using the phone for directions, google, baby learning/distraction, and so forth, extra batteries are always helpful.
7) Strollers -here you have an option. I find it nice to have when I fly because baby gets wheeled and one of the dogs can stay underneath. However, if you're driving and planning to just go to the parks, check the measurements of the stroller before you bring it. You may have heard the news that some parks now limit the stroller size. Fret not, that means you can still rent an appropriate size stroller at the parks. It just costs a bit more money.
8) Snacks/Hydration -Don't forget the basics. It's hot out there this summer so be prepared by keeping the kids hydrated. I don't always like the options available for snacks so I'd much prefer to pack my own.
9) Hat -A simple accessory to protect against the sun and rain. That is, if your child is willing to wear one. Our child, depending on his mood, will sometimes wear his hat. However, he'd much prefer to wear mom or dad's hat.
10) Scheduling -Summer is a difficult time since kids are out. We tend to try to plan our appearances during the weekdays or earlier hours when things aren't as crowded or perhaps overwhelming/scary for a small child. However, it is also impossible to have a strict schedule, be flexible and enjoy your trip to the park!
What other tips do you have when headed to the amusement park with little ones?
Follow WOS:
Google+
||
GFC
||
@CinnyBBS
||
WOS on facebook
||
Pinterest
||
Instagram
Until next time,