Disclaimer
: I received STA-BIL Fuel Stabilizer and a gift card for the purposes of this review. No other form of compensation was received. Opinions expressed belong to Whirlwind of Surprises and are NOT influenced in any way. Please view my full
disclosure, TOS, and privacy policy
. Please take the time to enter my other
giveaways
while you're here.
With fall and winter approaching, there are many things that need to be winterized. We have a motorbike and there's just so much that needs to be done. We also live in and around lakes, so know many who have started to put away their boats for the winter. So, as we start putting stuff away and waiting for the white flakes to come down, there's just so much to keep track of. Here are some fall storage tips that will make your transition easier. Plus, these are fantastic ways to keep your vehicles and tools healthy and long-lasting to ultimately save you some money in the long run.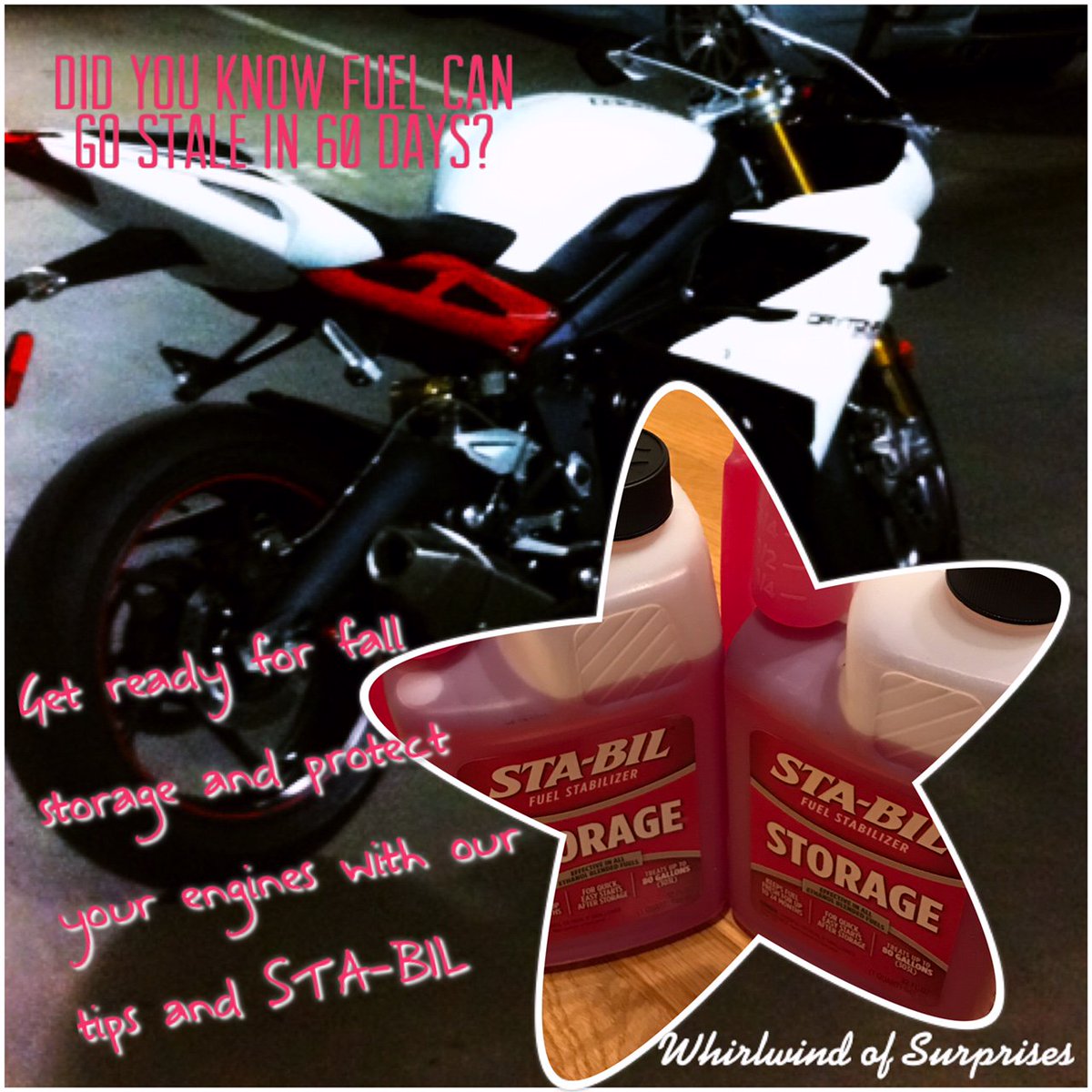 5 Fall Storage Tips for Vehicles and Recreational Vehicles
1) Keeping Your Fuel Fresh
-Over the winter seasons, it can be possible for for your fuel to stay fresh all winter long until you're ready to pull your vehicles out again. Did you know fuel can deteriorate in as little as 30 days? We, in the past, have used STA-BIL when we stored our motorbike and plan to again. STA-BIL keeps fuel fresh for up to 24 months during storage and ensures that your vehicles are ready to start easily once out of storage. They have a special formula that help to prevent gum and varnish build-up and can be used with all types of gasoline. The STA-BIL solution somehow draws out and removes water to prevent corrosion, while cleaning carburetors and fuel injectors. All of this acts to prolong the live of engines. STA-BIL is also easy to use. 1 ounce (30mL) treats up to 2.5 gallons (9.5L) of fuel. Use STA-BIL with fresh fuel and then run the engine for 5 minutes so that the product is able to run through and treat the entire system. I've already gotten the lawnmower and bike ready.
2) Keep it Covered
-Keeping it covered prevents it from getting scratched or dinged up. It can also sometimes prevent little critters from getting in. I've had a fellow blogger once tell me that mice chewed through her car wires. Now, a clean enclosed area is always better in my honest opinion. We used to put little mesh scrubbers in the exhaust pipe to prevent little critters from getting in and making a nest in our stored vehicle. A garage is slightly better than a car cover. A car cover isn't bad but if you're an enthusiast, a car cover can cause minor scratches as it gets rustled and moved.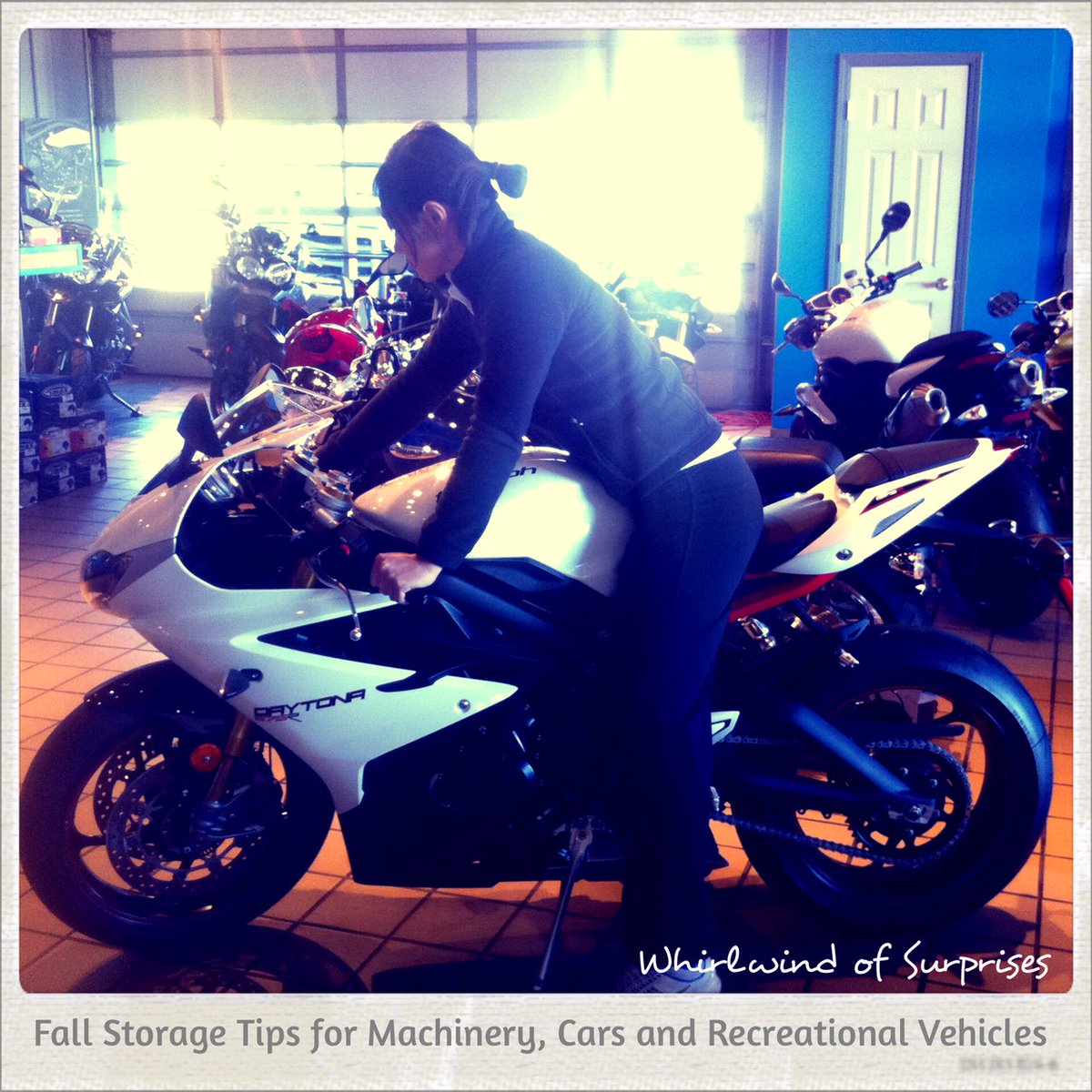 3) Clean Equipment
– This is my least favourite part of storage. All the cleaning that has to happen before you put something in storage. Safely remove parts and clean as needed; you want to remove as much build-up as possible before it sits there and cakes on for good.
4) Replace Engine Oil
– Change the engine oil routinely and if it's been a while, change it before you put your vehicle or recreational vehicle in storage. Old oil has moisture and acids that affect engine parts and bearings negatively.
5) Battery Life
-Yes, battery life. Even when the car isn't in storage and we're going on trips, I tend to unplug the battery from the engine to avoid the slow trickle that sometimes occurs even when you're not using the vehicle. I've left it in before, only to find that my car wouldn't start later on. I've learnt my lesson the hard way. The other thing about motorbikes or recreational vehicles is to consider removing the battery all together and keeping it on a battery tender to maintain the charge so it doesn't drain over the storage period.
What do you store over the winter period? How do you maintain it's engine life?
Tell us and you could win 1 -32 ounce bottle of STA-BIL Storage Fuel Stabilizer courtesy of our friends at STA-BIL. Enter via the GLEAM entry tool below until Nov 28 11:59PM. Open to US, 18+. Good luck! Please consider following us on our various channels so that we can continue to bring you high quality content.
STA-BIL
Follow WOS:
Google+
||
GFC
||
@CinnyBBS
||
WOS on facebook
||
Pinterest
||
Instagram
Until next time,