Disclaimer
: The product/s mentioned below have been provided for the purposes of this review. No other form of compensation was received. Opinions expressed belong to Whirlwind of Surprises and are NOT influenced in any way. Please view my full
disclosure, TOS, and privacy policy
. Please take the time to enter my other
giveaways
while you're here.
Go ninja, go ninja, go! Go ninja, go ninja, go! Who isn't a fan of Teenage Mutant Ninja Turtles. With Halloween coming up, TMNT are definitely going to play a huge part this year, especially with the recently released Teenage Mutant Ninja Turtles: Out of the Shadows, which is by the way, a must watch! Read on to check out the perfect Halloween gift set for TMNT fans and great ways to create a Cowabunga Turtle Halloween Party!
Here are the essentials you will need to set up the perfect Ninja Turtle Halloween Party: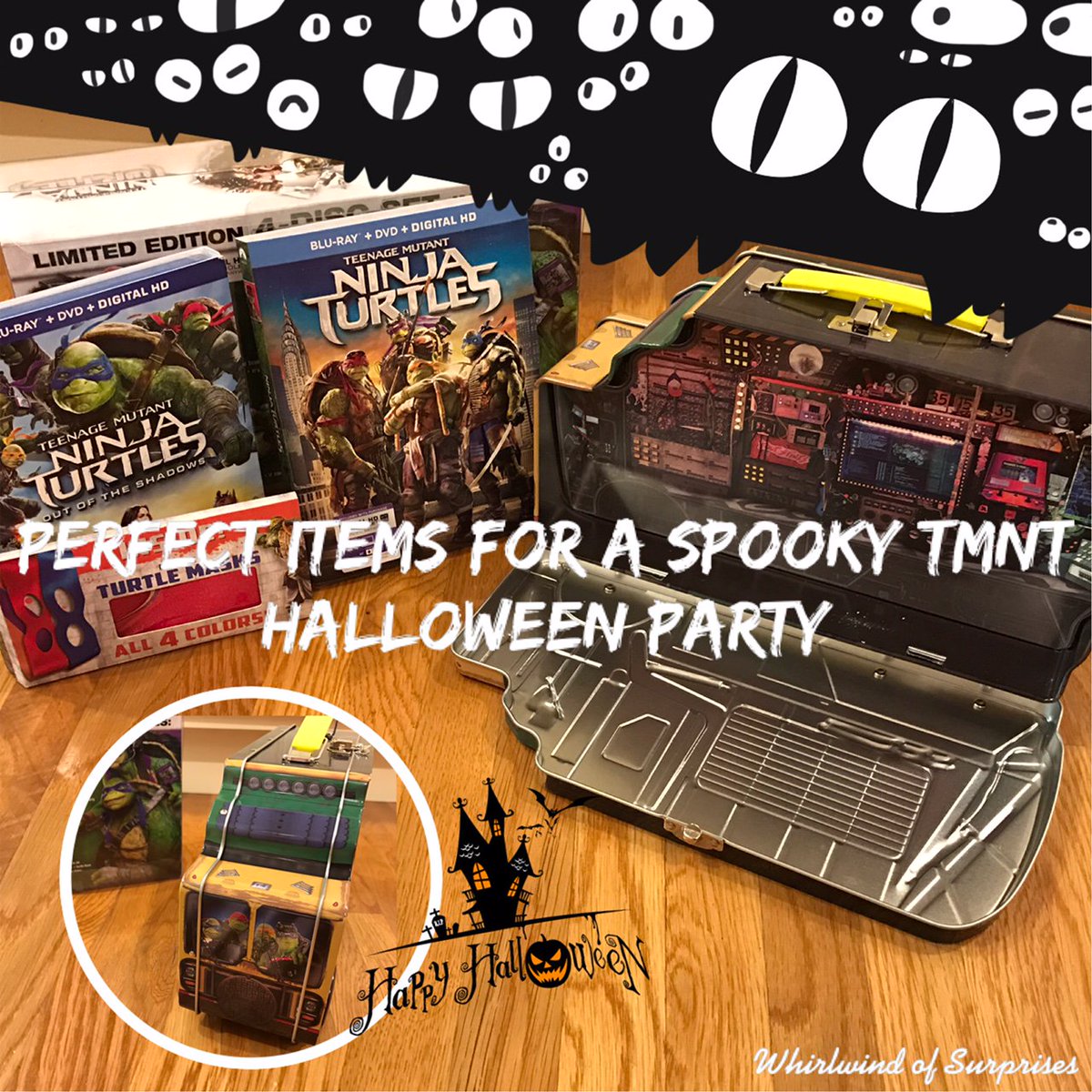 1) The Teenage Mutant Ninja Turtles Gift Set
This fantastic fan kit includes:
-the coolest Metal Turtle Truck Lunchbox that would be great for Trick or Treating or would be a pretty cool lunchbox to bring to school...or work, possibly, in my case. By the way, the Turtle Truck actually rolls, which was pretty exciting.
-2 Double-sided Ninja masks which essentially represents all 4 turtle colors
-Teenage Mutant Ninja Turtles Blu-ray Combo Pack
-Teenage mutant Ninja Turtles: Out of the Shadows Blu-ray Combo Pack
TMNT: Out of the Shadows was really a fun movie. There was so much special effects and live action, yet it all just gelled together so well. I loved the teamwork and bonds that were built. There definitely some cliche parts but Casey Jones turned out to be more likeable than he was initially portrayed as. And tell me, who does not love their decked out garbage truck?!
2) TNMT Make-Up Tutorial
-This is a must watch. It is so impressive how she transforms herself into Raphael. If you're a die hard TNMT fan and want that perfect costume this Halloween, you're not going to want to miss this.
3) Activities
-Last but not least is an awesome
FREE downloadable TNMT2 Activity book
! Download these colouring sheets and word search puzzles for fun activities to share.
4) Treats
-I have to say Turtles chocolates are one of my favorites and I have to say, I would love to have some at my party. Otherwise, there are always great green TMNT themed treats at the store!
Have a safe and fun turtle filled Halloween!
Facebook
||
Twitter
||
Site
Follow WOS:
Google+
||
GFC
||
@CinnyBBS
||
WOS on facebook
||
Pinterest
||
Instagram
Until next time,