Disclaimer
: No form of compensation was received. Opinions expressed belong to Whirlwind of Surprises and are NOT influenced in any way. Please view my full
disclosure, TOS, and privacy policy
. Please take the time to enter my other
giveaways
while you're here.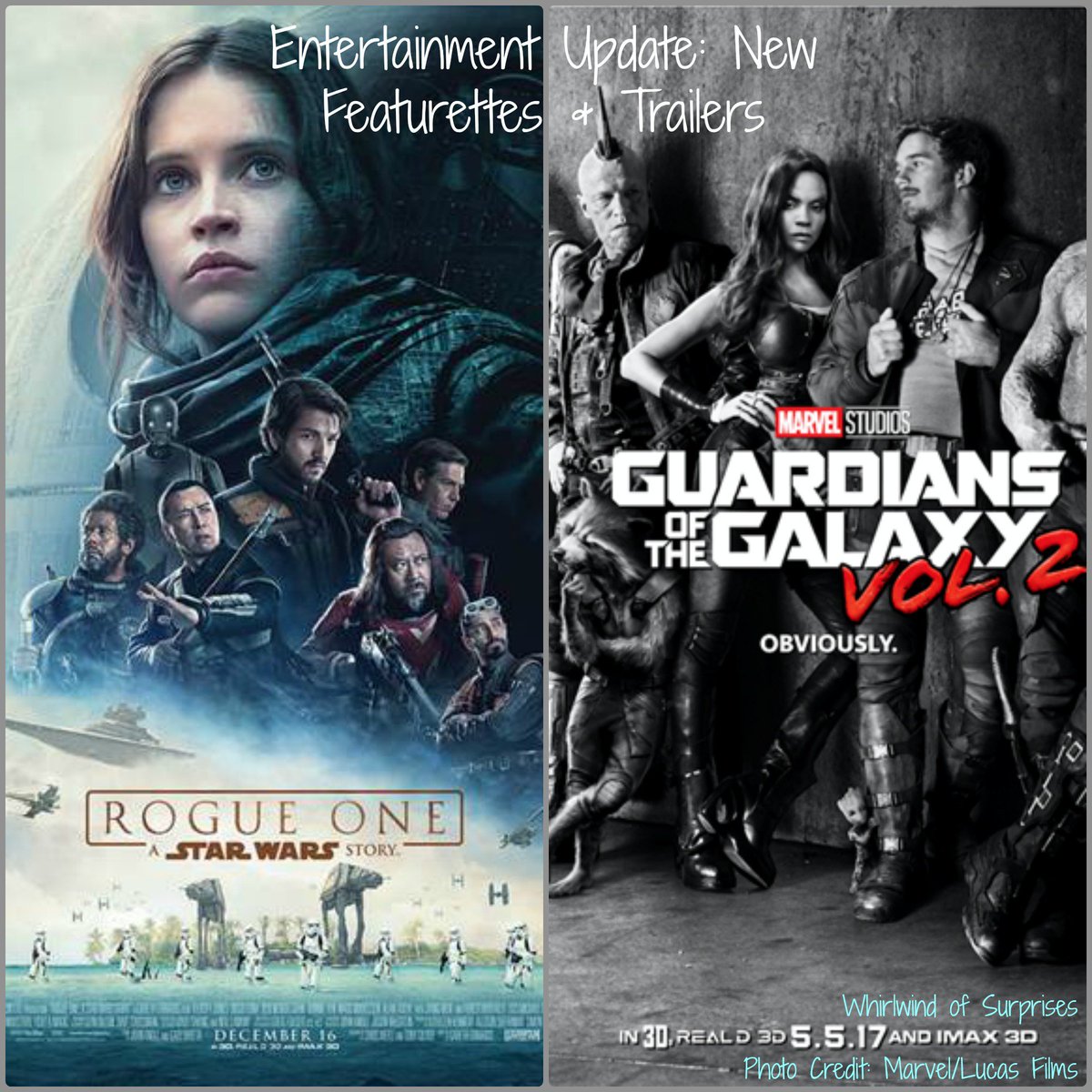 From one of my favorite movies ever, comes a sequel! Marvel Studios' Guardians of the Galaxy Vol. 2 has me excited. I'm really looking forward to the band of mismatched and unlikely superheroes to return to the big screen. It's tough to choose a favorite character but I have a soft spot for Rocket and Baby Groot. Speaking of which, have you seen the new trailer?
The familiar crew of Chris Pratt, Zoe Saldana, Dave Bautista, Bradley Cooper, and Vin Diesel are returning in this journey to unravel the mysteries behind Star Lord's parental lineage. Interestingly, Vin Diesel will still be playing Baby Groot. The lines are clearly the same but it will be fun to see how he'll change his voice to match the miniaturized character.
Having seen the trailer, I have high expectations and it already promises to be a film full of humour and action. May could not come any sooner. What's there to do while we wait? Well, there is an upcoming film that can partially tie me over until May.
Rogue One: A Star Wars Story comes out in a little over a week and like many other Star Wars film, has been the source of excitement for many fans. I am in particular happy with Rogue One because not only does it have a strong female lead but also, for once there is an Asian portrayed in it that isn't playing the geeky/nerdy role. To me, that already makes the film worth watching, outside of the fantastic costumes, make up and story line.
Check out the latest featurette:
Rogue One: A Star Wars Story is the first of the Star Wars standalone films in this successful franchise of movies. This journey revolves around a mission to steal the plans to the Death Star, the Empire's ultimate weapon of destruction.
This key event in the Star Wars timeline brings together ordinary people who choose to do extraordinary things, and in doing so, become part of something greater than themselves.
It is time to rise up to fight for freedom as you can see in the following "Worth It" TV spot.
For any Star Wars fan, Rogue One is not to be missed. I know I'll be watching it for sure. The cast features an assortment of talent including Felicity Jones, Diego Luna, Ben Mendelsohn, Donnie Yen, Mads Mikkelsen, Alan Tudyk, Riz Ahmed, with Jiang Wen and Forest Whitaker. I happen to be a fan of Donnie Yen, having grown up watching and loving Asian martial art movies. Yep, definitely going to be a good one.
What are you looking forward to watching?
Stay connected with Rogue One, in theaters December 16th!
Facebook
||
Twitter
||
Site
Stay connected with Guardians of the Galaxy, in theaters May 5, 2017!
Twitter
||
Instagram
Follow WOS:
Google+
||
GFC
||
@CinnyBBS
||
WOS on facebook
||
Pinterest
||
Instagram
Until next time,