Disclaimer
: No form of compensation was received. Opinions expressed belong to Whirlwind of Surprises and are NOT influenced in any way. Please view my full
disclosure, TOS, and privacy policy
. Please take the time to enter my other
giveaways
while you're here.
There is always something fun about animated Disney films that you just can't help but celebrate. In these ages where we are always on a computer, tablet or cell phone, it is just as important to reconnect with the important people in our lives. Now that MOANA is in theatres, here's a great idea to turn movie night into a fun family night or even a kid's party night. Follow these simple steps to turn it into a MOANA movie night or a MOANA-themed party.
1) You got to realize that a good party and a good time always starts with music. The right music makes the perfect environment. Get into the mood and learn the lyrics to "We Know The Way" from the film. The song is written and performed by Opetaia Foa'i and Lin-Manuel Miranda. Have some fun singing along. The soundtrack is already available in stores near you.
2) Thank someone for something that they did for you or just thank them for being a positive presence in your life. Better yet, write everyone's names who are present and draw names out of a hat to see who you're thanking and think of what to thank them for. Then play the full "You're Welcome" sequence from the film. The clip features Maui (voice of Dwayne Johnson) singing the original song written by Lin-Manuel Miranda. I have to say, I never expected to hear "The Rock" sing but surprisingly, his voice isn't too bad and the song is pretty catchy.
3) After singing your heart out, it is time for more fun activities with these FREE printables from Disney. Click the image below to download 28 pages of fun MOANA-themed activities, colouring sheets, and games to keep everyone entertained until it is time to go to the movies. Everybody goes home with their own personal MOANA bookmark!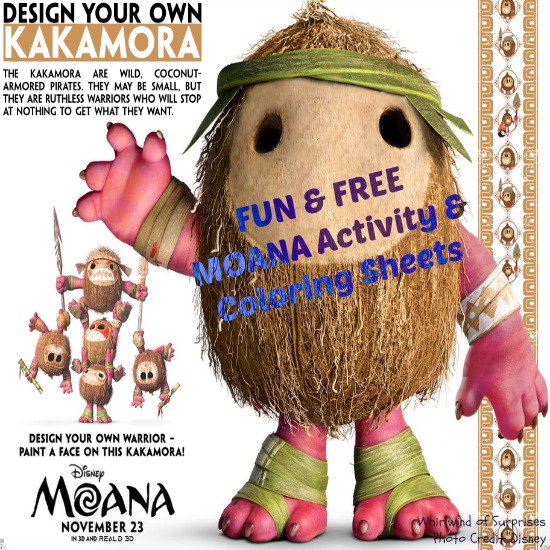 4) End the event by heading out to see MOANA in a theatre near you. Now that is what a fun movie night entails!
What else would you add to this fun MOANA-themed event?
Stay connected:
Facebook
||
Twitter
||
Site
Follow WOS:
Google+
||
GFC
||
@CinnyBBS
||
WOS on facebook
||
Pinterest
||
Instagram
Until next time,