Disclaimer
: The product/s mentioned below have been provided for the purposes of this review. No other form of compensation was received. Opinions expressed belong to Whirlwind of Surprises and are NOT influenced in any way. Please view my full
disclosure, TOS, and privacy policy
. Please take the time to enter my other
giveaways
while you're here.
If there's a type of movie my husband can't miss, it's the based on true story ones. The stories of real people, real underdogs that triumph over obstacles through hard work and effort. McFarland, USA is one of these stories and Disney retells the story of this mainly Latino poor farming community that's full of heart and triumphs.
Kevin Coster plays Coach Jim White who winds up in McFarland, USA as a last resort for his career after being fired from his prior job. He decides to build a cross-country team, which proves to be much harder than he thought it would be. There's up and downs but ultimately, I love how it helps impoverished children the chance to reach their dreams and inspire future generations.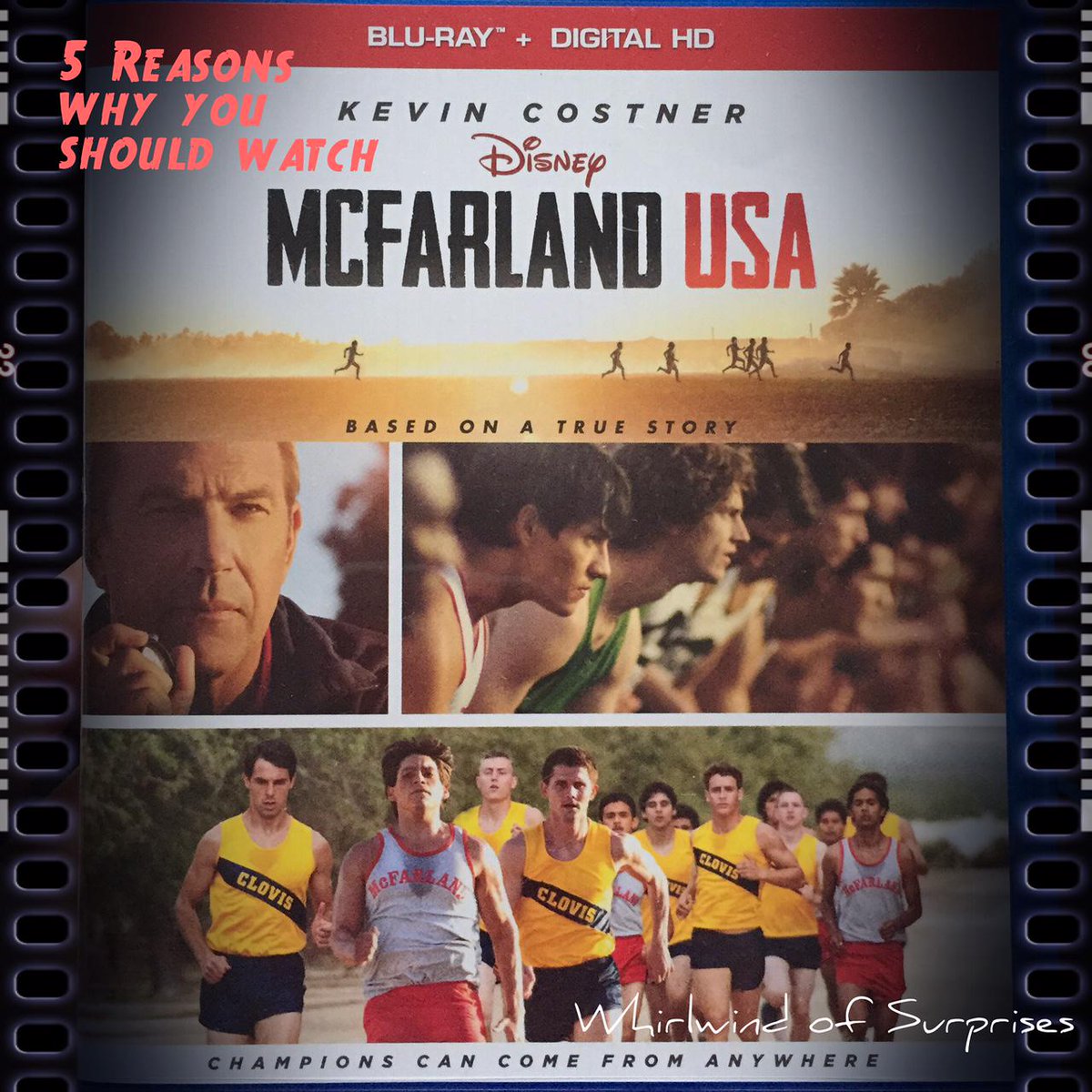 5 Reasons Why You Should watch McFarland, USA
1) Story line
-I love how it's based on a true story and it proves that hard work and dedication can lead to success and triumph. There's so much heart and dedication in every one of them, even "Danny". I was impressed that he never stopped.
2) Inspiration
-The fact that all 7 runners started as pickers and were able to graduate college and continue to inspire and help future generations reach their dreams is something to be amazed at.
3) Poor farming communities
-McFarland, USA brings to light the many poor farming communities in the country. Families that aren't able to make enough to support their family and so children are needed to work from a young age to help support their families, limiting their education and potential to get out of the cycle.
4) Family
-Though the community was poor, they were mostly happy and united. Family connections and bonds were strong. Friends are family. It sounds sad but you rarely see loyalty like that and it is those exact connections that keep a person strong.
5) Life Lessons
-McFarland, USA is full of life lessons. Commitment, dedication, and family are just a few. Breaking stereotypes is another strong theme, emphasized through several different situations.
I personally am glad this movie is now in my collection. Make a movie night out of it with the Tamale recipe below and pick up a copy of your own!
Read
7 interesting facts about McFarland, USA
and find out how Ramiro Rodriguez got pestered into the role of Danny.
Follow WOS:
Google+
||
GFC
||
@CinnyBBS
||
WOS on facebook
||
Pinterest
||
Instagram
Until next time,