Disclaimer
: No form of compensation was received. Opinions expressed belong to Whirlwind of Surprises and are NOT influenced in any way. Please view my full
disclosure, TOS, and privacy policy
. Please take the time to enter my other
giveaways
while you're here.
The more I see the McFarland USA trailers and featurettes, the more encouraged and inspired I feel. Can you imagine the empowerment and growth that happens just from the videos and teasers you've seen so far? Sure, a movie based on real life is always fantastic but it is also made that much more powerful from the true content it developed from. Here's why I want to watch McFarland USA and why you should too as it arrives in theaters today!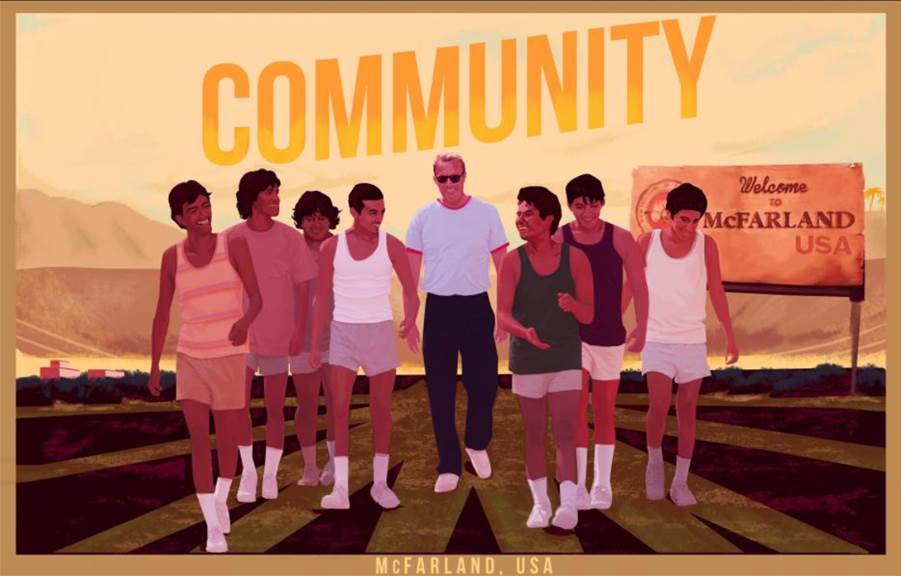 7 Fantastic Reasons to Watch McFarland USA
1) I love the fact that it is inspired by a true story from 1987. The actual story is exceptional. Band together a group of young Latino runners and watch them develop and grow into cross-country state champions under the leadership of their coach, Jim White. We all love the underdogs and there's just something about changing the future and grasping your own fate in your hands that make people want to watch McFarland. The success story has now bloomed into 9 state championships for the McFarland High School cross-country teams since then.
2) Real training went into the production of the movie. All seven actors had to train though some already had some track and field experience. However, they all were trained under Mark Ellis and had to run every morning at 8AM to build their endurance.
3) True to their roots, three of the seven actors are from the McFarland area including Sergio Avelar, Michael Aguero, and Ramiro Rodriguez and were originally already runners and soccer player respectively. Interestingly, Ramiro wasn't even planning to audition, he was only driving his cousin to the tryouts but got marked and then pestered repeatedly by Mario Iscovich (Executive Producer) to audition. You know how that ended, he ended up with the role of Danny Diaz.
4) I actually like how they aim to clear up the stereotyping of lowriders as being associated with gangsters. Having watched a documentary on them before, I realized that they were more a family and community environment and the film reveals that. The "hero-car" lowrider in the movie actually belongs to the director Niki Caro.
5) I love the success story. There's nothing like a little success to encourage future generations. Some of the original 1987 championship cross-country team became teachers in the McFarland school district and are paying it forward by coaching, helping with the meets, or donating money or supplies to help with the new teams.
6) McFarland is the home of Blue Diamond Almonds, which I happen to love but never knew where they were produced. Did you ever wonder what the white tarp covered training hills they ran up were? I did. Guess what, they're essentially embankments of almonds covered in protective plastic. I would certainly be distracted in my training by all the yummy almonds!
7) Coach Jim White is pretty amazing, not giving up on the kids and helping them reach their full potential. He retired in 2002 but taught in McFarland schools for 40 years and coached for 25 years. You may still see him on his bike these days keeping up with the team training.
Stay connected:
Facebook
||
Twitter
Follow WOS:
Google+
||
GFC
||
@CinnyBBS
||
WOS on facebook
||
Pinterest
||
Instagram
Until next time,