Disclaimer
: The product/s mentioned below have been provided for the purposes of this review. No other form of compensation was received. Opinions expressed belong to Whirlwind of Surprises and are NOT influenced in any way. Please view my full
disclosure, TOS, and privacy policy
. Please take the time to enter my other
giveaways
while you're here.
Driving with JR and BabyPom can sometimes be a challenge. Ho, what am I saying, it is ALWAYS a challenge. They're constantly jumping everywhere, in my lap, in the backseat, in my lap, down on the ground. Either way, it makes driving a dangerous situation for both the furbabies and me. Now, with the new laws passed, it is ever so important to have a way to keep all of us safe.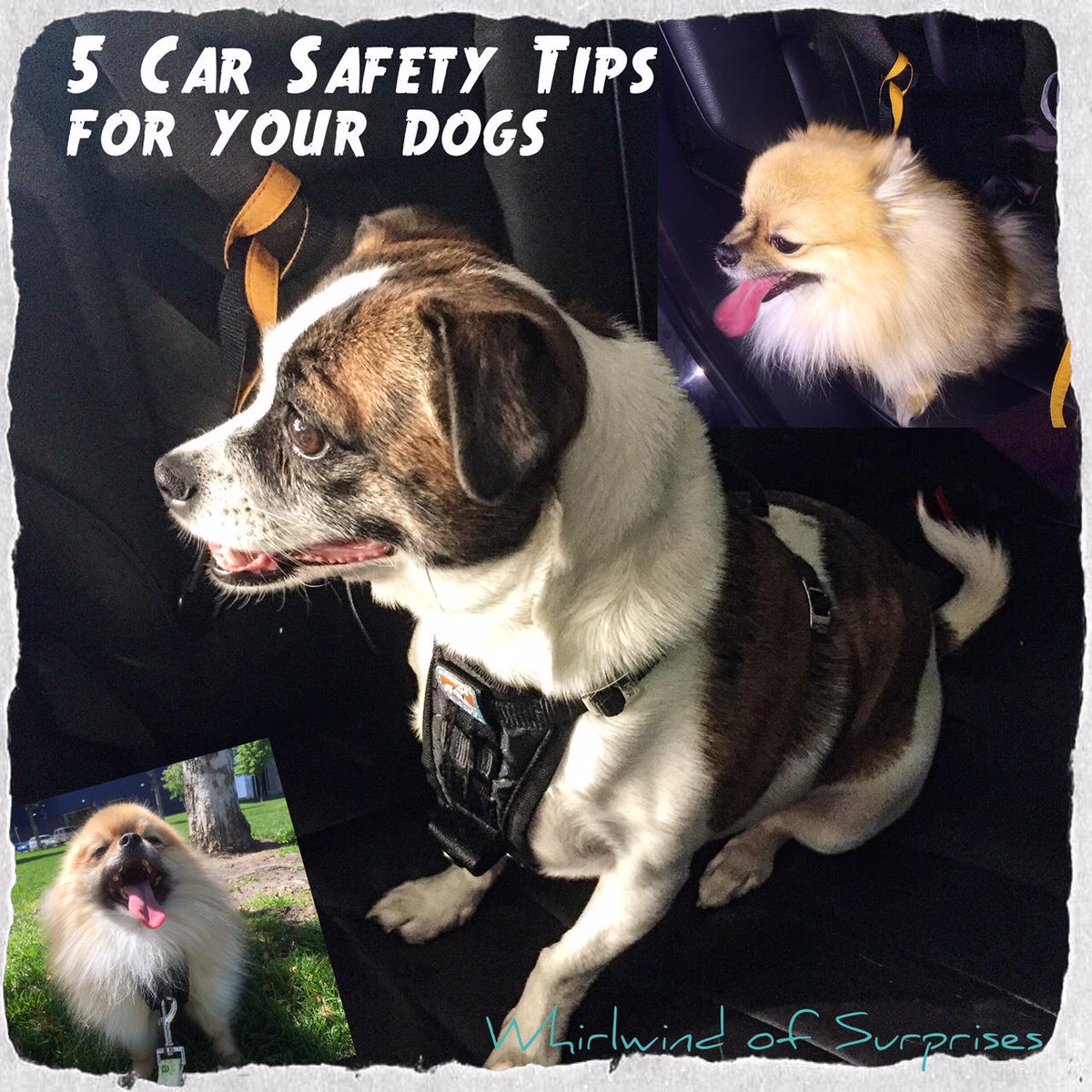 5 Car Safety Tips for your dogs
1) Don't feed them while in a moving vehicle
-Believe me, this ends badly, regardless of whether it is a long or short trip. In my instance, we had a lot of vomit to clean off the seat of the car. Try feeding them with a light meal a few hours before departure.
2) Microchip/Identifying Pieces
-You want to always have a microchip and some sort of identification item that allows a kind soul to contact you in case your pup gets lost.
3) Crates vs Harnesses
-Either way, it is never safe for the dogs to ride in your lap or run around the car, which JR and BabyPom have a habit of doing. They don't do well in a crate so I've resolved to using a
dog harness
like Kurgo's Tru-Fit Enhanced Strength Dog Harness -3055 Series. The new Tru-Fit Enhanced Strength Dog Harness has been crash tested to pass more rigorous crash-testing standards at the University of Michigan National Highway and transportation Administration Lab. These
Kurgo Enhanced Strength Tru-Fit Smart Harness
($30) with steel Nesting Buckles has had their tensile strength tested to ensure the best protection while riding, turning, and stopping and in extreme situations and they even have a video depicting a 50b dog travelling at 30 miles per hour.
The testing video has the harness secured a little differently than instructed, which does make me wonder if the safety would be the same if the attachments were done as instructed, which is with the included carabiner.
The Kurgo harness comes in 5 different sizes by weight and for JR & BabyPom, we used the Small (10-25lbs) and X-Small (5-10lbs) sizes respectively and were able to adjust the harness in 5 different areas easily for a great fit. Personally, I loved the nesting buckle system. The buckles were easy to latch in and take off as well. The chest pad is an important design feature of the dog harness as it reduces stress and tension on your dog's trachea and sternum in the event of a high speed impact and prevents strong forces from acting on a localized area. The 10-inch dog seat belt loop works great to give the pups a little bit of movement room yet keep them from jumping from the back to the front protecting us all.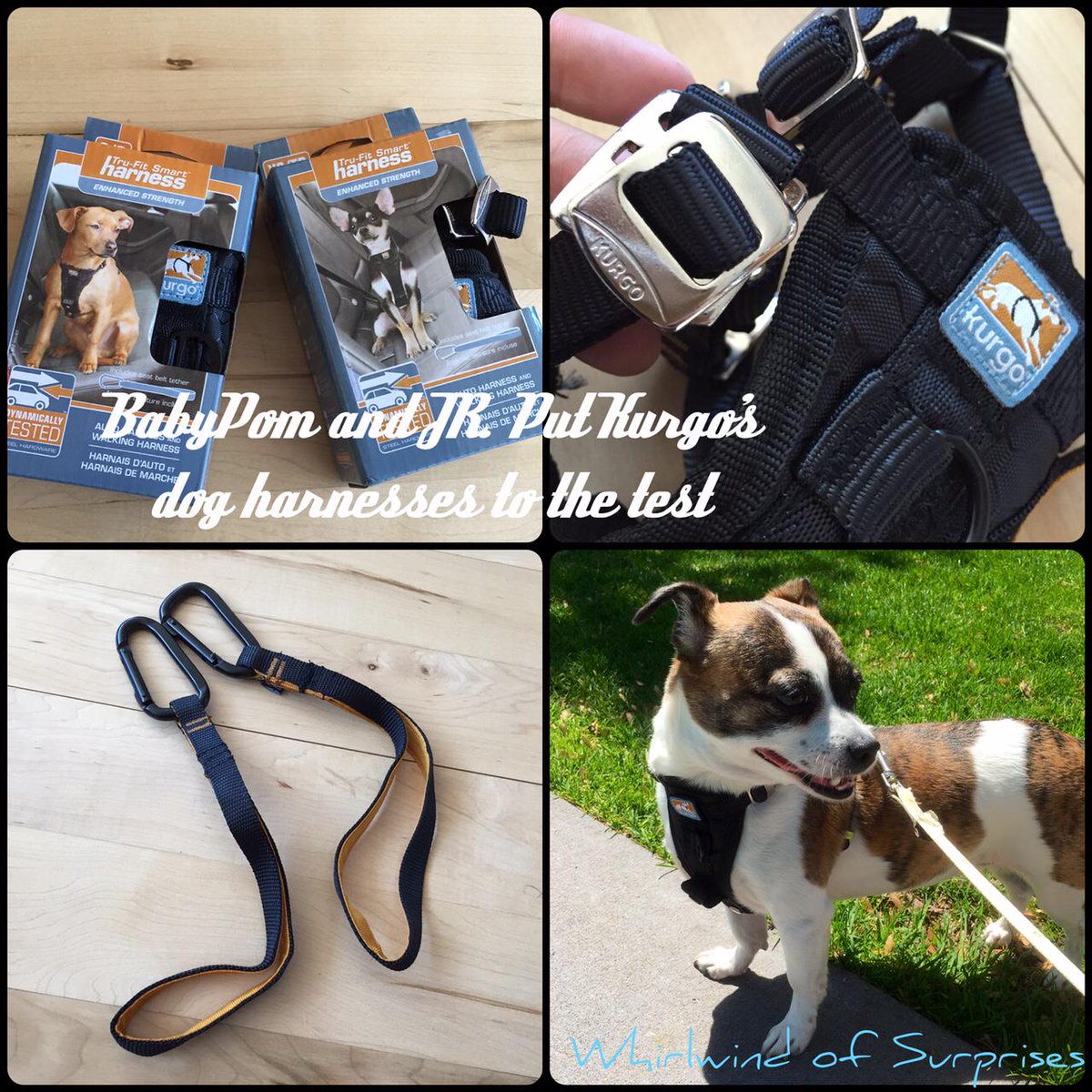 The primary goal of the Tru-Fit dog harness is for car safety, however there is an added bonus to these dog harnesses. They can easily be used outside of the car as well. I love the halt ring on the front chest plate as it remind BabyPom not to pull. Did I mention that it's machine washable as well? The Kurgo Tru-Fit
dog harnesses
are ready to go and adventure with you and your pups.
4) Windows
-We all know they love sticking their head out and getting that fresh air, however it can be dangerous as flying objects could potentially injure their adorable faces. Power windows is also a concern as JR typically steps on buttons and lowers the window all by herself. This is why it's especially important that pets are harnessed in so they don't jump out the window accidentally and hurt themselves.
5) Unattended in vehicles
-Did you know it's actually illegal in some states to leave pets unattended in cars? The vehicle can get very hot on warm days and pose a danger to our furry friends.
What car safety tips do you have for your pets? Do your dogs ride free or do they use a harness or crate?
Stay connected:
Facebook
||
Twitter
||
Site
Follow WOS:
Google+
||
GFC
||
@CinnyBBS
||
WOS on facebook
||
Pinterest
||
Instagram
Until next time,