For any car lover out there,
Adam's Polishes
is a must! We attended a car detailing clinic a couple weeks back in Jersey and met Adam himself and his team and it was an awesome and fun experience. The whole team were great at demonstrating and teaching how to use their products and answered any questions people had. Seriously down to earth people and a great help. I really suggest checking out their clinics when they have them and you don't have to be a hardcore car enthusiast to benefit from them.
For my awesome Whirlwind of Surprises readers, however, Adam's has given us a promotional code for 15% off, good towards any of their products! Use "
WhirlwindAdams".
They have so many easy to use products and they sent me the
Basic Car Care Kit
to review. I used this kit along with the products I had purchased at the detail clinic. You don't have to, this kit is great for a general car detailing job. I just wanted to go crazy with the Flex we had bought. The Flex is a great power tool that is used to apply polish and thus, remove slight paint imperfections.
The Basic Car Care kit is literally so easy to use, any one could use it! It comes with
If you add up the amounts, that's almost $100 in car care products, yet they sell a this fantastic set for about $75, gift boxed. It comes so cautiously wrapped and the products nestled ever so gently in an Adam's box. It actually really easy on the eyes. You can almost see that golden glow leaking out of the box and the recipient's sparkling eyes when they open this box.
Anyhow, all fun aside, this stuff works great. And hey, if you really want to pamper them this Father's day, you could do the detailing for them (*wink* and then expect a sweet birthday present, haha). Not sure how to do it? No worries, the instructional DVD is great at teaching you everything step by step and if you lose that DVD, visit Adam's YouTube Channel and you can find everything there. Or live chat with Ashley online, she's incredibly knowledgable on Adam's products as well.
Adam's car wash shampoo
is this wonderful stuff that creates lots of suds and is specially formulated to be pH balanced so that it won't strip your wax. Use it with the microfiber towels and you won't have to worry about swirl marks or scratching up the car's paint. If you've ever had other people wash your car, you may notice that afterwards, if you look at it in the sunlight, there are circular patterns on your car panels. Those are swirl marks; basically micro-scratches left in your car's finish.
Adam's Detail Spray
is the jack of all trades. You can use it to clean, shine and protect the car's exterior and interior! It works like magic in removing bug guts on the car; just spray, wipe and go. If you're really into detailing your car, the detail spray works well as a lubricant for your clay bar. I used a clay bar for the first time in my life and its amazing how much stuff it picks up off the car. Best of all, it is streak-free and smells amazing! As Adam says, "Apply liberally!" I actually like it as a car deodorizer too.
Adam's Buttery car wax
is relatively simple to use and its perfect for a beginner. Using the yellow hex-grip car wax applicator, you smooth on some wax, let it haze over and then wipe it off. Being a newbie in the detailing field, I didn't know that certain waxes can only be used indoors and away from sunlight. With Adam's Buttery car wax, it can be used anywhere, even outside, so this is great for the people that park outside. Its also easy to remove so you don't have to worry about the wax drying up and leaving white residue on the trim or glass. Easy enough to give the car that gorgeous clean shine and protect it from the elements.
Adam's VRT Tire and Trim dressing
i
s this magical time machine thing that makes your tires and trim look black and new again without having a greasy feel to it. Its such an easy, quick-drying product with SPF 35 qualities and all you do with it is apply it onto your tires using the block applicator or rubber trim with a sponge. Viola, good as new. I think a great selling point of the VRT is that it is water-repellant, meaning all that good work you put into your tires and trim aren't going to be washed off in the next rain that comes. For those tiny cracks and areas you can't get into, the Adam's In and Out Spray will do the trick!
I had initially wanted to videotape what I was doing but being the hands on work it was, I ended up taking pictures instead. So, I am going to show you the before/after pics instead. Our car, however, is silver so imperfections do not show up as well as they would on a darker colored car, which is a good thing in a sense. But, check out the video for more pictures and the results of my beginner detailing job.
My final thoughts: Adam's has great products and this kit is a great value for its worth. If you want to take care of your car effectively, this is the stuff you want to use and any car fan is gonna thank you for it.
Buy It
: To purchase any of the items from
Adam's Polishes
, shop online now
. Adam's has a great variety of products even for experienced detailers. If you would like to purchase the Basic Car Care Kit it is approximately $75 with a gift box (~$60 with promo code). For my awesome Whirlwind of Surprises readers, however, Adam's has given us a promotional code for 15% off, good towards any of their products! Use "
WhirlwindAdams".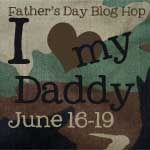 Win It:
One lucky Whirlwind of Surprises reader is going to win an Adam's Polishes Basic Car Care Kit (with $100 worth of products) as part of the Father's Day Blog Hop Giveaway Event with over $250 worth in prizes! Make it easier on yourself later by visiting and liking
Adam's Polishes on Facebook and following
@AdamsPolishes
now. Tell them Whirlwind of Surprises sent you!
Disclaimer: The Adam's Polishes Basic Car Care Kit mentioned above have been provided free of charge from Adam's Polishes for the purposes of this review. Opinions expressed belong to Whirlwind of Surprises and are NOT influenced in any way. Please view my full
disclosure
.
Like what you see? Follow me on GFC and
twitter (@CinnyBBS)
to get the latest updates. Like us on
facebook
or join us through
Network Blogs
. Leave me a comment if you'd like me to follow back on any of these.