Disclaimer
: The product/s mentioned below have been provided for the purposes of this review. No other form of compensation was received. Opinions expressed belong to Whirlwind of Surprises and are NOT influenced in any way. Please view my full
disclosure, TOS, and privacy policy
. Please take the time to enter my other
giveaways
while you're here.
Doesn't everyone love birthdays? I certainly do and our preschooler just had a birthday so celebrating birthdays with Nat Geo Kids was just that much more fun! The excitement when I told him he was getting an extra little celebratory kit from Nat Geo Kids was just absolutely priceless.
Did he get a little smart with me because it arrived a couple days after his birthday? Yep, my sour patch kid definitely did but did it dampen his excitement any? Nope! Our friends at Nat Geo Kids love learning and celebrating so the Celebrating Birthdays Gift Set is just absolutely perfect!
Inside our Nat Geo Kids "Weird But True! Birthday Fun Pack", there is:
Weird But True! Birthdays
(Paperback, $8.99, ages 8-12) - We thoroughly enjoyed this pocket-sized book. We read a good 20-30 pages a night and got through the entire book in no time. There were such fun facts about different birthdays and birthday-related items. My son likes to remind me that elsewhere in the world (I won't spoil it for you), sprinkles are called "hundreds and thuosands". There are 300 wacky facts and pictures with all sorts of fascinating information that has even the adults in the room asking, "What?!"
Weird But Truel World 2023
(Hardcover, $24.99, ages 8-12) -This is such a fun gift for anyone for their birthday or even when it's not a birthday. Learn about Earth's strangest animals, natural formations and so much more. Have you ever heard of a "Troll doll bug"? O-M-G...it looks so much like the troll dolls I used to have as a kid. I don't think my preschooler has ever seen a troll doll so he's probably like what is that?! Hah, it's no joke, a bug that looks like a troll doll has been found in recent years. Totally weird...but true!
8" SQUISHY birthday cupcake plush
-I don't know...all kids adore stuffed animals! I think this was what he grabbed first out of the box and declared, "MINE!". It cracked me up to see him so happy to see this adorable cupcake plush.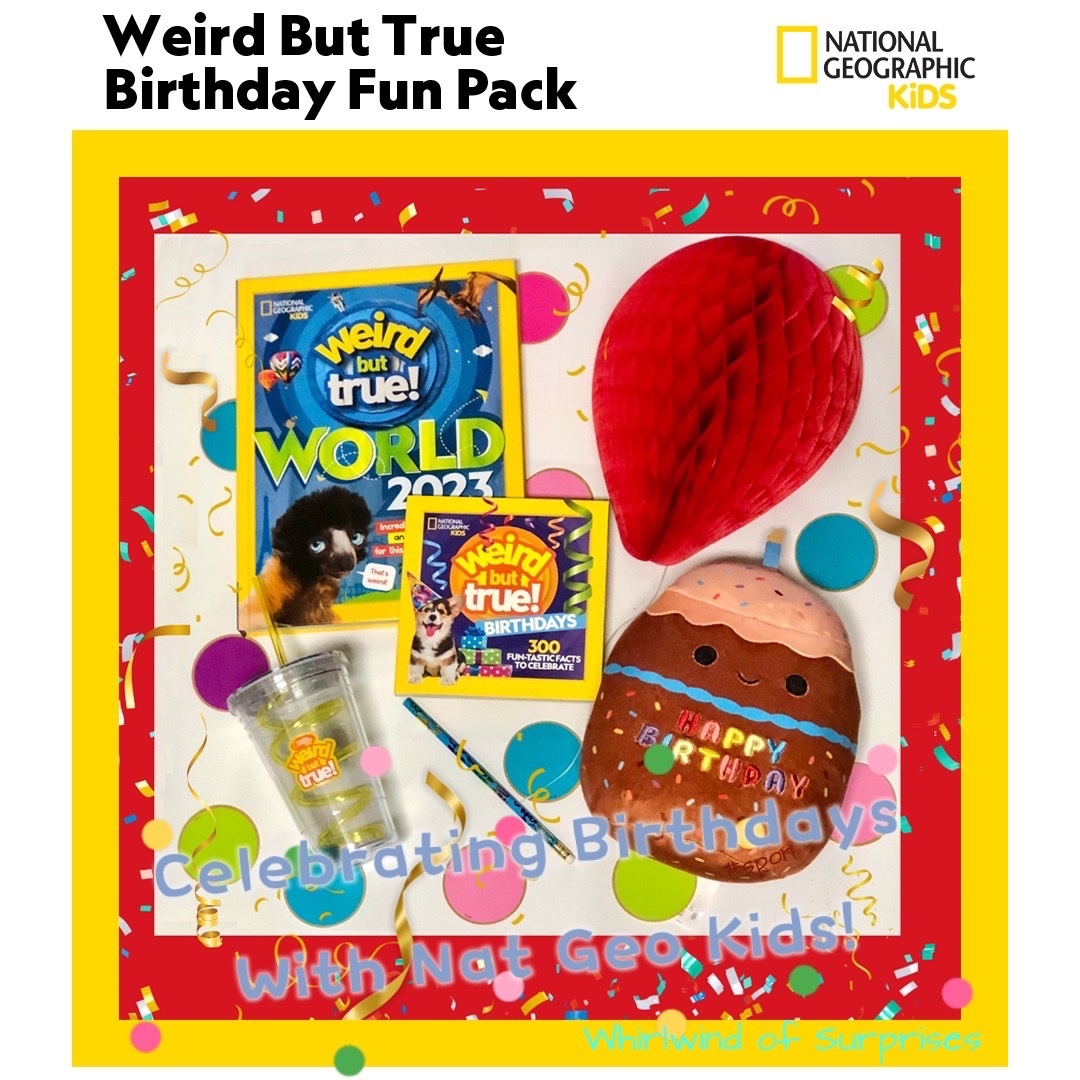 Crazy straw Weird But True! tumbler
-This tumbler is a trip! Curvy crazy straw and all, kids are bound to enjoy their cold drinks in this cup.
Cake-scented pencil, a delish (and easy!) recipe for party pops and eco-friendly multiuse confetti and paper honeycomb balloon
-I reminisce about the days of scented stickers and it is so cool that there are cake-scented pencils! We were all sorts of excited. Plus, there was a fun recipe for party pops that's good for the environment and a fun honey comb balloon that our preschooler wanted to hang it up right away
This truly was a beautiful set put together nicely for any birthday. My kiddo may be a preschooler but he does enjoy some higher-level reading as such is how we spend quality time together. I can imagine the wonder of a kid's face when the do the unboxing as our kiddo was ecstatic!
Our friends at National Geographic Kids have offered up a "Weird But True! Birthday Fun Pack" Giveaway (ARV $70) to one of our WOS readers which includes the above goodies. Open to the US, 18+. Ends 11:59PM EST on Mar 02, 2023. Good luck! Winners have 48 hours to respond before a new winner is chosen.
Nat Geo Kids "Weird But True! Birthday Fun Pack" Giveaway (ARV $70) 03/02
Stay connected:
Facebook
||
Twitter
||
Site
Follow WOS:
@CinnyBBS
||
WOS on facebook
||
Pinterest
||
Instagram
Until next time,