Disclaimer
: The product/s mentioned below have been provided for the purposes of this review. No other form of compensation was received. Opinions expressed belong to Whirlwind of Surprises and are NOT influenced in any way. Please view my full
disclosure, TOS, and privacy policy
. Please take the time to enter my other
giveaways
while you're here.
Welcome to the National Geographic Kids Dinosaur Atlas Blog Tour!
To celebrate the release of the National Geographic Kids Dinosaur Atlas on September 20th, come along on a blog tour that spans the continents as we showcase not only the most awesome dinosaurs, but also highlight the geography, environment, and climate that supported these ferocious, fascinating, and fabulous creatures. This is a blog tour to really sink your teeth into!
North America
North America has lots of great spots for hunting fossils. During the Jurassic and Cretaceous periods, much of today's American West was covered in water. It had coastlines, lakes, rivers, and shallow seas full of sand and mud, which could cover animals to make fossils. Millions of years later, these fossils came back to Earth's surface as rocks in parts of South Dakota and the Rocky Mountains. Tyrannosaurus Rex, Stegosaurus, and Triceratops have been found only in North America.

click to enlarge
**********
A Race to Discover
In 1884, geologist Joseph Burr accidentally found a 70-million year-old dinosaur skull in the Red Deer River Valley in Canada. This led to the "Great Canadian Dinosaur Rush," which happened in Alberta between 1911 and 1925. Large numbers of paleontologists from the U.S. and Canada came to the area to try to find the most fossils. More than 300 dinosaur fossils were found in this area by the 1920's.
***********
SPOTLIGHT ON HELL CREEK, MONTANA, U.S.A.
FOSSIL FINDS: TRICERATOPS, TYRANNOSAURUS
WHEN: CRETACEOUS
During the Late Cretaceous period, Hell Creek wasn't the dry, rocky badlands it is today. It was a large, wet, and forested area where rivers drained into the sea. It was full of palm trees, redwoods, and flowering plants. Over time, the area changed. Sediment (tiny pieces of plants, minerals, and animals) hardened into rock hundreds of feet thick. The sediment from different time periods looks different, making the colorful stripes in gray, pink, green, and blue we see today.
TRICERATOPS (try-SEHR-uh-tops)
MEANING: "Three horned face"
PERIOD: Late Cretaceous
Growing up to 30 feet (8 m) long, Triceratops was the last and largest known horned dinosaur. It had a three-foot (1-m)-long frill and three horns. Scientists think it may have used itshorns to scare off predators like the tyrannosaurs, although they may have only been for show. The frill may have protected its neck or may have attracted mates. This slow-moving herbivore had 800 tiny teeth. It used them to eat plants.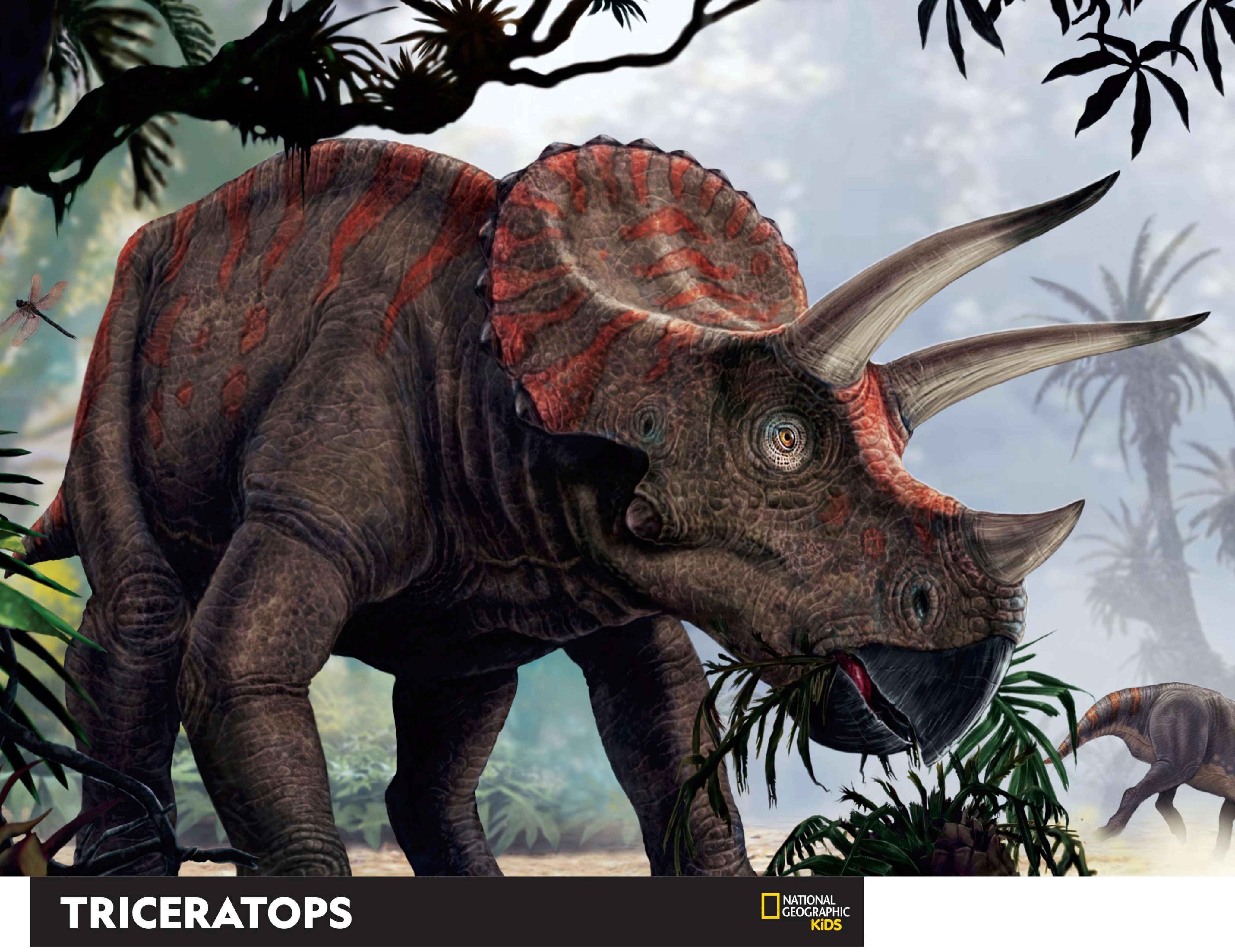 *********
Dino Discoverer: Jack Horner

Jack Horner is a famous American paleontologist. Horner and his team found the first evidence of a big dinosaur nesting ground. They have spent more than 40 summers at Hell Creek. They dodged rattlesnakes, 100°F (37°C) heat, and strong winds as they hunted for fossils. Many of the fossils Horner and his team found are kept at the Museum of the Rockies in nearby Bozeman, Montana.

click to enlarge
---
About the Book
With more than 75 prehistoric creatures featured, the National Geographic Kids Dinosaur Atlas takes readers on a tour of every dinosaur-inhabited continent, from Pangea to the modern day, revealing which creatures lived there, what their habitats were like and where dinosaur bones are being found today. Special sections introducing the dinosaur family tree, a prehistoric era timeline, the geography of the prehistoric globe, what happened to the dinosaurs, and a dinosaur dictionary (with phonetic pronunciations) are also included . Readers will find inspiration from profiles of diverse paleontologists from around the world.
The oversized hardcover format showcases stunning, full color dinosaur illustrations on every page and the custom-made, kid-friendly maps were created by National Geographic's legendary cartography and exploration experts. Vetted and curated by Dr. Steve Brusatte -- a paleontologist on faculty at the School of Geosciences at the University of Edinburg, a PhD recipient from Columbia University, and the science consultant for the Jurassic World franchise -- this atlas contains the most detailed and accurate information not only about dino "fan favorites" but also about the most recent dinosaur discoveries from less explored dig sites around the world.
For more fun information about dinosaurs, visit https://kids.nationalgeographic.com/animals/prehistoric.

About the Creators
About the Expert Reviewer, Professor Steve Brusatte:
STEVE BRUSATTE, a paleontologist on the faculty of the School of GeoSciences at the University of Edinburgh in Scotland, served as the expert reviewer for this atlas. He grew up in the midwestern United States and has a B.S. in Geophysical Sciences from the University of Chicago, M.Sc. in Paleobiology from the University of Bristol, and Ph.D. in Earth and Environmental Sciences from Columbia University in New York. He has written more than 150 peer-reviewed scientific papers during his 15 years of research in the field, named and described over a dozen new species of dinosaurs and mammals, and led groundbreaking studies on how dinosaurs rose to dominance and eventually went extinct, and were then replaced by mammals. Among his particular research interests are the evolutionary transition between dinosaurs and birds and the rise of placental mammals. He is also a noted specialist on the anatomy, genealogy, and evolution of the carnivorous dinosaurs like Tyrannosaurus and Velociraptor. His 2018 book, The Rise and Fall of the Dinosaurs, was a New York Times best seller, and he is the science consultant for the Jurassic World film franchise.
About the illustrator, Franco Tempesta:
Born in Milan, Italy, FRANCO TEMPESTA has loved drawing animals, dinosaurs and dragons since he was a child. Franco specializes in naturalistic illustration, and in the last twenty years has focused his attention on the realization of realistic images of dinosaurs and prehistoricanimals. In April 2014 the Museum of Paleontology of Naples hosted a permanent exhibition dedicated to his illustrations of dinosaurs and in 2016 the Science Museum of Camerino hosted an exhibition of his paleo art.
---
GIVEAWAY
Five (5) winners will receive a copy of National Geographic Kids Dinosaur Atlas (ARV $25)
US/Canada only
Ends 10/16 at 11:59pm ET
Enter via the Rafflecopter below
Visit the other stops on the tour for more chances to win!
---
Blog Tour Schedule:
October 3rd — Whirlwind of Surprises
October 4th — Nerdophiles
October 5th — Pragmatic Mom
October 6th — Fromthe Mixed-Up Files... of Middle-Grade Authors
October 7th — Chat with Vera
Follow WOS:
@CinnyBBS
||
WOS on facebook
||
Pinterest
||
Instagram
Until next time,