Disclaimer
: The product/s mentioned below have been provided for the purposes of this review. No other form of compensation was received. Opinions expressed belong to Whirlwind of Surprises and are NOT influenced in any way. Please view my full
disclosure, TOS, and privacy policy
. Please take the time to enter my other
giveaways
while you're here.
Did you know being outdoors is therapeutic? It truly is! There have been studies put out that 20-30 minutes outdoors for up to 2 hours per week is the optimal time frame to decrease cortisol in our bodies, otherwise known as the stress hormone. So, being outdoors is great for stress and depression. That being said though, what kid doesn't love being outdoors? I know mine does!
The sun is shining and we love checking out the outdoors. Ever since we dived into our
beloved National Geographic Bird Collection Books
, our preschooler loves telling me all about the birds he saw during the day that his mommy missed. He also enjoys exploring all the bugs and animals along with the wildflowers we may run across.
Not sure what you're looking at? Never fear! #EscapetheInDoors with this Get Outside collection of books from National Geographic Kids. They'll teach you everything you need to know to have a great time exploring outdoors with your kids! Inside our Nat Geo Kids Get Outside Book Collection, there is:
Little Kids First Nature Guide: Bugs
(ages 4-8, flexibound) - Our preschooler gravitated to this book right away. There are so many insects in the world and we learnt so many different things about bugs. There were easy-to-understand profiles about bugs found in North America as well as other unique bugs found around the world. He had fun pointing out bugs he knew or had seen before. There are even tips as to how to safely find some of these insects for the avid explorer. Best of all, this book is sized and made to be carried around so that you can go exploring with it.
Get Outside Guide
(ages 8-12, paperback) - This guide encourages and inspires kids to get outdoors and explore, in their backyard, across the country or around the world. I think this makes it super fun. We may not always get to go different places in this pandemic era, but to even find fun in your own backyard, explore state parks, or create little scientific experiments is fun we can't resist. Plus, there are little fun facts on some of the pages that are neat to learn.
National Geographic Kids National Parks Guide U.S.A.
(ages 8-12, paperback) -Okay, I have a confession to make. When I was a kid, my parents would take me to Yellowstone and I just never appreciated it. Maybe if we had this Nat Geo Kids book, that would've been much different. This book has all sorts of information about the national parks in the USA along fascinating lists, facts and things to do. I had no idea of all the cool things that could be done there. There are even recommendations as to cooler, more daring adventures to be had for the other kids that are harder to please!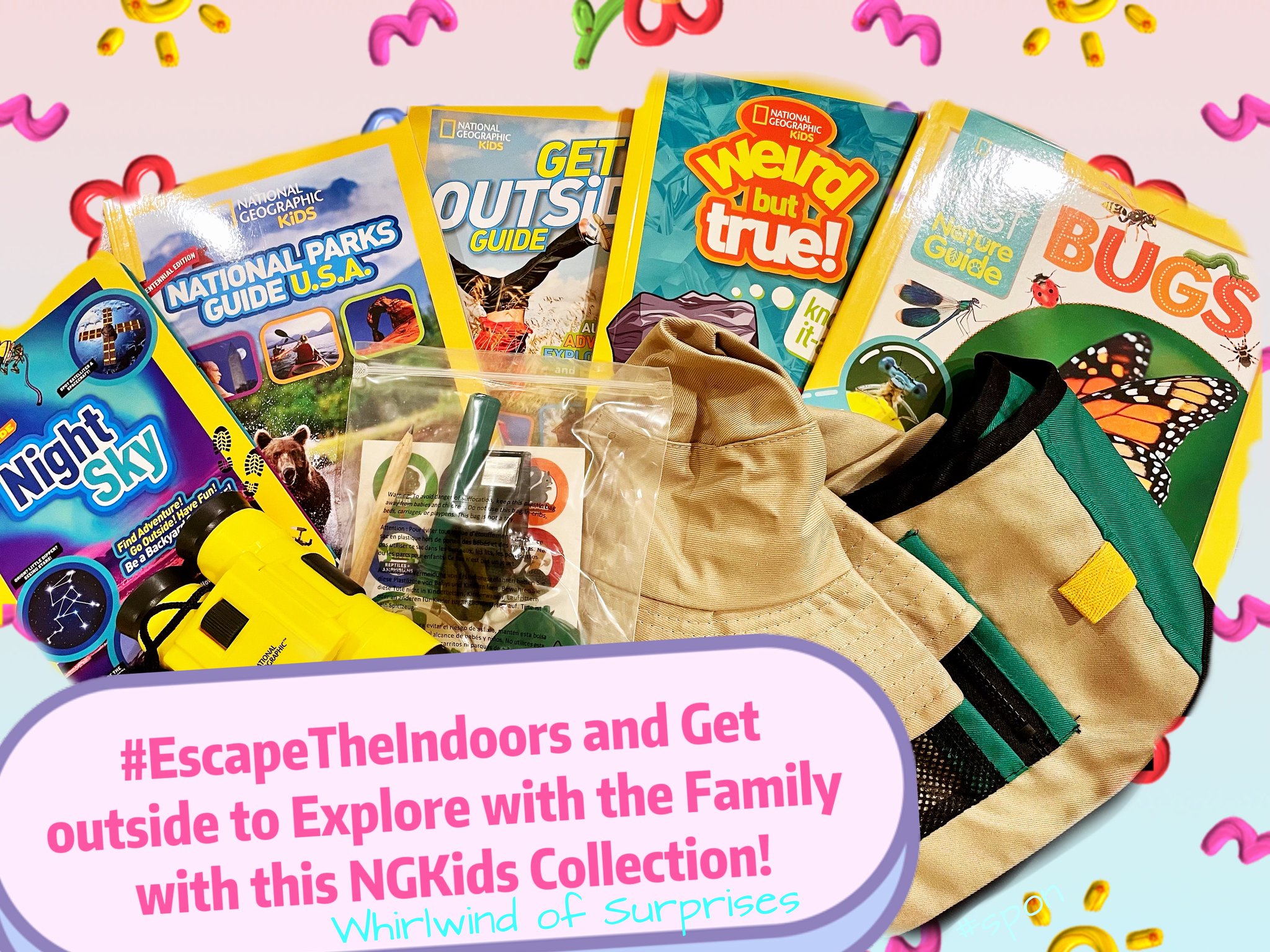 Ultimate Explorer Field Guide: Night Sky
(ages 8-12, paperback) -I have always loved the stars but if you asked me if I knew what I was looking at, I'd have no clue. I was so stoked to share this book with my preschooler because when we go on walks in the evening, he loves to point out the stars. I keep trying to spot a meteor shower but have not yet had any luck. There's so much information in this book and it teaches you and the kids how to spot the different constellations. It's a great size, perfect to bring along on our car trips so that we can keep reading and try to spot some constellations and planets.
Weird But True Know It All: Rocks and Minerals
(ages 8-12, paperback) -The funny thing about these Nat Geo Kids books is that my child seems to love to collect the books in the series. He's always pointing at the books and asking or telling me if we have them. He was just looking at the Weird But True series last night and wanting to read more. In this edition, learn about rocks in outer space to precious gems and everything in between. One disturbing, interesting, and yet somewhat disgusting fact is that Grasshopper Glacier in Montana, USA is filled with MILLLIONS of frozen locusts that got caught in a storm more than 200 years ago. We personally found it fun to read about teddy bears in the water in a well in North Yorkshire, England and they petrify over several months.
National Geographic Backyard Safari Kit
(ages 6+) -This Nat Geo Backyard Safari Kit is so cute! It features a safari vest with lots of cargo pockets and carry tabs, a safari hat to keep their precious head protected and lots of fun gear to go exploring with! There's a magnifying glass, compass, whistle and a pair of binoculars. There's even a mini field guide and pencil so that they can jot down what they're seeing!
It's time to escape the indoors, get outdoors and explore with the family! There's nothing more precious than time with family and quality time. This is a perfect opportunity to explore with Nat Geo Kids Get Outside collection.
Our friends at National Geographic Kids have offered up an Get Outside Prize Pack Giveaway (ARV $114) to one of our WOS readers which includes the 5 titles above plus a Backyard Safari Kit. Open to the US, 18+. Ends 11:59PM EST on Jul 14, 2022. Good luck! Winners have 48 hours to respond before a new winner is chosen.
Nat Geo Kids Get Outside Prize Pack Giveaway (ARV $114) US 7/14
Stay connected:
Facebook
||
Twitter
||
Dino Books!
||
Site
Follow WOS:
@CinnyBBS
||
WOS on facebook
||
Pinterest
||
Instagram
Until next time,