Disclaimer
: The product/s mentioned below have been provided for the purposes of this review. No other form of compensation was received. Opinions expressed belong to Whirlwind of Surprises and are NOT influenced in any way. Please view my full
disclosure, TOS, and privacy policy
. Please take the time to enter my other
giveaways
while you're here.
It is May again and with it, comes our celebration for Dino-MAY-nia! We are completely over the moon for any dinosaur-themed things so it comes at no surprise that our preschooler is always excited for the latest National Geographic collection!
Dinosaurs are so much fun. It's so interesting to learn all these random facts. Check out the National Geographic
DinoMAYnia website
of games, videos, and more! Find out what dinosaur personality you are by taking the dinosaur personality quiz.
Check out this DinoMAYnia video featuring Nat Geo Explorer Nizar Ibrahim.
Inside our DinoMania National Geographic Book Collection, there is:
Little Kids First Big Book of Dinosaurs
(ages 4-8, 128 pages, $14.95) - This is one of our favorites in the "First Big Book" series. Kids learn about the different sized dinosaurs (small, big, giant, and gigantic) with lots of fantastic facts. This is a #1 best seller on Amazon and I'm not surprised. It's definitely a fan favorite in our household.
Little Kids First Board Book: Dinosaurs
(ages baby - 3, hard cover, $7.99) - These First Board Book series are just really simple, easy to read, fun books for the young reader. Our is starting to recognize words so it's just a fun little book for him to start picking up the actual words he's reading. Plus, he loves saying -"Say my name: ...followed by the dinosaur's name". Overall, just a fun read.
Weird But True! Dinosaurs
(ages 8-12, 208 pages, $8.99) -This is such a fun fact filled book! This had some interesting 300 dino-mite facts including th crazy one that people collect dinosaur poop! Dinosaur poop? Yes...dinosaur poop! Not something we would collect but to each their own, right?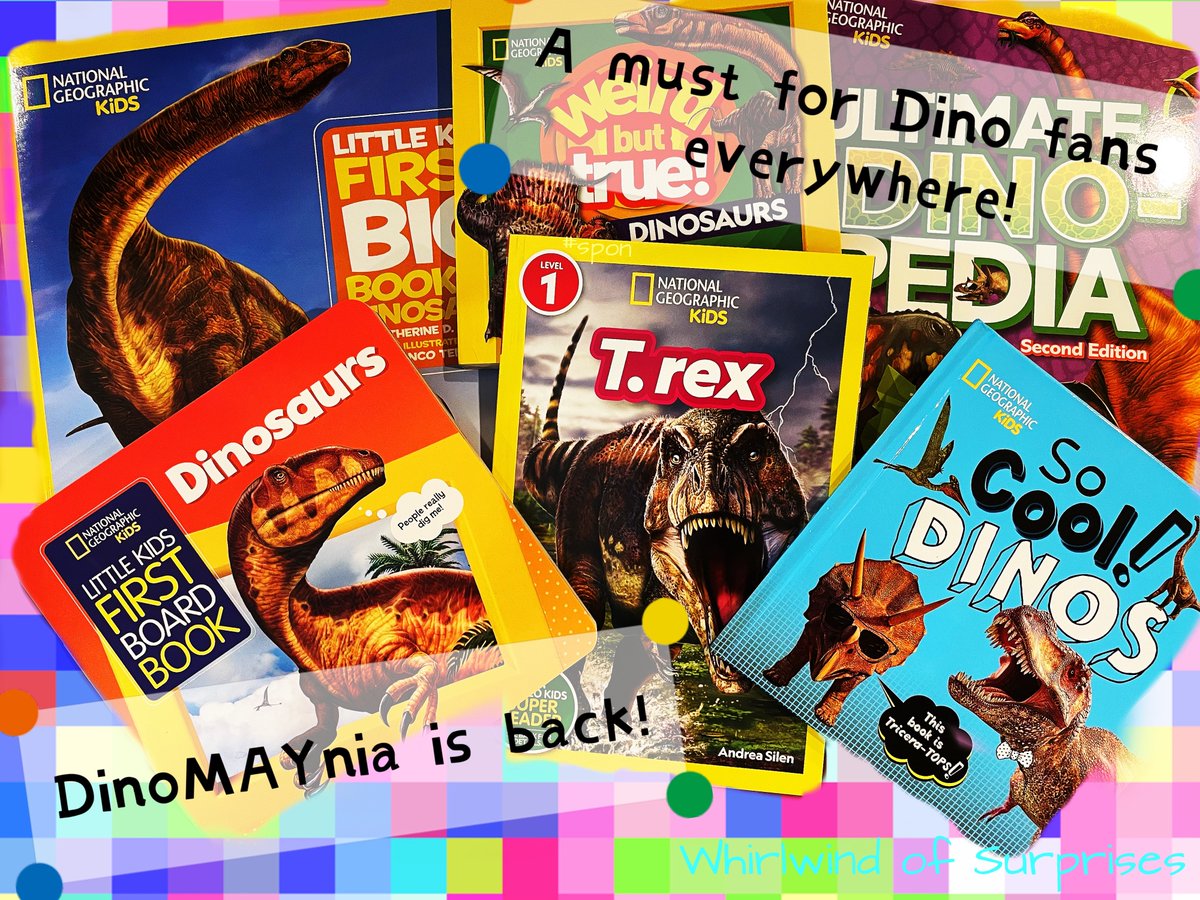 Ultimate Dinopedia, 2nd ED
(ages 7-10, 296 pages, $24.99) -This book is an almost daily read for our preschooler. He has the names of quite a few of these dinosaurs memorized. Each dinosaur is accompanied by a size comparison and features of how they lived, what they ate, and random little tidbits. The thing I find cool about this is that is is the most complete, up-to-date dinosaur reference avaialable and it's a kids book!
So Cool! Dinos
(hardcover, ages 3-5, $6.99) -We've always though dinosaurs are pretty cool. We love the informational facts about when dinosaurs lived on Earth. There were lots of questions raised when we were reading this book together but he thoroughly enjoyed learning some of those crazy facts.
National Geographic Readers: T.Rex
(ages 4-6, paperback, $4.99)-This early reader book is pretty spiffy for preschoolers. T. Rex has interesting new facts about one of the most well known dinosaurs. Our preschooler is fascinated by how much T. Rex can fit in one bite, we likened it to our entire family + grandparents. The impressive size of 1 T. Rex bite is pretty spectacular and scary! There are even pronounciations to teach early readers how to pronounce the more difficult words.
If you have someone in the house that LOVES Dinos, you can't miss out of
National Geographic Kids' Dino books collection
. I can't sing enough praises for our National Geographic collections. There is just something simply enjoyable for every one in the family, even the adults that are reading to their children.
Our friends at National Geographic Kids have offered up an DinoMAYnia Prize Pack Giveaway (ARV $69) to one of our WOS readers which includes the 6 titles above. Open to the US, 18+. Ends 11:59PM EST on Jun 12, 2022. Good luck! Winners have 48 hours to respond before a new winner is chosen.
Nat Geo DinoMAYnia 2022 Prize Pack Giveaway (ARV $6/9) US 6/12
Stay connected:
DinoMAYnia HQ
||
Facebook
||
Twitter
||
Dino Books!
||
Site
Follow WOS:
@CinnyBBS
||
WOS on facebook
||
Pinterest
||
Instagram
Until next time,