Disclaimer
: The product/s mentioned below have been provided for the purposes of this review. No other form of compensation was received. Opinions expressed belong to Whirlwind of Surprises and are NOT influenced in any way. Please view my full
disclosure, TOS, and privacy policy
. Please take the time to enter my other
giveaways
while you're here.
The Boss Baby has always been one of my favorite movies. It's full of fun, humor and family antics that when we first saw the trailer for The Boss Baby: Family Business, we were psyched! Now available on 4K Ultra HD, Blu-Ray and DVD from Universal Pictures, we can all bring it home to our families to enjoy.
The Boss Baby: Family Business synopsis:
In the sequel to DreamWorks Animation's Oscar®-nominated blockbuster comedy, the Templeton brothers—Tim and his Boss Baby little bro Ted—have become adults and drifted away from each other. Enter new boss baby Tina with a cutting-edge approach and can-do attitude that is determined to bring them together again...and inspire a new family business.
Check out the trailer:
I can't even watch the trailer without giggling...the baby ninjas, the goofiness. I particularly love "Money can't solve everything!". It's such an important value to have in life. Yes, money is nice to have but not the most important thing in life.
We absolutely adore this family comedy and my preschooler was absolutely elated to watch this movie. How could I have forgotten that there's a huge star-studded cast including Alec Baldwin (It's Complicated, The Departed), James Marsden (Hairspray, X-Men Franchise), Amy Sedaris (Puss in Boots, Elf), Ariana Greenblatt (Love and Monsters), Jeff Goldblum (Jurassic Park, Independence Day), Eva Longoria ('Desperate Housewives'), James McGrath with Jimmy Kimmel ('Jimmy Kimmel Live') and Lisa Kudrow ('Friends', Booksmart) also returning.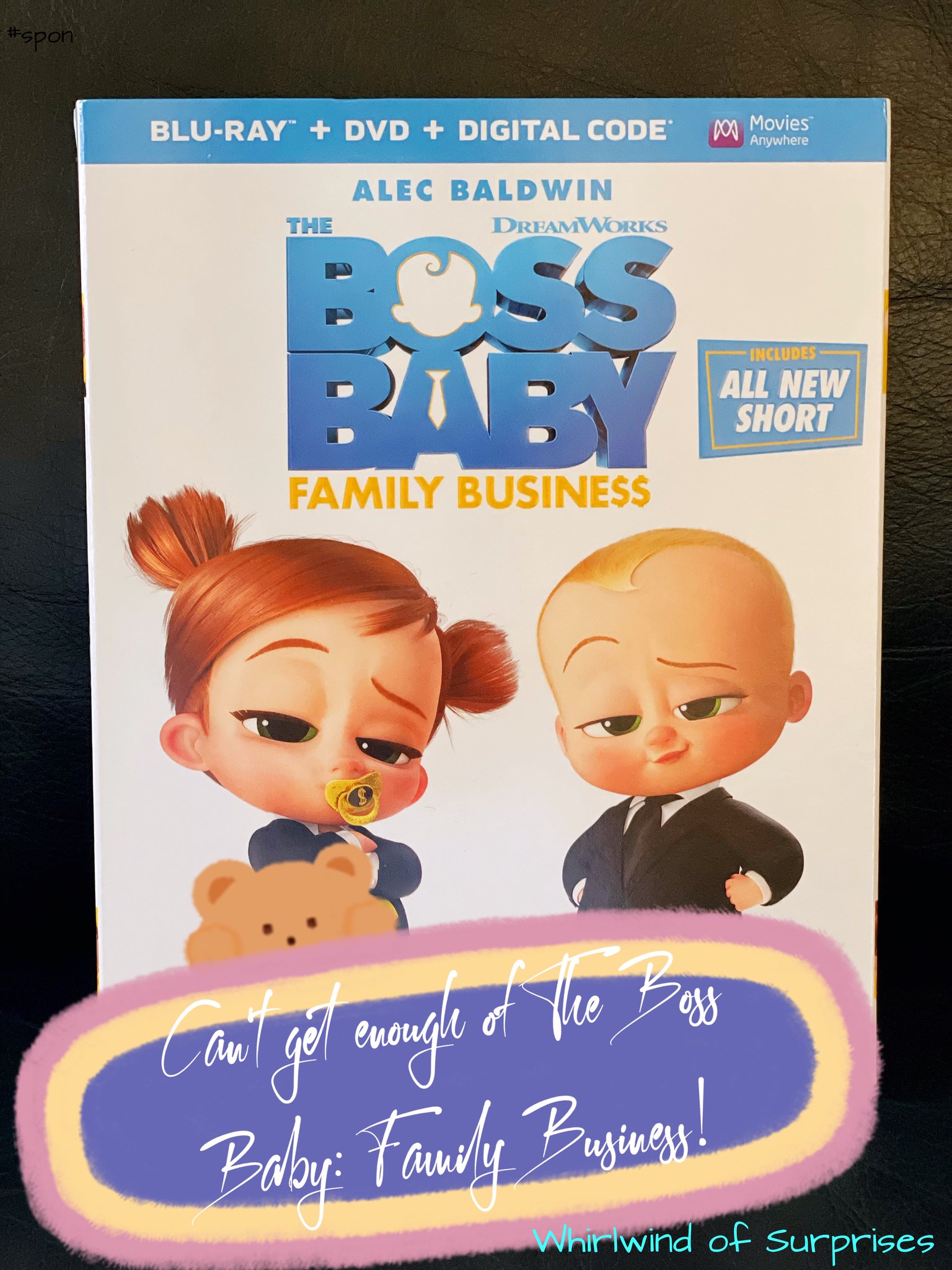 Run time: 1 hr 47 min
MRSP $19.99USD+
Bonus features on 4K Ultra HD, Blu-Ray, DVD and Digital include:
-"PRECIOUS TEMPLETON: A PONY TALE" - An original DreamWorks animated short.
-GAG REEL
-DELETED SCENE – "Time Out" with introduction by Director Tom McGrath.
-NEVER GROW UP: THE BIG BABIES BEHIND THE BOSS BABY: FAMILY BUSINESS – Behind the scenes take to discover how this movie came to be.
-"TOGETHER WE STAND" LYRIC VIDEO – Sing along with Tabitha as she performs "Together We Stand," in this whimsical lyric video. (I actually quite loved this song; it just reaches into your soul!)
-ROLL CALL – Meet the voices behind the babies: Alec Baldwin – Boss Baby (Ted), Amy Sedaris – Tina, and James Marsden - Tim
-CREATIVE EXPERIMENT LAB – Schools in Session! How fun! This bonus feature explores fun science projects including Potato Power, Volcano To Go, and Plastic Fantastic.
-BOSS BABY ART CLASS: HOW TO DRAW – Learn to draw your favorite Boss Baby at home with this fun drawing tutorial with Catherine Rader, one of the lead story animators of The Boss Baby: Family Business. Characters include Boss Baby (Ted), Tina, and Precious Templeton.
-FEATURE COMMENTARY – Feature Commentary with Director/Exec. Producer Tom McGrath, Producer Jeff Hermann and Production Designer Raymond Zibach.
Are you ready to have some fun with Baby Corp? Check out these fun activity sheets. Plus enjoy some fun crafts to enjoy your family movie night Boss Baby style!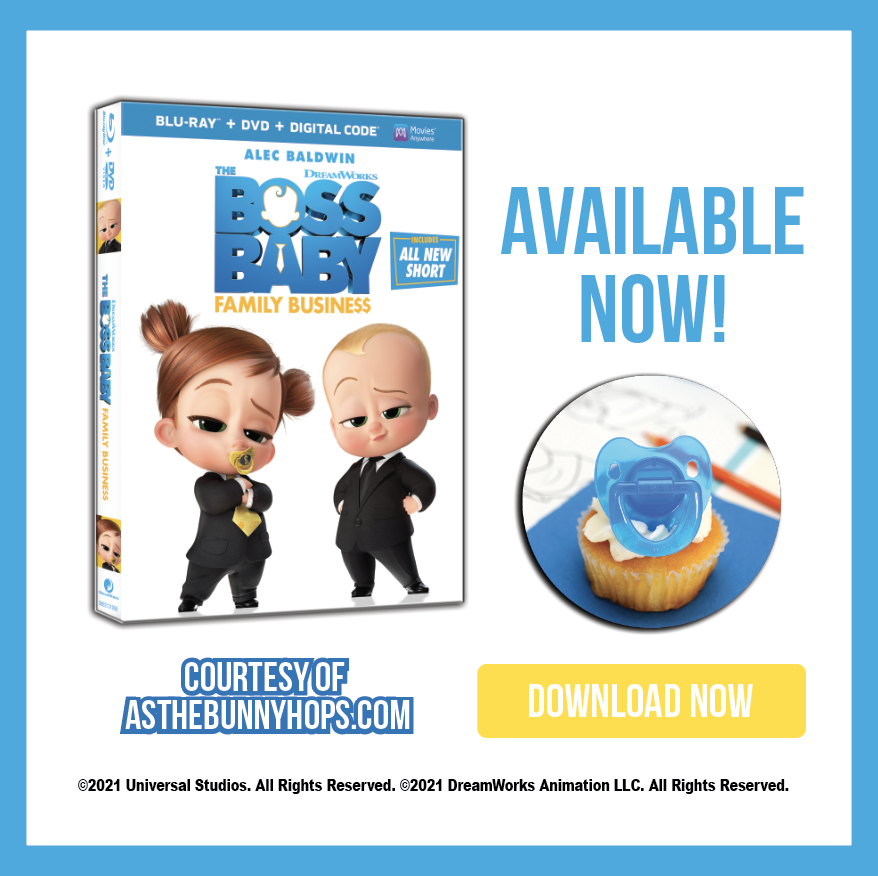 Director Tom McGrath and producer Jeff Hermann really did a fantastic job of putting the film together. My preschooler and I couldn't stop laughing so many times throughout the movie and it's definitely a movie that I'd watch again and again. Yes, there's some crude humor in there that the little ones don't get but it's also quite entertaining and makes it enjoyable for parents that watch with their little ones.
Has your family watched the Original Boss Baby movie? How much were you looking forward to The Boss Baby: Family Business?
Stay connected>
Facebook
||
Instagram
||
Site
Follow WOS:
@CinnyBBS
||
WOS on facebook
||
Pinterest
||
Instagram
Until next time,