Disclaimer
: The product/s mentioned below have been provided for the purposes of this review. No other form of compensation was received. Opinions expressed belong to Whirlwind of Surprises and are NOT influenced in any way. Please view my full
disclosure, TOS, and privacy policy
. Please take the time to enter my other
giveaways
while you're here.
I personally chose not to enroll my child in preschool this year because of my concerns for COVID and the inability for my child to get vaccinated yet. Hence, I am all for a great library selection at home where I can encourage his love of reading, learning, and his overall growth. We love these new selections of children's books from Prestel Junior and Pavilion.
Where is Everyone?
by Tom Schamp (Hardcover $14.95; Ages 2+; 14 pages) -Where is Everyone? is quite an adorable and interactive book. My son loves flipping the flaps to find what's hidden underneath. It creates conversation and thinking about the possibilities which makes reading so much fun.
When I See Red
by Britta Teckentrup (Hardcover $14.95; Ages 4+; 40 pages) -When I saw this cover, I knew we had to have it. 3 year olds are learning their emotions and anger is one that is particularly tough to tackle. As parents, we want our children to be able to express their emotions, even anger, however, we must help them to "vent" their anger in safe ways while validating their feelings. Hence, this book that describes anger is a nice avenue to bridge that conversation with our little ones.
The Weather Pop-Up Book
by Maike Biederstaedt (Hardcover $25; Ages 5+; 15 pages) -Now I know this book is for 5+, however the thing about having an avid child reader is that if the book interests them, they'll want to read it regardless of the age recommendation. Wordy for a 3 year old, however the pop-up pictures fascinate and keep him absorbed and we will read chunks of it at a time. When he gets older, it'll be such a cool learning book of various weather phenomenons. It's a beautifully created book.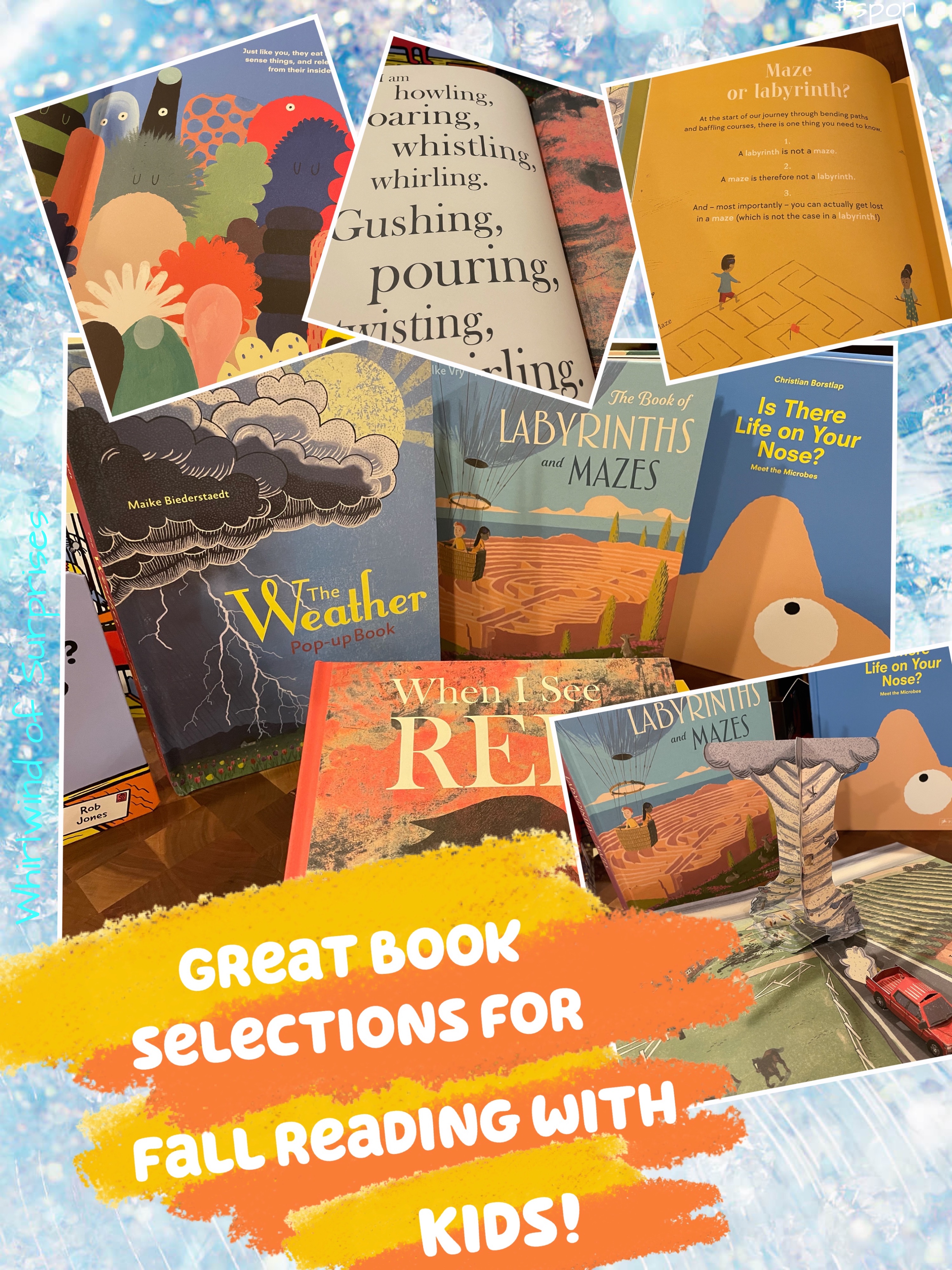 Is There Life on Your Nose?
by Christian Bortslap (Hardcover $17.95; Ages 6+; 56 pages) -Oh, this book is fun. Learning all about the yucky germs and good germs in our life in a way that kids understand. We actually read this recently as our bedtime reading. I have such a hard time getting my child to understand all these yucky germs as like any other preschooler, they love to pretend and jump...slide themselves all over the floor, act like a frog and dirty his hands right after washing them. This was a nicely simplified way to educate without being overwhelming.
The Book of Labyrinths and Mazes
by Silke Vry and illustrated by Finn Dean (Hardcover $19.95; Ages 7+; 96 pages) -What a neat book! I had no clue what the differences between mazes and labyrinths were until I read this book. I've always enjoyed a good corn maze so I personally found this book fascinating.
The Day Time Stopped
by Flavia Ruotolo (Hardcover $14.95; Ages 5+; 48 pages) -What another fantastic book to illustrate that people everywhere are doing something different at the same time of the day. It illustrates a little girl in Italy about to take a bite of her popsicle when time stops. However, at that same point in time elsewhere in the world, there might be a penguin hatching in South Georgia, a football stuck in a tree in Cape Verde and so much more. It's a fun way to show children and introduce them to the concept of different time zones around the world.
I Saw a Beautiful Woodpecker
by Michał Skibiński and illustrated by Ala Bankroft (Hardcover: $16.95; Ages 6+; 128 pages) -The truth is that I didn't expect this book to have the impact that it did. It was strikingly powerful and beautiful. This book is the recreation of Michal Skibinski's summer journal from the summer of 1939 in Warsaw, Poland when his teacher gave him an assignment to write a sentence a day in a journal to improve his handwriting. Unknowingly, when he started it, he didn't know that school would not start up again next year but a world war would disrupt his entire way of life.
Green Kids Cook: Simple, Delicious Recipes and Top Tips: Good For You, Good For the Planet
by Jenny Chandler (Hardcover $23.95; 160 pages) -A green cookbook and crafts for young kids? Yep, this would be it. Geared towards 7-14 year olds, it teaches healthy food and sustainability, good habits that we want our kids to have. Especially since my preschooler already loves helping in the kitchen, this will give him some tips and ideas as he learns and grows.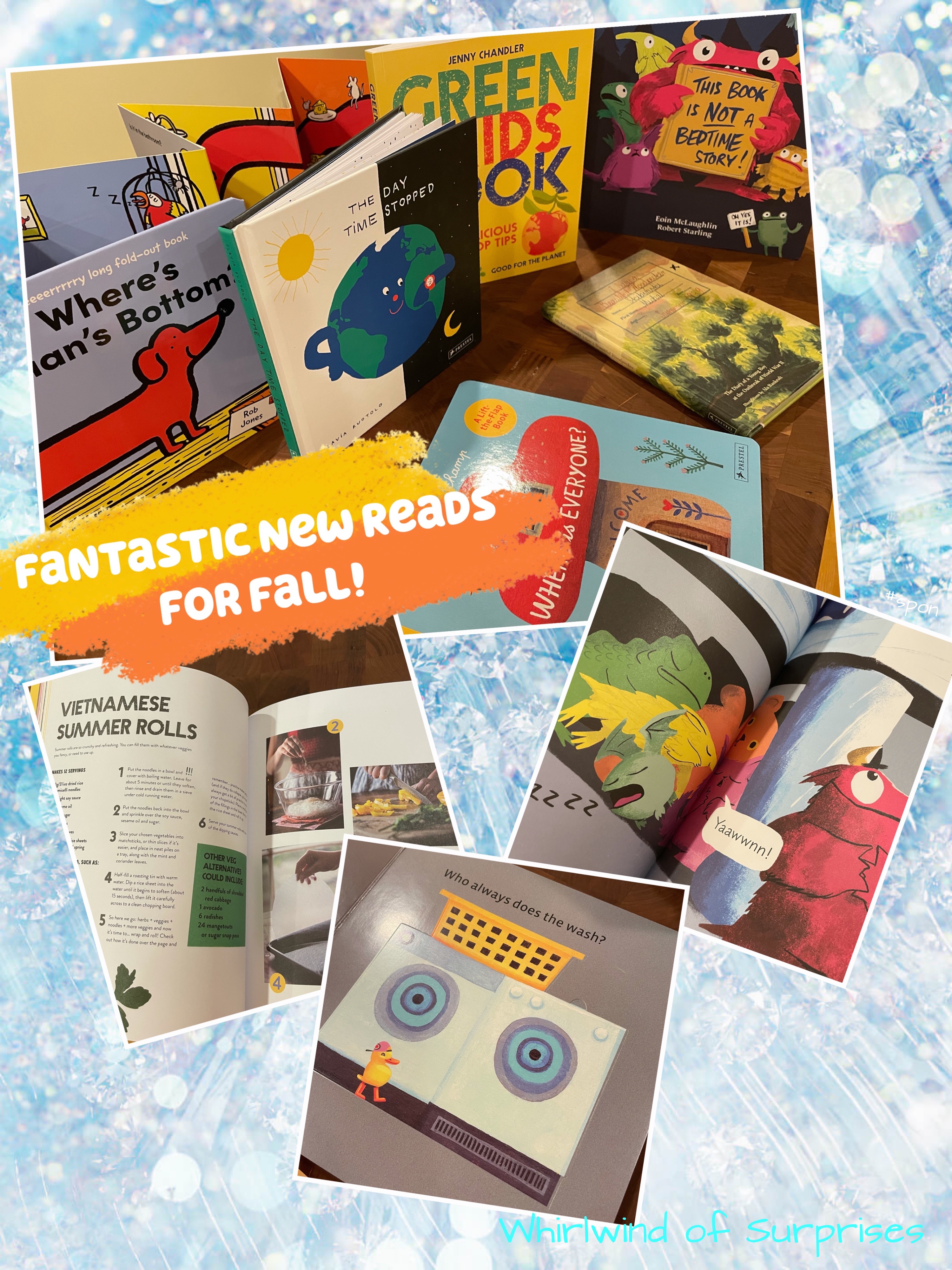 This Book is Not a Bedtime Story
by Eoin McLaughlin and Robert Starling (Hardcover $16.95; Ages 3-6; 32 pages) -Absolutely fantastic "not" bedtime story that is just adorable. These cute monsters just want a good night's sleep and well helps to settle fears of scary monsters and encourage sleep in an adorable way.
Where's Brian's Bottom? A Veeeerrrrry Long Fold-Out Book
by Rob Jones (Board Book $9.95; Ages 1-4; 24 pages) -Such a fun board book, I don't think I've every seen a longer fold out book! Over 6.5 feet of fold-out fun on both sides, my preschooler is in love with it. He enjoys the various interactions on the in between pages on his search for Brian's bottom!
We honestly have such fun with reading that it's never a chore. Reading in our household is time to explore, learn to new words, and time to use our imagination and wits! These fantastic new reads for fall is a great collection in any household!
Do you have a favorite?
Follow WOS:
@CinnyBBS
||
WOS on facebook
||
Pinterest
||
Instagram
Until next time,