Disclaimer
: The product/s mentioned below have been provided for the purposes of this review. No other form of compensation was received. Opinions expressed belong to Whirlwind of Surprises and are NOT influenced in any way. Please view my full
disclosure, TOS, and privacy policy
. Please take the time to enter my other
giveaways
while you're here.
The Addams Family is always so quirky. They return in the comedy sequel, The Adams Family 2! Available in theaters and on-demand on October 1st, this is a perfect prelude to Halloween and October festivities. Check out our spoiler-free review along with fun activities for a spooky Addams Family activity night.
Synopsis:
Everyone's favorite spooky family is back in the animated comedy sequel, The Addams Family 2. In this all new movie we find Morticia and Gomez distraught that their children are growing up, skipping family dinners, and totally consumed with "scream time." To reclaim their bond they decide to cram Wednesday, Pugsley, Uncle Fester and the crew into their haunted camper and hit the road for one last miserable family vacation. Their adventure across America takes them out of their element and into hilarious run-ins with their iconic cousin, IT, as well as many new kooky characters. What could possibly go wrong?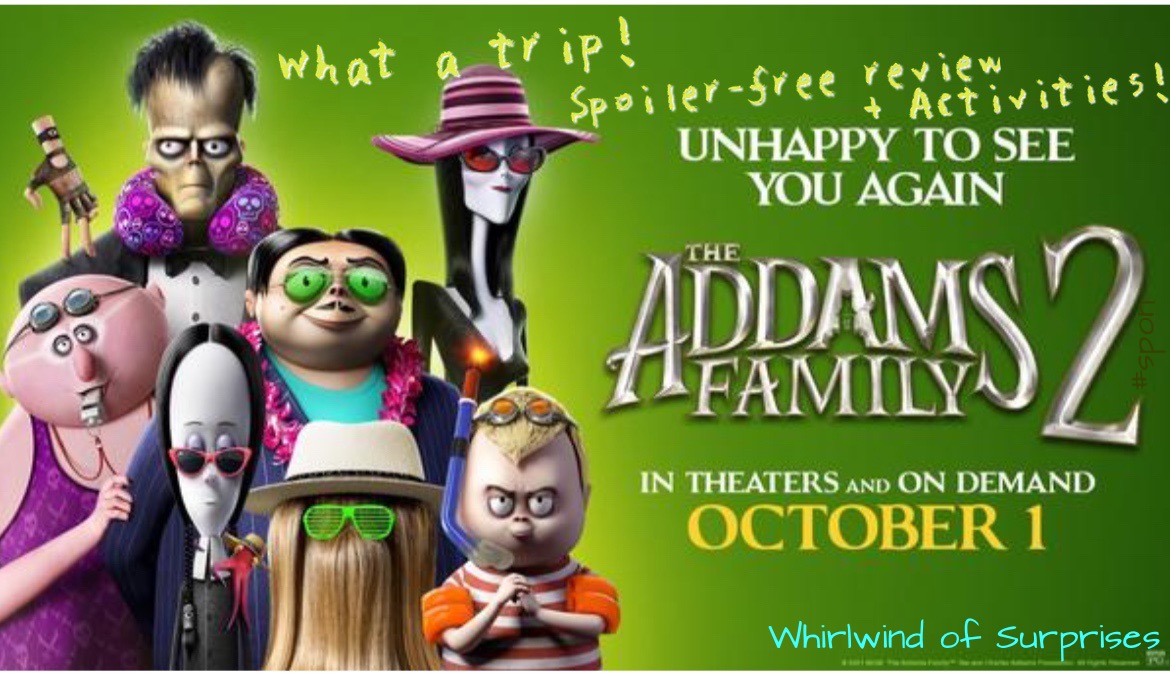 Directed by Greg Tiernan and Conrad Vernon with the story by Dan Hernandez and Benji Samit, The Addams Family 2 movie is honestly such a trip. The cast comprises of some pretty awesome stars: Oscar Isaac, Charlize Theron, Chloë Grace Moretz, Nick Kroll, Javon 'Wanna' Walton, Wallace Shawn, with Snoop Dogg as 'IT', with Bette Midler and Bill Hader. My husband kept going, isn't that Snoop Dog. Hahaha, I should've known. Even the trailer is hilarious, check it out below:
Our thoughts kind of line up with this new song "Crazy Family" from the legendary Megan Thee Stallion, Maluma, and Rock Mafia for THE ADDAMS FAMILY 2! It's goofy, silly, and fun!
Seriously though, the movie is full of great songs that has us bopping along to the beat with the movie. Cousin IT is voiced by Snoop Dogg, which my husband picked up right away with the voice. Check out this clip of "It Ain't Nothin" from the soundtrack.
Seriously though, the message in the movie really comes down to family. Yep, we all have oddities in our family. Sometimes we hate their quirks but we still love them and well, it wouldn't be them if they didn't have those quirks. Check out what the cast of The Addams Family 2 think of the meaning of family!
If your kids love crafts, here's one you can work on together! Make The Addams Family DIY Photo Frame and put your pics up in time for Halloween!
THE ADDAMS FAMILY 2 is in theaters and on demand October 1st and we absolutely loved it. The music, the drama, the quirks and especially the love. Check it out today!
RATING: PG
Stay connected:
Facebook
||
Twitter
||
Instagram
Follow WOS:
@CinnyBBS
||
WOS on facebook
||
Pinterest
||
Instagram
Until next time,