Disclaimer
: The product/s mentioned below have been provided for the purposes of this review. No other form of compensation was received. Opinions expressed belong to Whirlwind of Surprises and are NOT influenced in any way. Please view my full
disclosure, TOS, and privacy policy
. Please take the time to enter my other
giveaways
while you're here.
PAW Patrol is up to all sorts of fun this summer. Did you know they released a new line look of their top-selling catalogue titles of 2020? What's so neat about it though is that it showcases each PAW Patrol Pup and their unique movie look!
This summer, PAW Patrol will have their first-ever theatrical release of PAW Patrol: The Movie! The movie reaches the big screen on Friday, August 20th. The line look has an adorable faceplate on each DVD that has a giant sticker that features one of the Pups! They're so fun to collect for PAW Patrol fans.
There's so many different ways to collect too!
The line-look at brick-and-mortar stores will be available as separate DVD's at the suggested retail price of $11.99. Curious about which DVD's are in the line look collection and which pups will be available? Dun dun dun... Mighty Pups (featuring Chase), Ultimate Rescue (featuring Marshall), Ready, Race, Rescue (featuring Skye), Jungle Rescues (featuring Rocky), The Great Pirate Rescue (featuring Rubble), and Pups Save Puplantis (featuring Zuma) -are you surprised? Have your kids already collected some of these top PAW Patrol hits of 2020?
However, if you're like my preschooler and huband, who tend to buy hot wheels cars by the bulk during our grocery store trips, you can bet my smart talking preschooler is going to try to convince us to get more than just one. Haha, for those parents who have more than 1 kid or perhaps a kid that likes to bargain like mine, e-commerce retailers will be carrying DVD bundles, which also include the showcase stickers! The bundles ($16.99) consist of the following PAW Patrol DVDs:
-Mighty Pups/Pups Save Puplantis 2-Pack (featuring Chase & Zuma)
-Ready, Race, Rescue/The Great Pirate Rescue 2-Pack (featuring Skye & Rubble)
-Ultimate Rescue/Jungle Rescues 2-Pack (featuring Marshall & Rocky)
Not quite enough? There's even a 3 DVD gift set ($19.99) from Paramount and Nickelodeon Home Entertainment featuring all 3 original PAW Patrol TV movies (Mighty Pups, Ready, Race, Rescue, and Jet to the Rescue). This gift set also includes a large sticker sheet featuring characters from the movie.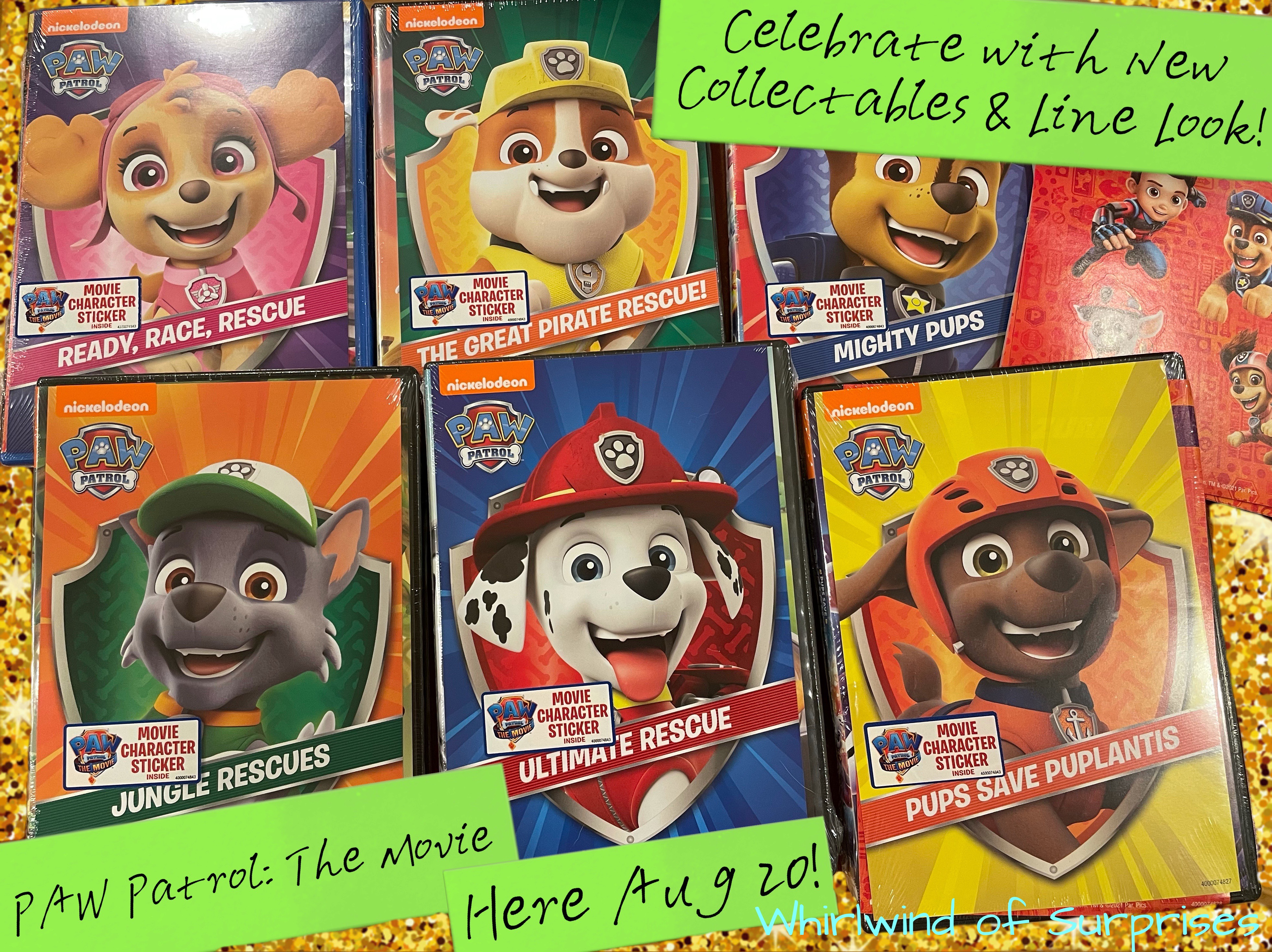 Entertainment, fun, and stickers! What kid doesn't love stickers? Mine was just asking me for stickers this morning to stick on his cars. He also happens to love animals, PAW Patrol, and so much more. So when I asked him what he thought of the PAW Patrol line look? Do you like them? Yep! Who's your favorite? This one (Marshall). All while looking at me with a goofy smile of a content preschooler.
Do you or your kids have a favorite?
Celebrate your PAW Patrol love with this ultimate PAW Patrol Summer Party Guide! You'll find recipes, games, decor and more!
Follow WOS:
@CinnyBBS
||
WOS on facebook
||
Pinterest
||
Instagram
Until next time,