Disclaimer
: The product/s mentioned below have been provided for the purposes of this review. No other form of compensation was received. Opinions expressed belong to Whirlwind of Surprises and are NOT influenced in any way. Please view my full
disclosure, TOS, and privacy policy
. Please take the time to enter my other
giveaways
while you're here.
Oh, the dinos that this mother knows. Mmmhmm, I've always loved dinsoaurs as a kid and that love didn't completely dissipate as I got older. However, a mother always LOVES it when her adorable preschooler just happens to love the same things. My goodness, when I told him we'd be getting some Dino books soon, every day, he'd check the door and say, "Maybe Dino books?". So yes, my little Dino lover was just a bit excited for what was to come. Every day for about a week, he'd ask to see if his Dino books had arrived yet! Who could blame him? It made me excited just watching his excitment for the National Geographic collection!
We've had so much fun exploring so many new, interesting, and sometimes wacky looking dinosaurs. Did you know International Dinosaur Day is May 18th? However, our friends at Nat Geo are apparently as excited for Dinos as we are, so they are celebrating Dino-MAY-nia the entire month of May! We have been dressing up lots in our dinosaur-themed clothes and socks! Well, who am I kidding? He chooses his outfits himself! Yes, our little one has socks featuring brachiosaurus, parasaurolophus, triceratops and more! Not only that, he also stuck dinosaur stickers all over our dining room table! I know he'll love to visit
National Geographic Kids' website
of games, videos, and more!
Inside our DinoMania National Geographic Book Collection, there is:
Little Kids First Big Book of Dinosaurs
(ages 4-8, 128 pages, $14.95) - We love the "First Big Book" series; we actually have a few of them and love how it's sorted by different sized dinosaurs (small, big, giant, and gigantic). There are fantastic interactive features, questions that my preschooler jumps to answer or try to answer while learning about so many different dinosaurs
Dino Records: The Most Amazing Prehistoric Creatures Ever to Have Lived on Earth!
(ages 8-12, 208 pages, $14.99) -This has been our night-time read lately after we finished reading Weird But True! Dinosaurs which is featured below. It is pretty awesome to see and learn which dinosaur got crowned the title of biggest, smallest, weirdest, smartest, deadliest. It's pretty crazy that sharks, turtles, and other animals have been around since long before the dinosaurs. We've been learning so much and it's funny because I swear my husband listens in our our reading and gets "wowed" but some of the random dino facts that he's learning as well.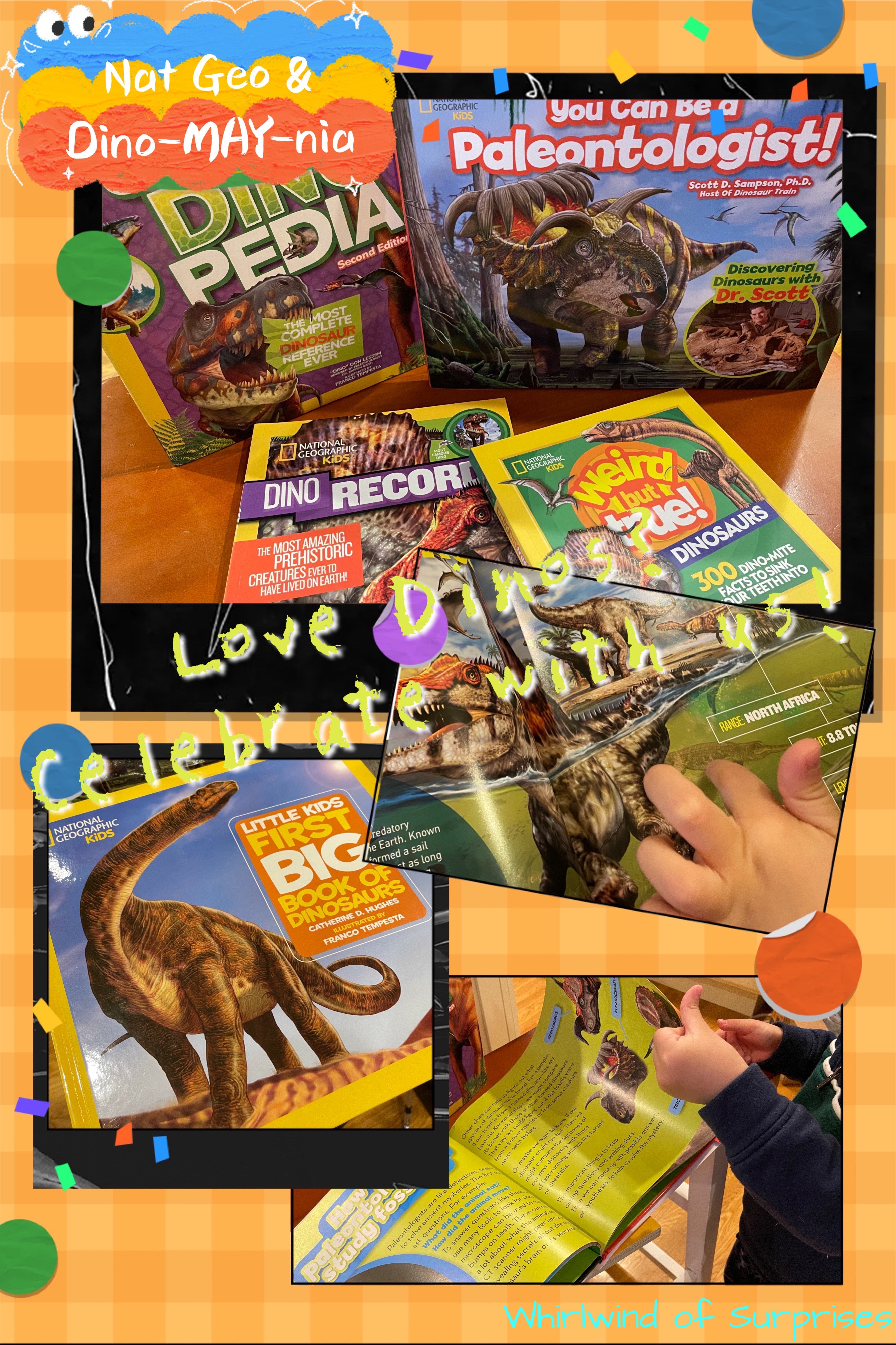 Ultimate Dinopedia, 2nd ED
(ages 7-10, 296 pages, $24.99) -There is not one inferior book in this amazing Dinomania book set. You seriously cannot go wrong. This is such a comprehensive book of new dinos, old dinos, what they ate. We particularly love how they show a picture of the dino compared to the size of an adult human so that kids can appreciate how a particular dino compares to us. One of our favorite new dinosaurs that was discovered is the Kosmoceratops, a dinosaur with 15 horns!
Weird But True! Dinosaurs
(ages 8-12, 208 pages, $8.99) -When we first got this package of books, my preschooler grabbed this book and demanded...yes, demanded that we bring it up for bedtime reading. Weird But True! Dinosaurs featrues 300 crazy facts for your brain to enjoy and process. It was particularly hilarious to read how much fossilized dinosaur poop goes for and that people actually buy it. I know...weird, right? Our little one said, "I don't want it!"
You Can Be a Paleontologist! with Dr. Scott
(ages 4-8, 32 pages, $16.99) -This book introduces kids to the world of paleontology and how the field works. It's a pretty neat book that introduces lots of new information and interesting facts about how one can tell a rock vs a fossil via a tongue test.
If you have someone in the house that LOVES Dinos, you can't miss out of National Geographic Kids' Dino books collection for International Dino Day! Plus check out this awesome video that teaches more about Dinos and resources available to have the best Dino-May-nia celebration this month!


We love our National Geographic Kids Dino books.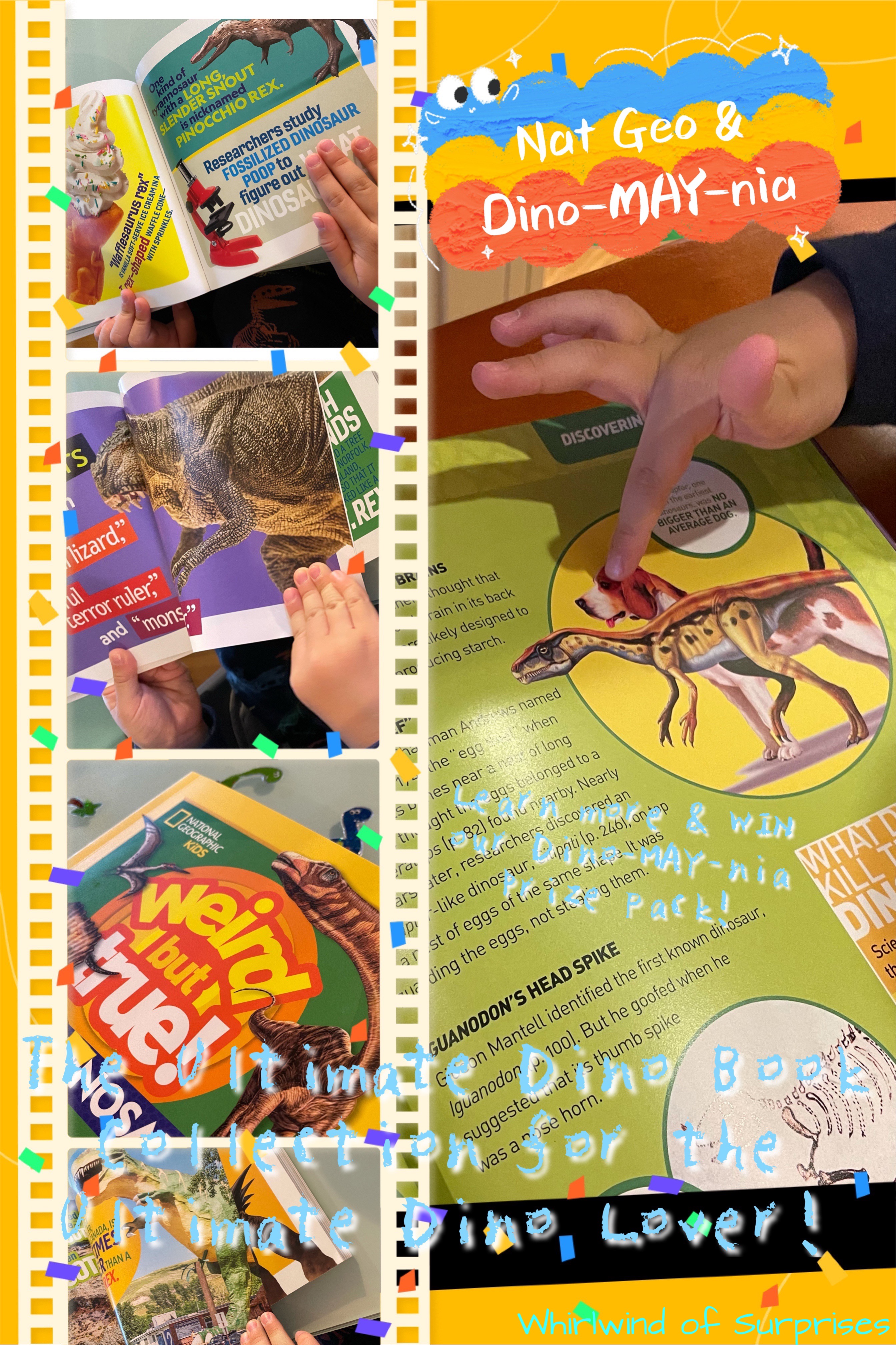 Our friends at National Geographic Kids have offered up an DinoMania Prize Pack Giveaway (ARV $80) to one of our WOS readers which includes the 5 titles above. Open to the US, 18+. Ends 11:59PM EST on May 30, 2021. Good luck! Winners have 48 hours to respond before a new winner is chosen.
Nat Geo Dino-MAY-nia Prize Pack $80
Facebook
||
Twitter
||
Site
Follow WOS:
@CinnyBBS
||
WOS on facebook
||
Pinterest
||
Instagram
Until next time,