Disclaimer
: The product/s mentioned below have been provided for the purposes of this review. No other form of compensation was received. Opinions expressed belong to Whirlwind of Surprises and are NOT influenced in any way. Please view my full
disclosure, TOS, and privacy policy
. Please take the time to enter my other
giveaways
while you're here.
Spring is here...or so I'd like to think. These last few days of a cold snap is really messing with my happy Spring thoughts. We love it when the weather gets warmer around here. It means more time outdoors, nice walks with the family and so forth. It is such a blessing to be able to spend quailty time with family and if my allergies don't get in the way, that's even better!
I even suspect that my preschooler probably picked up some of his mama's seasonal allergies. He comes home daily with a runny nose but happy demeanor. I am by no means a medicine pusher, however you know they really make flavors to cater to the kids when my son's asking for more of "grape medicine". *Forehead smack* As I then go, honey, you're not sick, you really don't need anything right now.
However, there are some fantastic tips that can keep your home more allergen-free and healthy this allergy season and I'm happy to share because we love how these tips help us out.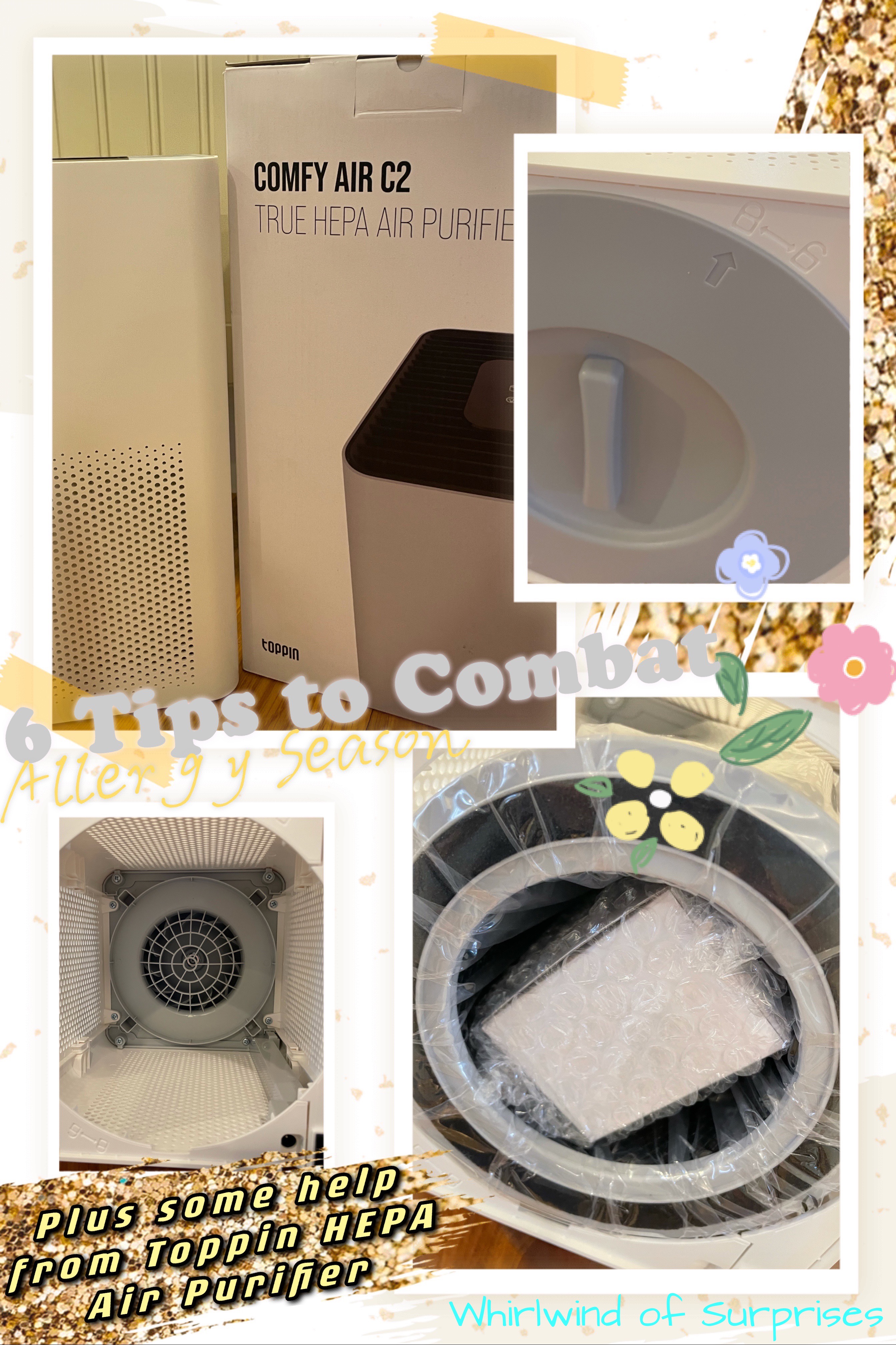 6 Tips to Keep Your Home Allergen-Free
1)
Pets
-Uh oh, ya, that's a total landmine. We have 2 dogs ourselves. Cats though are quite commonly sources of allergens. So we tend to vacuum frequently and try to keep dust off things.
2)
Changing out of clothes
-When you get indoors after a day outside, change out of your outdoor clothes and keep them in a closed laundry basket. That way, the allergens that have been brought in with you stay enclosed.
3)
The wash
-We had to replace our washer/dryer last year and I will say my favorite cycles on my washer and dryer are the Allergiene and Antibacterial cycles respectively. So much dust/dog fur get picked up in the dryer and any allergen in the wash is steamed to oblivion.
4)
Air purifiers
-I love air purifiers. With my allergies, my pets and the constant dust and dander, I've previously purchased smaller air purifiers for the rooms. However, we've never done a larger room purifier to see if that's more helpful. We've been working with Toppin to test out their Toppin HEPA Comfy Air C2 air purifier (MRSP $79.99) for a larger room (160-215 square feet). I always choose HEPA systems for my vacuum, air purifiers and so forth because it filters out so much more. The H13 true HEPA air purifier is able to remove up to 99.97% of all particules as small as 0.3 microns in diameter, when the nylon pre-filter and activated carbon layer filter out smoke and odors.
This particular
Toppin HEPA Comfy Air C2 air purifier
has 3 fan modes which run at less than 21dB, 30dB and 45dB. Honestly, it's so quiet at the first setting that I do not notice it being on until I'm right up by the machine. However, at the medium and high levels, the fan is definitely noticeable. You can also run it continuously or at set times of 2, 4 and 8 hours in duration. There's even a filter change indicator that detects and reminds you when filter replacement is needed, typically when service time is less than 10% remaining.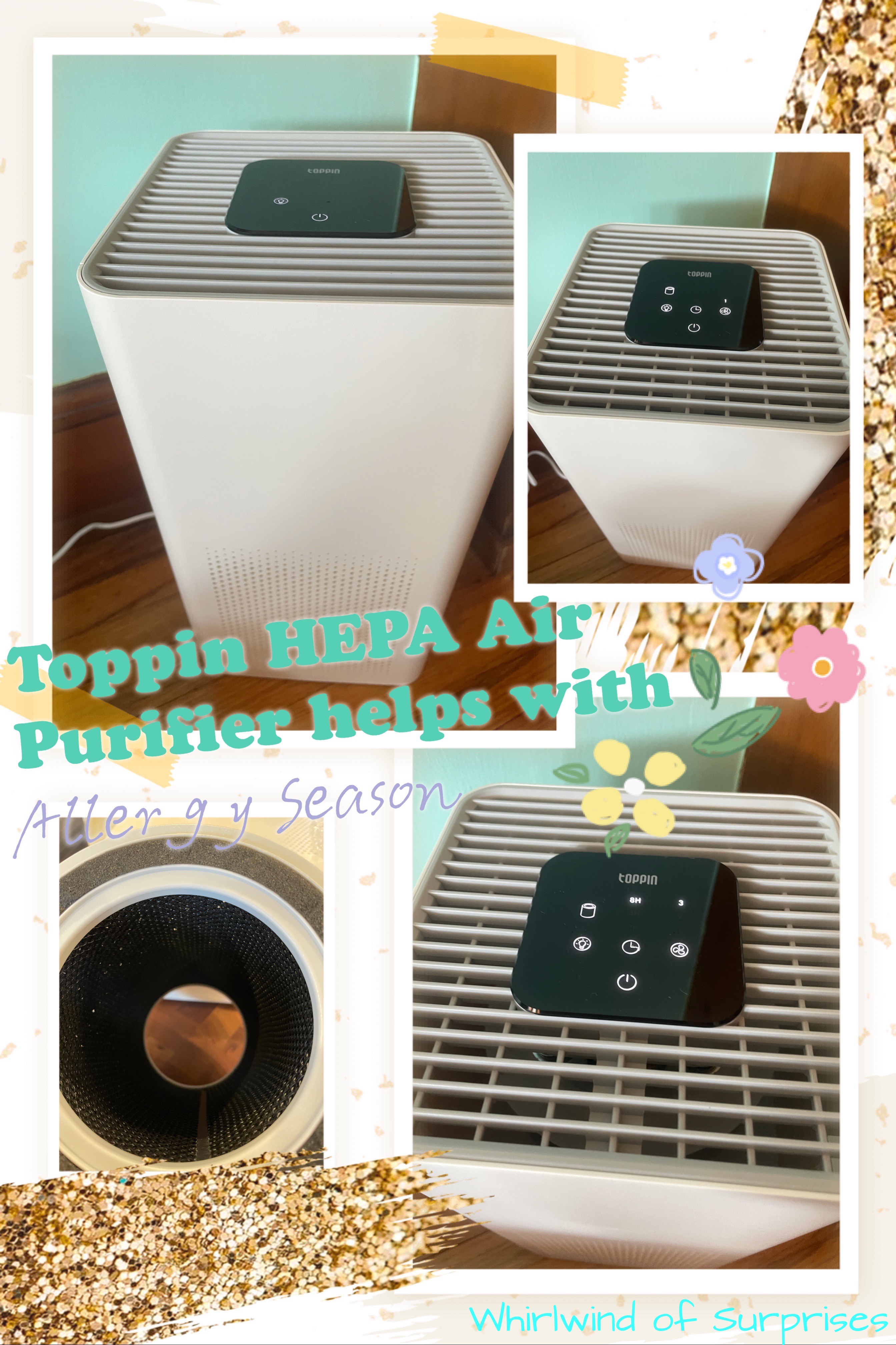 I found the appearance quite pleasing on the eye and it's slim enough that you can fit it in the corner without the kids running into it or wanting to play with it all the time. We've tried it in a few settings, leaving it in the living/dining room where we spend a lot of our time. I'm appreciative of both the timed settings so that it doesn't feel like we're wasting electricity when we're not home and also the continued setting when we're in those rooms for longer periods of times, such as on the weekends. My preferred setting, of course, is running it at the low setting because of how quiet it runs. Most of the time, I wouldn't think we'd need it at the medium or high setting unless there was a particular circumstance that would warrant it. The filter will need to be replaced at some point and runs for $23.99. The filter isn't terribly expensive, however I feel that there should be an option to buy in multiple as to decrease cost. Use
Cinny15
for 15% off on
Toppinlife.com
5)
Allergy medications
-Did you know allergy medications only work for a subset of people? If for example, allegra doesn't work out for you...you should try loratadine instead. Find the one that works best for you. There are also nasal sprays that help to calm irritation and inflammation. If the over-the-counter meds don't work, consider seeing your doctor.
6)
Good Hand Washing
-Are you surprised? Our kiddos tend to love touching everything and exploring the outdoors. It's a good habit not just for allergies but germs in general to partake in good hand hygiene!
We tend to follow these tips in our home to reduce allergens during the allergy system which is a nice relief after we enjoy the outdoors! How do you reduce allergens?
Check out the
Toppin HEPA Comfy Air C2 air purifier
to help with combating some of your home's allergens!
Stay connected:
Facebook
||
Instagram
||
Site
Follow WOS:
@CinnyBBS
||
WOS on facebook
||
Pinterest
||
Instagram
Until next time,