Disclaimer
: The product/s mentioned below have been provided for the purposes of this review. No other form of compensation was received. Opinions expressed belong to Whirlwind of Surprises and are NOT influenced in any way. Please view my full
disclosure, TOS, and privacy policy
. Please take the time to enter my other
giveaways
while you're here.
As JR and BabyPom get older, it becomes harder and harder on their knees. JR also has sublimating patellas, so you can really tell when she's in pain and limping. Over the last couple of years, I've noticed it's been harder and harder for her to sit. So, when it comes to their feeding and water bowls, floor level just isn't that great anymore. However, there are many options out there that make it easier. How do you choose? What do you look for? Personally, I look for something that not only accessible, affordable, but also easy for the pet and human counterparts. That's why I was interested when PetWeighter got in touch with us.
PetWeighter is a cute play on words given it's logo and the pup "waiter". However, it's more than that, it is a base and a bowl that together makes it a taller platform that isn't easily shifted. The bowl locks onto the base but also quite easily pulls off for filling and cleaning. You fill the base with water, sand and water, or ice to give it a weight of up to 13kg which functionally keeps the bowl in place. I absolutely hate it when they eat and their bowls end up halfway across the room. With the added weight at the base, the bowl not only stays in place but is unlikely to be knocked over.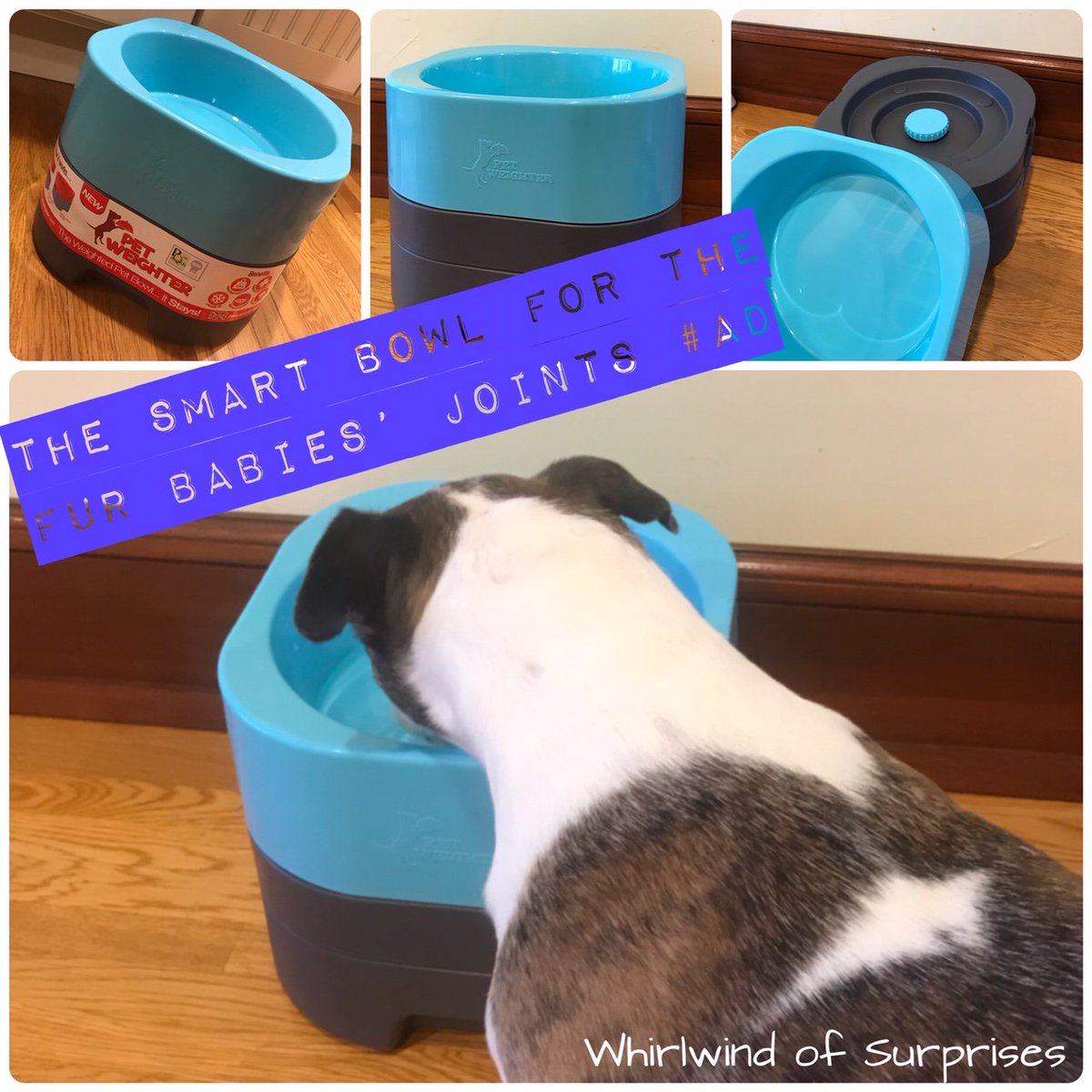 The elevated feeding position means JR and BabyPom no longer have to bend down to eat, which is easier on their joints. Interestingly enough, the elevated position is also touted to help with digestion.
Cleaning-wise, I have to say that I love that there's no cracks or crevices. I have another bowl that we use often, but things just get stuck in the bottom frequently and I find myself dumping out the water to clean. To make things even easier, the Pet Weighter is dishwasher safe. I love just being able to toss it in the dishwasher!
Size-wise, I think most pet owners will appreciate the 2L bowl capacity, which means less frequent fillings. As small as BabyPom is (5.5lbs), he is a non-stop hydration machine! He drinks and drinks and drinks and I find myself refilling their water bowl multiple times a day. That being said, a 2L bowl is a good size bowl for most dogs. If you're worried about your smaller dogs having difficulties with the bowl, I wouldn't worry about it. BabyPom who's a measly 5.5 lbs is all to drink from it just fine.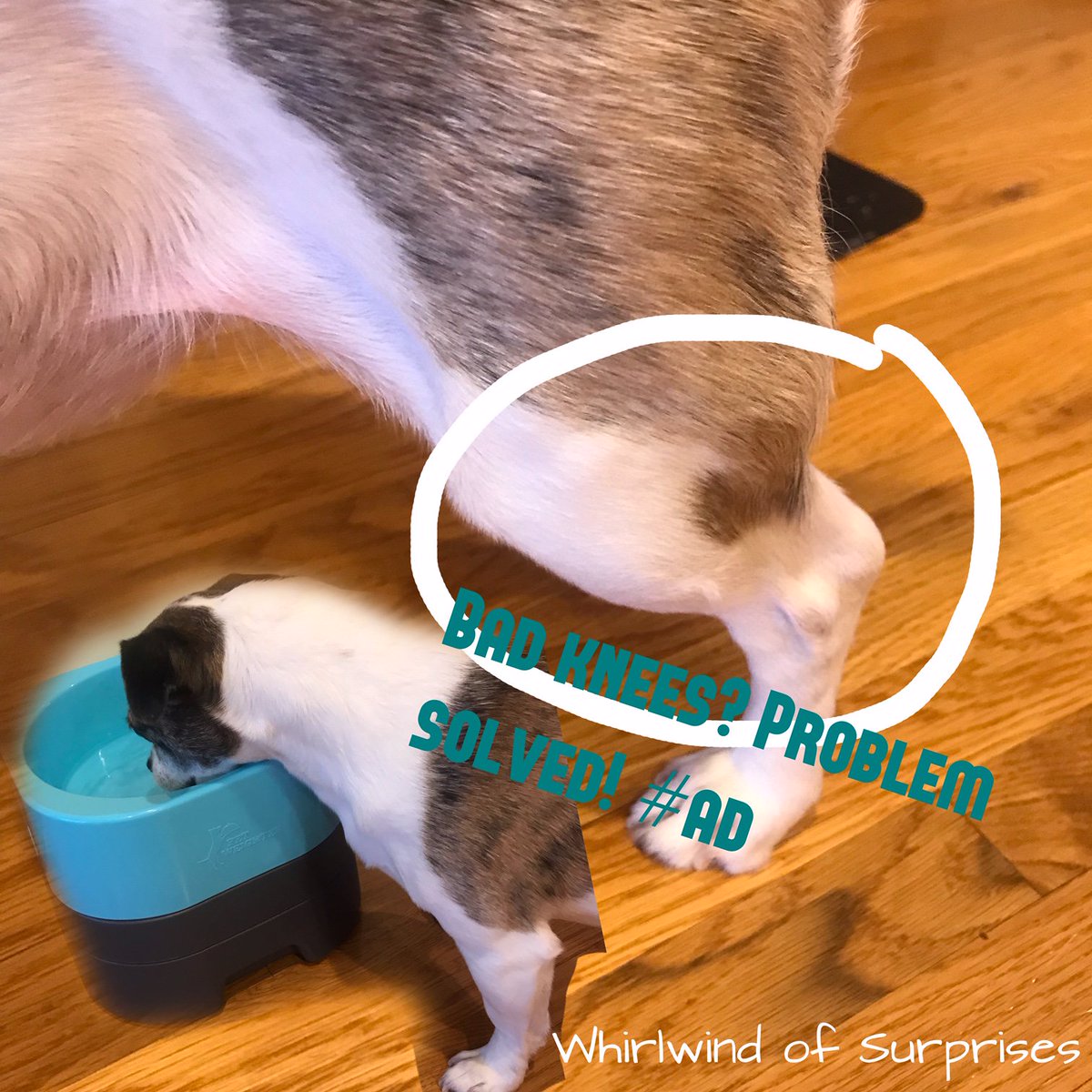 For my paranoid fur baby parents, myself included, the PetWeighter bowl is made of food grade ABS, which is FDA approved. These bowls come in a few colors and will run you $29.99 in cost, however for their joints and aging bodies, I think it's well worth the price.
Specifications
Height (total unit) 21cm
Length/Width at base 26cm x 26cm
Length/Width at top 24cm x 24cm
Bowl material Food Grade ABS
Bowl Depth (mm) 65
Bowl Diameter (internal mm) 212
Bowl Capacity 2 Litres
Base material Crack Resistant Plastic
Base Weight With Water 7kg
Base Weight With Sand 10kg
Base Weight Sand & Water 13kg
PetWeighter
has been kind enough to offer one of our readers a PetWeighter Bowl (MRSP $29.99) of their own. Open to US, 18+. Ends 04/08/19 at 11:59PM EST. Good luck!
PetWeighter Pet Bowl US 18+ 4/8/19
Follow WOS:
Google+
||
GFC
||
@CinnyBBS
||
WOS on facebook
||
Pinterest
||
Instagram
Until next time,