Disclaimer
: The product/s mentioned below have been provided for the purposes of this review. No other form of compensation was received. Opinions expressed belong to Whirlwind of Surprises and are NOT influenced in any way. Please view my full
disclosure, TOS, and privacy policy
. Please take the time to enter my other
giveaways
while you're here.
If you've ever been on WOS, then you know that we are suckers for "inspired by true story" movies. Instant Family was a movie that both my husband and I were itching to watch. We missed the screening, we even won family pack tickets from Wahlburgers...and still didn't have a chance to go. So, it was something when we finally got to watch the movie with our 1 year old son at home. Perhaps, it was the way it was meant to be enjoyed, as a family in the comfort of our own home.
The film is not only heartwarming but brings movie goers through a rollercoaster of emotions. Instant Family (PG-13) is inspired by the real events from the life of writer/director Sean Anders. The movie features a young couple, Pete (Mark Wahlberg) and Ellie (Rose Byrne), as they decide to start a family and stumble into the world of foster care adoption. They were hoping for one but end up with 3 siblings, including a rebellious teenager (Isabela Moner). Needless to say, chaos ensues. Pete and Ellie must learn the ropes of parenthood in the hopes of becoming a family.
Having gone through our first year with our child, I could only imagine how hard taking in 3 children at once would be. It's hard enough making it through the first year with the breastfeeding, laundry, diapers, day care, coughs/colds, and so forth that I can hardly imagine how difficult it would be to take on 3 at once! However, any parent who has been through it can see the humor of the situation, the ups and downs, the days we want to give up and the days that it is all worth it. It had us laughing, me crying at times, throughout the movie. How is not absolutely heartbreaking that kids get a teddy bear every time they go to family court?! It truly broke my heart to see such young children go through a system that seems cold and harsh. Yet, it warms you to see that there is a very warm light at the end of the tunnel for some of these children.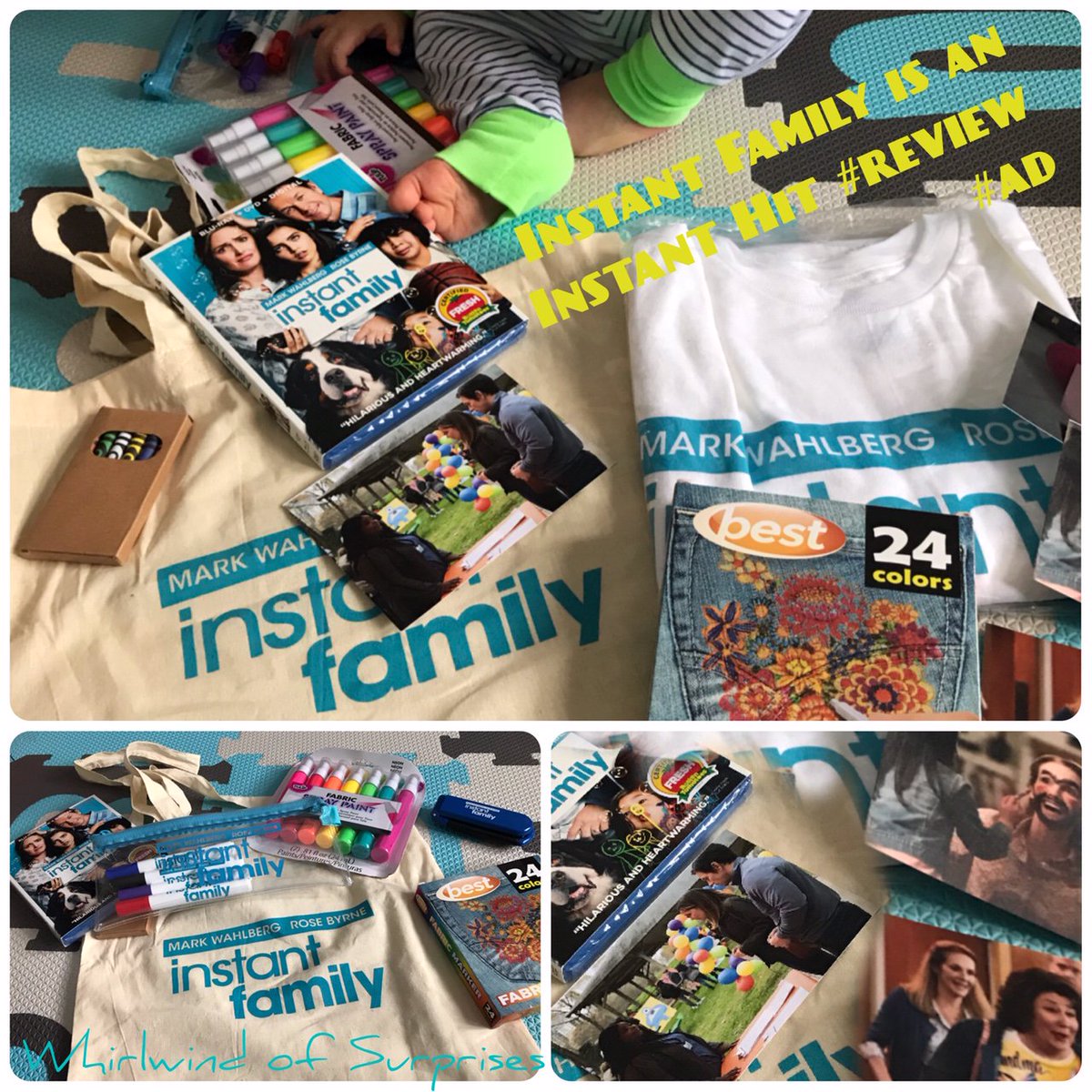 Our son playing around with the Instant Family activities prior to the movie
I personally loved how the film supports and advocates for foster care. There are so many children that could uses some love and care. They didn't choose to be born into this world and they shouldn't be penalized for what their parents may or may not have done.
We also enjoyed our INSTANT FAMILY activity kit with items based upon moments from the film, including "Grandma's make-up kit" (washable markers and a make-up bag), a t-shirt with fabric markers and fabric paint, a custom bag, balloons, a hairbrush and the Blu-ray/DVD Combo Pack of INSTANT FAMILY. It was so much fun letting our son play around with the kit. Instant Family is out on Blu-ray/DVD combo pack on March 5. Pick it up and enjoy a great night in with the family celebrating the things that make us unique and special as a family. Seriously, we LOVED it! Humor, check. Mark plays a great Pete...the questions he asks...all you're missing is TED. Warm fuzzies, check. Great story, check. Relatability, check. A happy ending, check. C'mon, you knew this had to end with a happy ending, right? It's obvious but still, watching it get there was an enjoyable adventure.
Have you watched Instant Family? What did you think?
Follow WOS:
Google+
||
GFC
||
@CinnyBBS
||
WOS on facebook
||
Pinterest
||
Instagram
Until next time,