Disclaimer
: I am going on a Disney Press trip for Alexander and the Terrible, Horrible, No Good, Very Bad Day (#VeryBadDayEvent) and the in home releases of Sleeping Beauty, Maleficent, Planes: Fire and Rescue and Star Wars Rebels. No other form of compensation was received. Opinions expressed belong to Whirlwind of Surprises and are NOT influenced in any way. Please view my full
disclosure, TOS, and privacy policy
. Please take the time to enter my other
giveaways
while you're here.
My last several months have been a roller coaster of ups and downs, today included. I was probably about 90% done this post when I had technical difficulties and the whole thing deleted itself. So here, I am, starting again with the notion that perhaps this trip truly was meant to be. In just a short few days, I'll be off on another Disney press adventure featuring Alexander and the Terrible, Horrible, No Good, Very Bad Day (in theaters 10/10) and the in-home releases of Sleeping Beauty, Maleficent, Planes: Fire and Rescue, and Star Wars Rebels!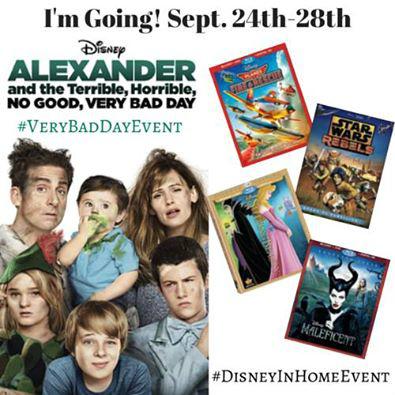 One of my perceived themes of Alexander and the Terrible, Horrible, No Good, Very Bad Day (
Facebook
||
Twitter
) is that
you've got to go through the bad days to really appreciate the good ones
.
That has described my life in the last couple of months. My parents came down to visit for my birthday and as I was dropping them off a the airport, my check engine came on. It then progressed to flash at me, which is serious! Engine problems = $$$$. I was in a state of panic; I thought it'd go up in smoke on my way to drop it off to the shop. About a week after it'd been in the shop, the mechanic said it was the same part I had fixed at the beginning of the year so luckily, it was still all under warranty! Thank goodness for honest people.
Less than a few days later, as I was on the phone with my mobile provider fixing my voicemail, my screen went black. It has not turned on since. It was officially dead. For anyone in the 21st century, it's painful to not have your phone, texts, etc...but as a blogger, it's something unthinkable. I was without a phone for 2-3 days! I reached out to my friends and a few good friends showed up to work with their old phones. At that time, I felt truly #blessed to have such good friends.
Of course, I haven't forgotten about my readers on this adventure. You too, can fly! Enter the
#VeryBadDaySweeps
for a chance to
win an Adventures by Disney trip for four to Disney Aulani, resort & spa
until October 16th! All you have to do is share your Terrible, Horrible, No Good, Very Bad throwback family photo using #VeryBadDaySweeps on Twitter or Instagram. Then click the picture below to download these awesome activity sheets to make the best out of your #VeryBad Day.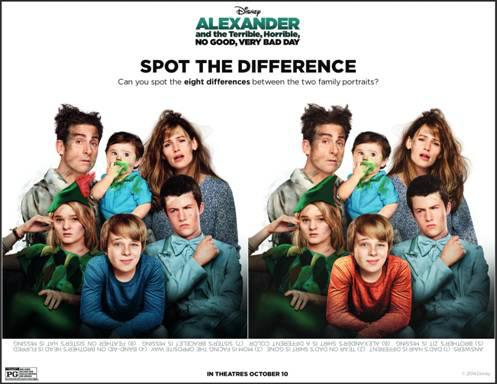 Follow along with us during this trip for exclusive content with
#VeryBadDayEvent
. As a teaser, we will be interviewing the cast including
Steve Carell, Jennifer Garner, Ed Oxenbould, Dylan Minnette, Kerris Dorsey and Bella Thorne, and producer Lisa Henson (daughter of Muppets creator Jim Henson)
. Leave us your questions below!
That's not everything though, there's more! I was super psyched for this part...wait for it...an exclusive tour of Walt Disney's former Los Feliz residence! Who wouldn't want to see where the creator of magic and happiness used to live!?
The other hashtags to look for as part of the
#DisneyInHomeEvent
part of it includes #FireandRescue, #SleepingBeauty, #Maleficent, and #StarWarsRebels! It's going to be action packed and make for a very special event. Planes: Fire and Rescue arrives in homes 11/4. It's no question that fans of Disney are going to have to bring home Sleeping Beauty and Maleficent as a pair!!
A little birdie told me we will be meeting the cast of Star Wars Rebels: Spark of Rebellion including
Freddie Prinze Jr., Taylor Gray, Vanessa Marshall, Tiya Sircar and Executive Producer Dave Filoni
. Leave me your questions for them below.
It wouldn't be a complete Disney press trip without a visit to Disneyland!! I think I've used up my exclamation mark quota for the year. LOL, I'm going to get to go on my roller coasters again. Woot woot! And best of all, the Halloween festivities (
#HalloweenTime
) are going to be set up and I've never been to Disneyland at that time of the year before. Keep up with the fun and festivities by chatting with us using the hashtags above!

Follow WOS:
Google+
||
GFC
||
@CinnyBBS
||
WOS on facebook
||
Pinterest
||
Instagram
Until next time,