Disclaimer
: The
Ninja Turtles
costume mentioned below have been provided by Costume SuperCenter for the purposes of this review. No other form of compensation was received. Opinions expressed belong to Whirlwind of Surprises and are NOT influenced in any way. Please view my full
disclosure, TOS, and privacy policy
. Please take the time to enter my other
giveaways
while you're here.
With Teenage Mutant Ninja Turtles in theaters, it comes as no surprise that TMNT costumes are in high demand this year. Everyone wants to
Dance Like The Turtles
! With this hot trend, this fashionista needed to get herself a TMNT costume. I've always loved the turtles as a kid and typically liked Leonardo, not only because my favorite color is blue but also because of his characteristics.
Leo is depicted as the eldest and leader of the four turtles. He is the most calm as well as disciplined. So, he's a natural leader, right? Costume SuperCenter has a wide variety of superhero costumes for adults and kids. This particular officially licensed Sassy Leonardo Costume I chose includes a dress with a belt, gauntlets with ties, eye mask and a shell.
First off, I loved the shell backpack. It was just too cute. I can even put stuff in there! The back of the dress is a bit low cut and is fastened by velcro. Luckily, the backpack covers most of the back exposure. The material was shinier than I would've liked but the overall costume looked great and well put together.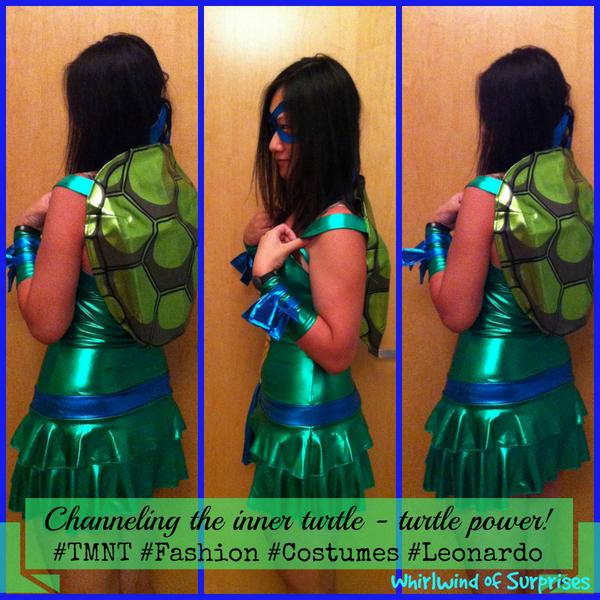 Sizing is something to be careful on with this costume. The sizes are listed as X-Small (2-6), Small (6-10), Medium (10-14), Large (14-16). However, when you visit the size chart, you see a completely different set of correlating sizes. The weight for me never works with the measurements described and I would consider myself to have a normal BMI.
Size Size Chest Waist Hips Inseam Height Weight
4-6 Small 33-35" 24-26 35-37 26-28 5'7"-5'8" 110-120
8-10 Medium 35-37 27-29 37-39 27-29 5'8"-5'9" 120-130
12-14 Large 38-40 30-32 41-43 27-29 5'8"-5'9" 135-145
In terms of the size chart, my measurement would place me at a size small. Based on past experience, I decided to go up on my size, a medium which supposedly reflects anywhere from a size 8-10 to a 10-14. It was a good decision because the one I got fit nicely. My recommendation would be to size up a full size.
Care for the costume involves spot cleaning with a damp cloth. No washer, dryer or dry cleaning!
Overall, this fun costume allows me to channel my inner turtle! "Turtles in a half shell, turtle power" is definitely showing up for Halloween this year. If a costume party comes out, this superhero will be there! I'm tempted to even use the turtle backpack without the costume since I love it so much.
Which turtle would you channel?
Follow WOS:
Google+
||
GFC
||
@CinnyBBS
||
WOS on facebook
||
Pinterest
||
Instagram
Until next time,