Disclaimer
: I attended a screening of DreamWorks Hundred Foot Journey. No other form of compensation was received. Opinions expressed belong to Whirlwind of Surprises and are NOT influenced in any way. Please view my full
disclosure, TOS, and privacy policy
. Please take the time to enter my other
giveaways
while you're here.
So many good movies summer and topping the charts as the delightfully delicious movie of the summer is DreamWorks' Hundred Foot Journey starring Helen Mirren. In theaters now, the movie tells the story of a family who recently moved and of course, dared to start an Indian restaurant across a classic, Michelin star restaurant run by Madame Malorie. The drama that ensues...
However, Hundred Foot Journey is not just a movie about the clashing of cultures and believes. More importantly, it depicts the journey we must all take to get anything of value to us. Without effort, there is no gain. Moreover, it's a beautiful story of relationships...family, friends, and love. Success is nothing if you don't have anyone to share it with. Food can not only bring us together but bring emotional memories.
The theme of the movie is "Every bite takes you home". For me, roasted chestnuts are a favorite of mine and it brings me back to when I was a kid and my grandparents would buy roasted chestnuts from the street vendors and we'd share it together. It's a precious family memory.
In short, delectable movie great for foodies and everyone else! Food Network star Chef Bar Arneson was inspired to create 6 delicious dishes after she saw the film. As usual though, I've combined all of the Hundred Foot Journey inspired recipes courtesy of DreamWorks into 1 PDF file. Click the image below to download 30 different recipes!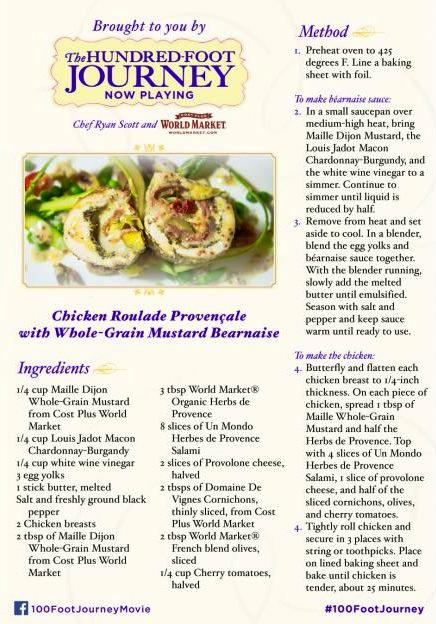 Stay connected:
Facebook
||
Twitter
Follow WOS:
Google+
||
GFC
||
@CinnyBBS
||
WOS on facebook
||
Pinterest
||
Instagram
Until next time,