Disclaimer
: The product/s mentioned below have been provided for the purposes of this review. No other form of compensation was received. Opinions expressed belong to Whirlwind of Surprises and are NOT influenced in any way. Please view my full
disclosure, TOS, and privacy policy
. Please take the time to enter my other
giveaways
while you're here.
Do you guys watch Shark Week? I know we love learning about sharks year-round. They're so fascinating and have been around since the time of the dinosaurs. Read on for any shark lover's ultimate collection!
National Geographic Kids is celebrating the amazing animals that are sharks with a fin-tastic 6 book collection! Get ready to learn jaw-some facts with your kids of all ages.
Inside our Nat Geo Kids Get Outside Book Collection, there is:
National Geographic Readers: Sharks! (Level 2)
(ages 4-7, paperback) - I really love these level readers. They are an awesome introduction of easy reading that allows kids to start growing their independence with learning words and learn about sharks with simple, easy to understand wording and terms.
Sharks vs. Sloths
(ages 6-9, hardcover) -This book honestly even caught my attention and interest. I really wanted to read this one first but was outvoted by our preschooler. However, when we did start reading about this book that compares what we see as complete opposites, the slow, gentle sloth verus the fast, ferocious sharks! The best part of it is that the intro is an adorable ring-side depiction of the two sides and it was so cute telling our preschooler that he'll have to follow along and decide who the winner is! There's so many fun facts and they battle it out in 22 kooky and quickly categories such as Best Smile, Best Appetite and so forth.
Ultimate Oceanpedia: The Most Complete Ocean Reference Ever
(ages 7-10, hardcover) -This book is full of amazing facts and information about the creatures, science and ecology of the oceans. There's all sort of interesting learning, beautiful pictures and of course a mini-ocean atlas. National Geogprahic Kids does a wonderful job at presenting weird-but-true facts that gets kids interested in learning more about the beautiful oceans that surround our planets and how to protect them for future generations.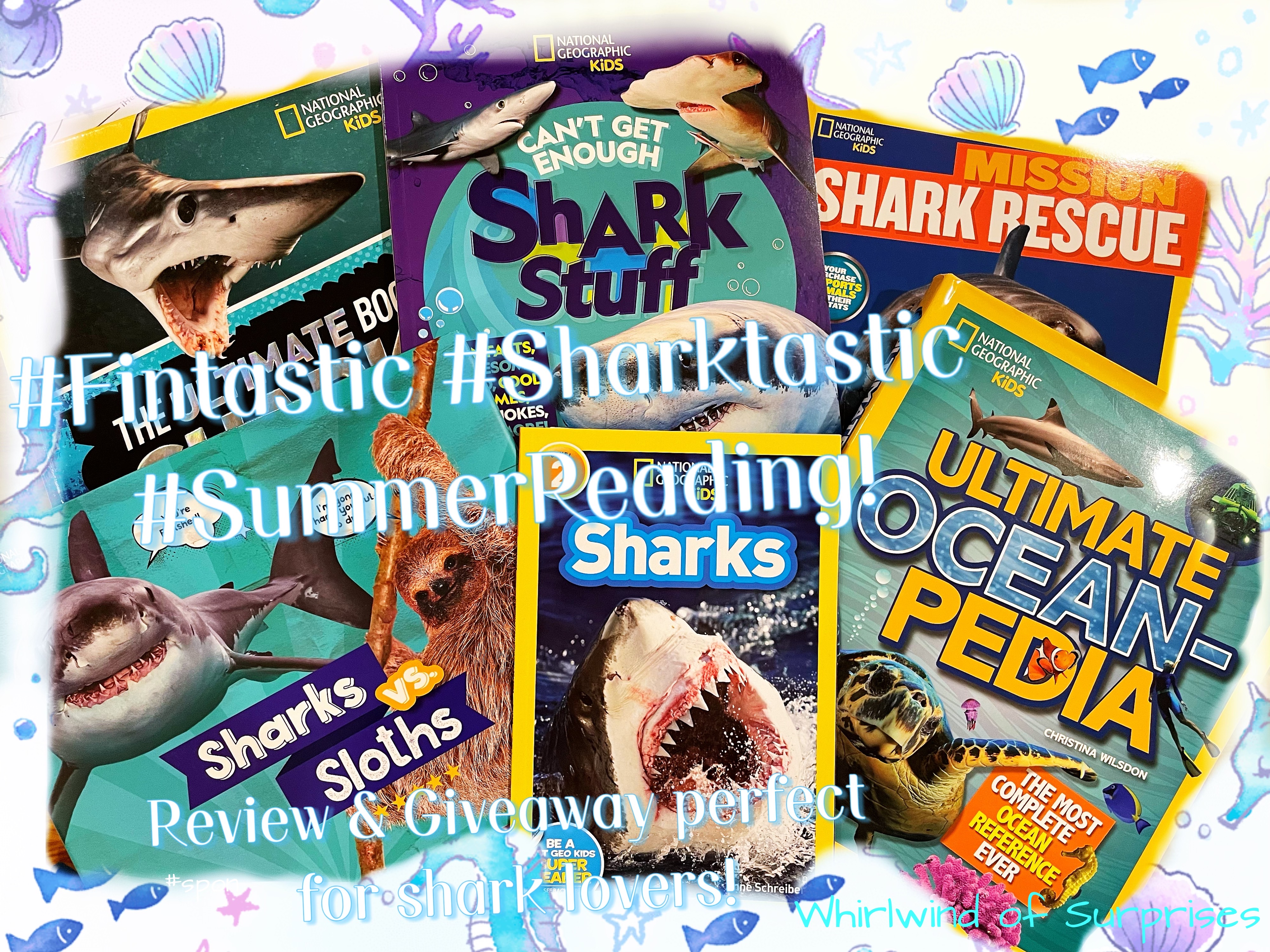 Can't Get Enough Shark Stuff
(ages 8-12, paperback) - We are absolutely in love with Can't Get Enough Shark Stuff. This was the book our preschooler zoned in on immediately. There were all sorts of fun activities, like learning the different definitions by matching boxes in a fun glossary game, cool diagrams and various facts. There truly is no way to get bored of this book because every page is differently poised and garners attention.
The Ultimate Book of Sharks
(ages 8-12, hardcover) -Brian Skerry is an internationally acclaimed marine photographer and National Geographic Explorer and he's known to us from the beautiful pictures he takes that we've known to come to love and appreciate from the prior Shark series books. Check out this video of him
taking pictures of tiger sharks
! This book features exclusive pictures and personal insights as to amazing and natural sights that he sees under the surface. This has always been one of our favorites because it shows the may facets that surround these predators that are so strong yet still need our protection.
Mission: Shark Rescue: All About Sharks and How to Save Them
(ages 10-14, paperback) -This is a cute and inspiring way to get young readers interested in the different types of sharks and the real-life challenges that they face. This book has adventure, activities, and ways to learn about the ways that our kids can help take action to save these endagnered animals.
This is such a fun collection of books for any shark-fan and is a such a well-rounded National Geographic Kids Books collection that involves kids of various ages. Dive into your next Shark Adventure this summer with amazing #SummerReading with Nat Geo Kids #Sharktastic collection.
Our friends at National Geographic Kids have offered up a Summer Reading #Fintastic Prize Pack Giveaway (ARV $96) to one of our WOS readers which includes the 6 titles. Open to the US, 18+. Ends 11:59PM EST on Aug 17, 2022. Good luck! Winners have 48 hours to respond before a new winner is chosen.
Nat Geo #SummerReading #Fintastic #Sharktastic Prize Pack $96
Stay connected:
Facebook
||
Twitter
||
Site
Follow WOS:
@CinnyBBS
||
WOS on facebook
||
Pinterest
||
Instagram
Until next time,