Disclaimer
: I attended a Star Wars: The Force Awakens movie screening for the purposes of this review. No other form of compensation was received. Opinions expressed belong to Whirlwind of Surprises and are NOT influenced in any way. Please view my full
disclosure, TOS, and privacy policy
. Please take the time to enter my other
giveaways
while you're here.
Many I know have been looking forward to Star Wars: The Force Awakens for months and months now. The wait is almost over. The Star Wars fandom has long been expansive and spanned generations of people. Are you a diehard Star Wars fan? Somewhere in between? Not at all? Well, whether you're a fan or not, here are 10 Reasons Why You Should Watch Star Wars: The Force Awakens.
Synopsis:
A new threat arises 30 years after the defeat of the Galactic Empire. Luke Skywalker's location is unknown to all and danger emerges as The First Order attempts to rule the galaxy. A very unlikely team forms to try to save the galaxy.
Photo Credit: Disney
10 Reasons to Watch Star Wars: The Force Awakens
1) BB-8
-He stole my heart from the get go. This fiercely loyal and adorable droid very quickly become my favorite character and he'll soon be yours.
2) A New Generation
-The first movie of the newest trilogy in the Star Wars franchise feels very much like they're shifting forwards to a new generation of the force. It's like a passing on of the baton from the Princess Leia and Han Solo to a new generation of Jedi's.
3) General Organa
-Princess Leia Organa is now known as General Organa. I love how the portrayal of strong, independent, yet loving woman continues on and it is still Carrie Fisher's role. There's a sense of continuity and familiarity that's sure to please the Star Wars fandom.
4) Heart
-I love any movie with heart in it. It was pleasant to see how The Force Awakens was able to portray such complex emotional twists and turns. A family isn't necessarily one that is based on blood ties and just because you're labelled as something, it does not mean that you can't change and become something better.
5) Awesome graphics
-The combination of advanced CGI and technology appealed to the geeky side of me. I like R2D2 and C-3PO, however all the imaging and effects were just so crisp, clear, and unique. You could really visualize the different worlds and locations as being concrete as if they really existed.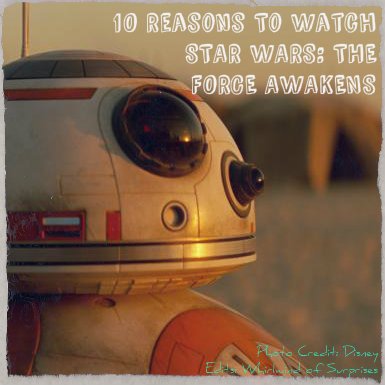 6) Diversity
-While I love how they brought back fan favourites in the form of Carrie Fisher, Mark Hamill, and Harrison Ford, the fact they they continued to have a female heroin, Daisy Ridley as Rey (who is very independent and amicable by the way), Oscar Isaac (Hispanic) as Poe, and an John Boyega (African American) as Finn shows appeal not only to the multigenerational fans but also to the diverse culture that society is today. It was really fun to watch their characters grow and develop and serves as a reminder that we don't all start out knowledgeable and strong. No matter if it's with the force or real life, time, effort, set backs, and experience are all things that contribute to our growth. Speaking of diversity though, it's really time for Asians to be cast in a stronger light rather than as sidekicks or dorky/geeky characters.
7) A long time ago in a galaxy far, far away
-I have to admit, though I've watched many of the old Star Wars film, I've never really called myself a superfan. I appreciated that the film started similar to the old ones with "A long time ago in a galaxy far, far away" with the scrolling text in keeping with the old, yet it was tweaked a bit as to bring in something new and different that fits so perfectly with the new generation of characters.
8) Humor
-The severity of the situation between the First Order and the Resistance is certainly serious, however it does not dampen the humor that pops up here and there.
9) Fight and flight scenes
-Pun intended! These were some of my favourite scenes. The amazing aerodynamics, the twists and the turns were just such fun!
10) Enjoyed by all
-You don't have to be a Star Wars Fan to enjoy the movie. Despite me going to the screening after working 14 hours on little sleep, the movie was so good that it kept me awake and on the edge of my seat the whole time. The plot and action was thrilling to watch, yet the emotions and growth of the characters draw you in further. Star Wars: The Force Awakens is simply a great movie. Plus, it's directed by J.J. Abrams who only happens to create magic out of movies!
See for yourself:
STAR WARS: The Force Awakens arrives in theaters everywhere on December 18th. Who's your favourite character or what are you looking forward to the most? May the force be with you!
Stay connected:
Facebook
||
Site
||
Twitter
Follow WOS:
Google+
||
GFC
||
@CinnyBBS
||
WOS on facebook
||
Pinterest
||
Instagram
Until next time,