Disclaimer
: The product/s mentioned below have been provided for the purposes of this review. No other form of compensation was received. Opinions expressed belong to Whirlwind of Surprises and are NOT influenced in any way. Please view my full
disclosure, TOS, and privacy policy
.
I love personalizing gifts because I personally feel like it goes the extra mile. There's an added component of love and emotion invested into it and the gift becomes that much more special. I have a list of my Top 5 Personalized Gifts that can cost you as little as nothing! Or splurge a little and get something extra special!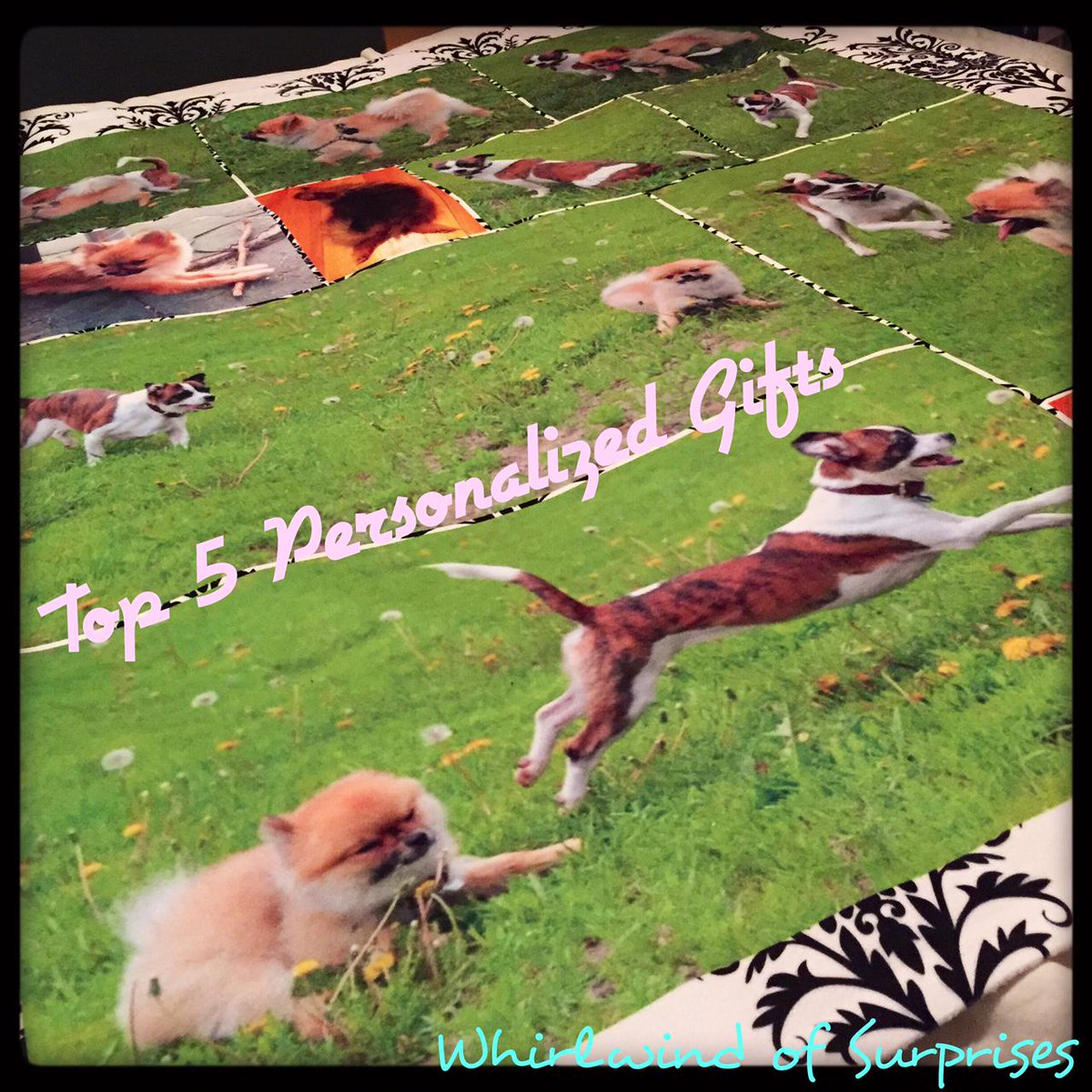 Top 5 Personalized Gifts
1)
Home Made Coupons
-I used to do this as a kid all the time. They're adorable, fun and best of all, cost nothing. All you need is paper and pens and you can use your imagination what you want to write coupons for (e.g. massage).
2)
Hand Made Scarf
-Surprisingly, I picked crocheting as well as arm knitting just this past Christmas. There's a ton of YouTube videos out there and once you get the hang of it, it's really straight forward. All you need are crochet hooks and yarn and a scarf can be made in under $10.
3)
Monogram Jewelry
-I have a weak spot for this. I scooped up a
monogram rose gold bracelet
that I'm in love with. They make for pretty and elegant gifts as well and are typically found on deal sites for less than $50 for a bracelet.
4)
Photo Accessories
-I've made all sorts of things before, photo mugs, shirts and my latest creation is a photo blanket via
Collage.com
. Keep reading to see just how easy it is to make a photo blanket.
5)
Food/Snacks
-Okay, let's face it, no one hates food. We all love it and we especially love it when we don't have to make it ourselves. You're in my good books if you made me cookies, cupcakes, etc. So wouldn't it be sweet to make some for others as well? Personalize it through the decoration.
I knew I'd have troubles giving this one up as soon I finished my creation. However, this was a present for my dad who loves my pups and is often
trying to steal
offering to help me take care of them. I partnered with
Collage.com
on my latest creative endeavour and I was impressed with the variety of products they offer. The ability to personalize a special creation really is fantastic and they offer anything from photo blankets, ornaments, totes, mugs, canvases and more.
Gorgeous is an understatement for the fleece blanket that I created. I had a tough time sifting through all my puppy pictures and narrowing them down. Two sizes (50"x60" or 60"x80") and options exist in terms of the type of blankets, durable fleece (clearer pictures) or velveteen (more plush but less distinct pictures). These blankets are machine-washable and can be tumbled dry making them not only durable but awesome!
I opted for the fleece blanket because I wanted to keep to maintain the adorable pictures sharp. The creation process was relatively straight forward and simple. Upload the pictures, edit and crop as needed online, and submit! The pictures are automatically arranged to the best fit, you can toggle with the placement a little but there was always a picture of two that would shift somewhere else. If your picture is going to be blurry, the online system warns you so you don't wind up using a blurry picture.
Besides choosing the pictures, you have the option of choosing a background color or design as well as add text if you wanted to. I chose a simple but elegant background and opted out of adding text. The straight forward, user-friendly process really makes personalization easy.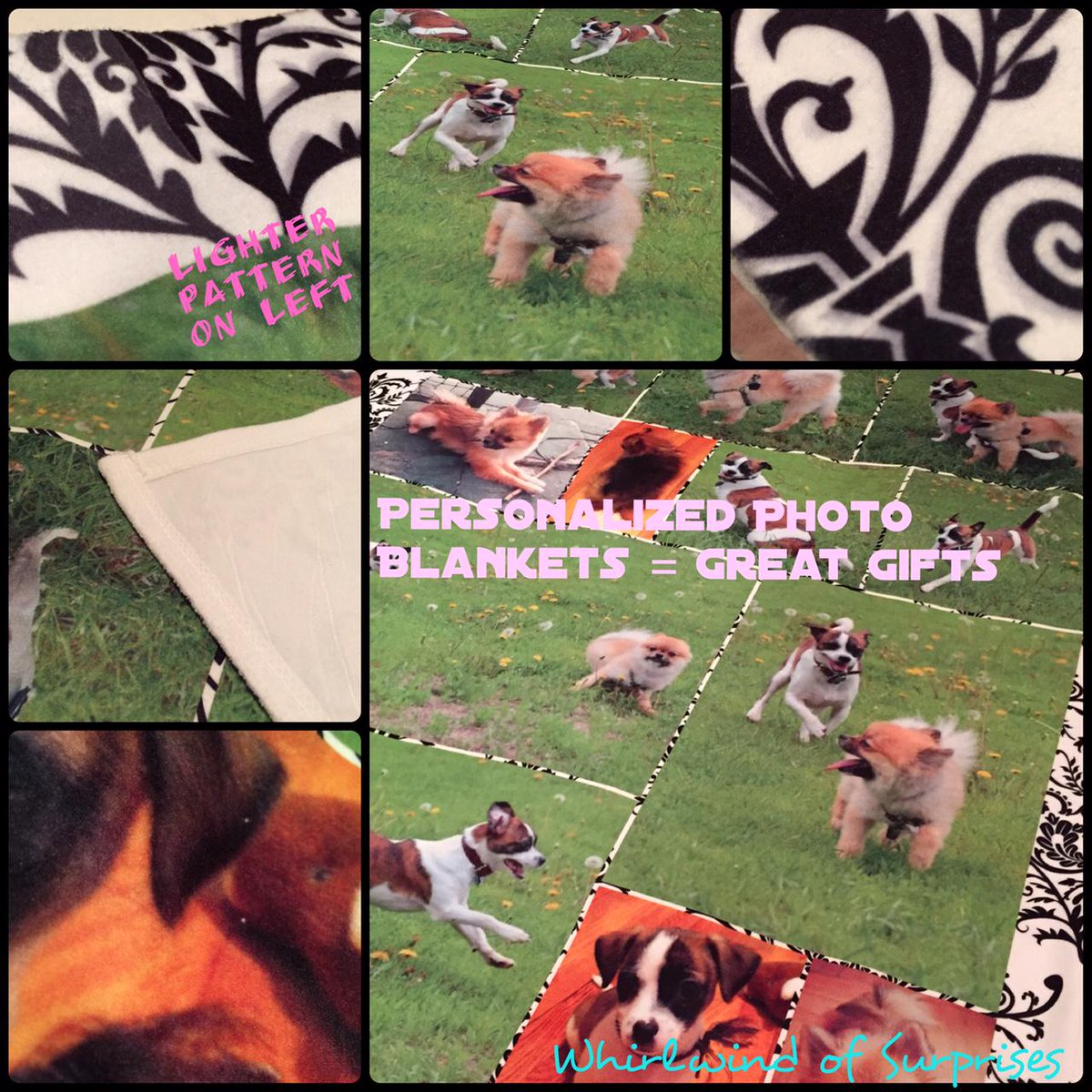 I believe mine arrived within 1-2 weeks of the order placement and I was so excited to see the outcome of my creation...if it really printed as well as it did. For the most part, the graphics were gorgeous. The colors were right and it turned out fairly close to what I had seen on the end screen. However, there were minor flaws as well. There were a few little knots in the fleece that affected one of the pictures. The background was also a little fuzzy at times, it appears it was printed twice to have that darker color show, however they weren't perfectly aligned so it looks fuzzy. There was also one part of the background that appears as though it was only printed once since it was noticeably lighter than the other side.
I appreciated the fact that they noted on the site the actual product dimensions more likely measure 47"-50", 57"-60", and 77"-80". I didn't measure the blanket but the 50" x 60" size was big enough for me.
Overall, I love the concept and the idea. The price is a little more than I'd expect, ranging from $110 to $170 plus shipping costs.
Collage.com
often has promo codes for 40-65% off, which makes options more affordable. However, for the price, I would have expected the background to have been printed correctly. If that was done, the blanket would've been perfect. Nevertheless, a personalized gift is wonderful, especially when it contains photographic memories.
Enter to win your very own 50" x 60" Customized Blanket on the Gleam form below until Apr 10, 2015 11:59PM EST. Open to US, 18+. Good luck! Please take the time to enter my other
giveaways
while you're here.
Collage Custom Blanket $110
Stay connected:
Site
Follow WOS:
Google+
||
GFC
||
@CinnyBBS
||
WOS on facebook
||
Pinterest
||
Instagram
Until next time,